Happy Wednesday guys! I have the feeling that this week I will share more than just two new outfits with you! I mean, today's post is already the second post of the week, and there are still two days left until the weekend. The odds are in our favour. 😉 I already planned the upcoming posts, so all I have to do now is writing them. But one step at a time, first I have to finish the second post of the week, and then I can think about the third as well as all the other posts I still want to share with you this year.
The outfit I am sharing with you today is one of my latest favourites and my favourite outfit from Athens. I know, that I told you a little bit about our spontaneous trip to Athens in my weekly recaps, but for those who haven't read them, I will briefly share the reasons again. Well, actually there was only one reason why we decided to fly to Athens: the weather. The weather in Berlin isn't the best during autumn and winter, and we needed to create content for a couple of collaborations. With the bad (or better said no) light in Berlin, it seemed like an impossible mission. And that's why we decided to fly somewhere sunny and a bit warmer. Athens was the perfect destination, we had degrees between 15 and 20, and the sun was shining all day. Athens also has a lot of beautiful locations, and we didn't have to drive far to find them.
We took these outfit pictures very close to our accommodation, so we could walk there and explore the city a little bit at the same time.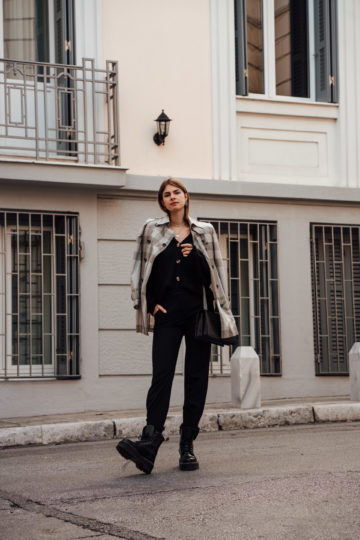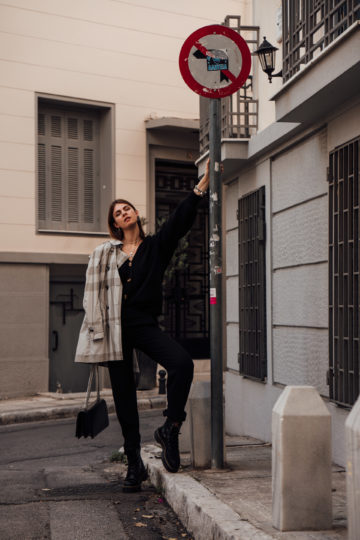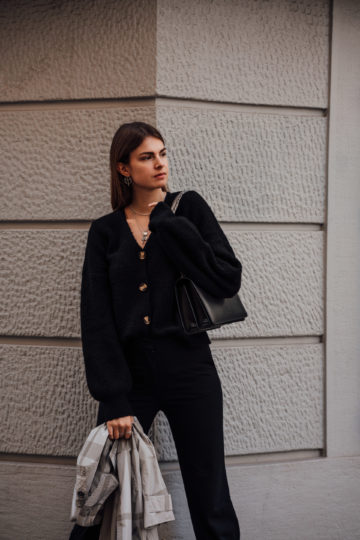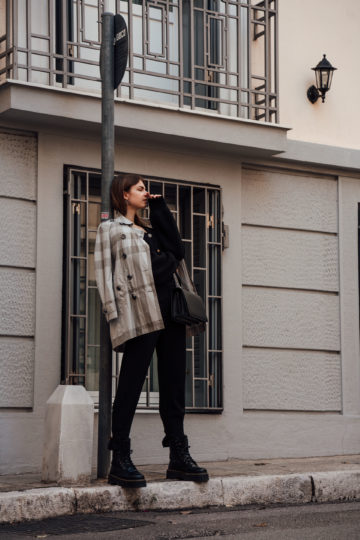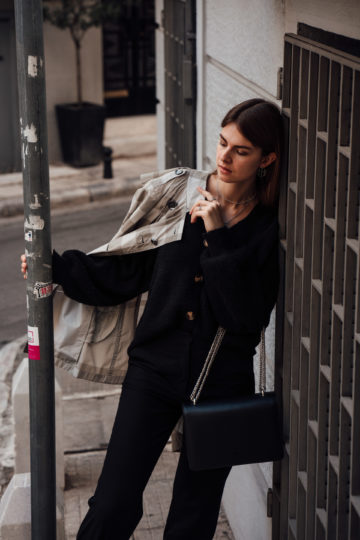 Found the perfect vintage Burberry Trench
A vintage Burberry trench has been on my wishlist for a long time, and I just had to buy this one when I saw it online. And it was only 65 Euros, so how could I have said no?! I have to admit; I first was looking for a long and very oversized trench coat from Burberry. And I might get it another time, but for now, I am really happy with this shorter version. The only problem is that it's not oversized, so I can't really layer it and have to wait for spring to wear it again. Or I will just wear it underneath one of my coats or jackets. If you are looking for a vintage Burberry coat (or other designers), you should check out online stores such as Maedchenflohmarkt, Rebelle or Vestiaire Collective.
How to combine a Burberry Trench
For the first outfit wearing my new Burberry trench, I opted for a total black outfit, because you can never go wrong with black. Additionally, I wanted to fully focus on the trench and what is better to choose a black outfit as a contrast? I combined it with a black cardigan, a pair of black pants and black boots. I do like this outfit a lot, and as I already mentioned, it is my favourite outfit from Athens. It is a casual yet chic outfit and guys; it is soooo comfortable! I would not only wear it when travelling but also when at the office or just in the city running errands or meeting up with friends.
How do you like this outfit? And how do you like my new Burberry trench coat?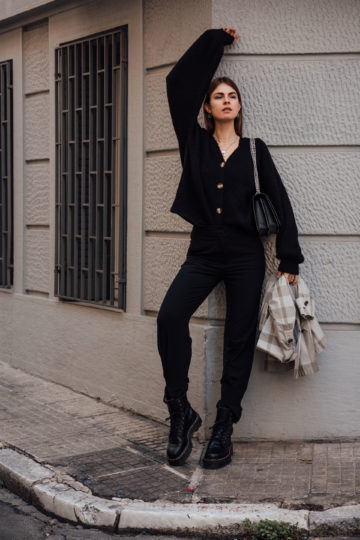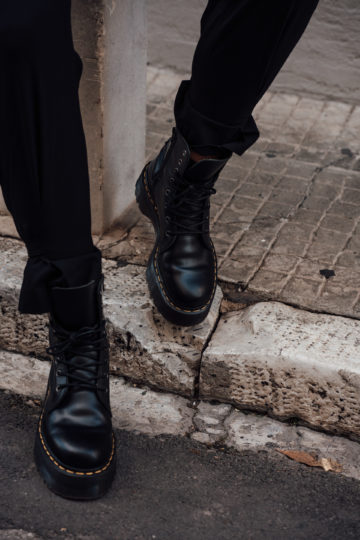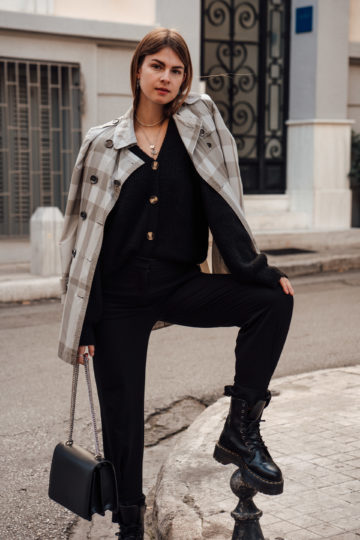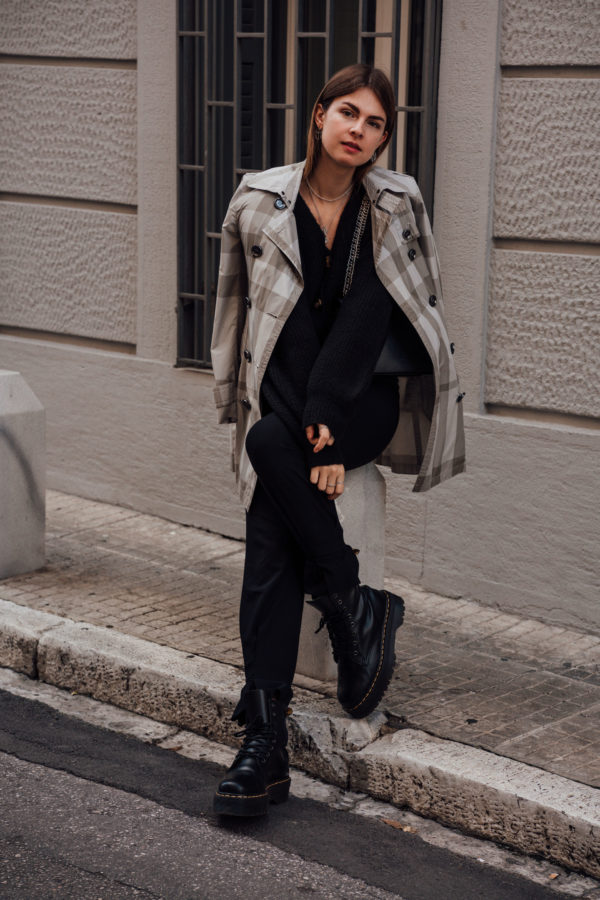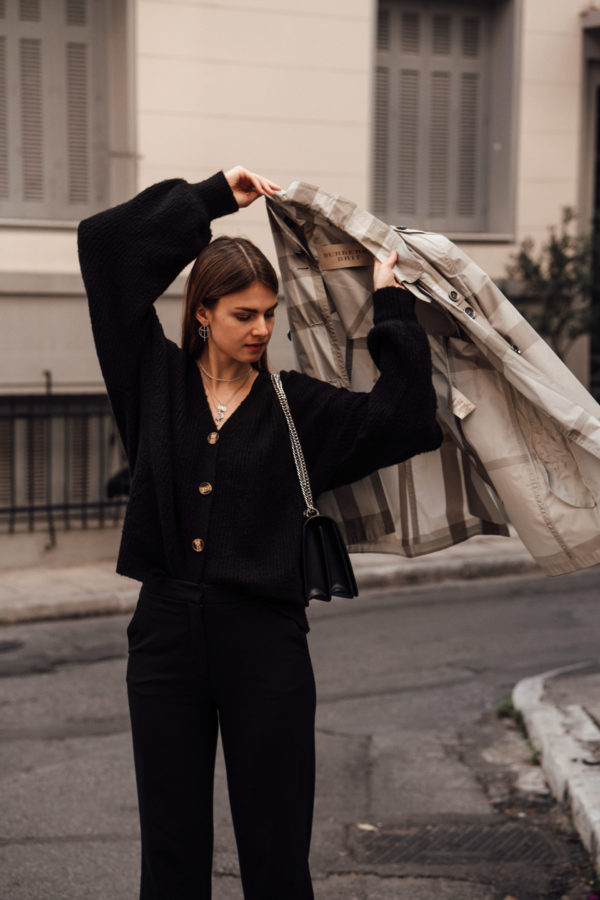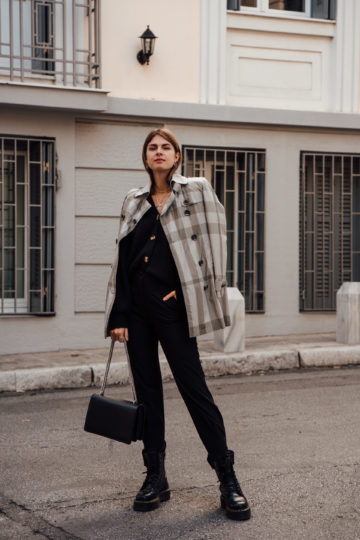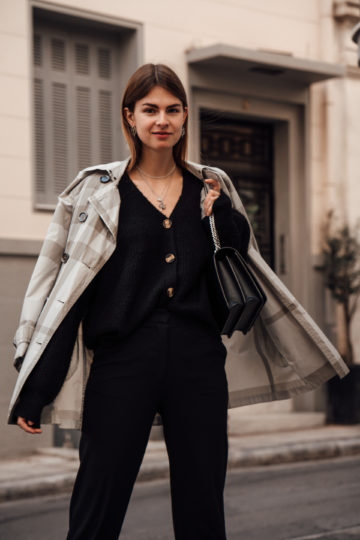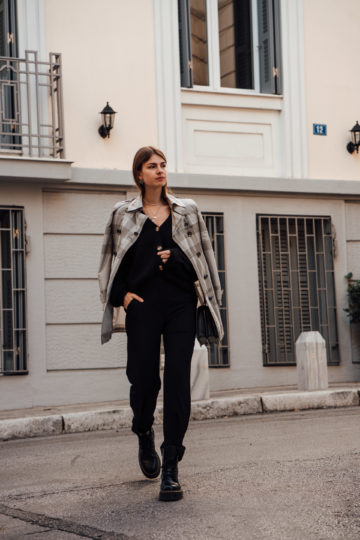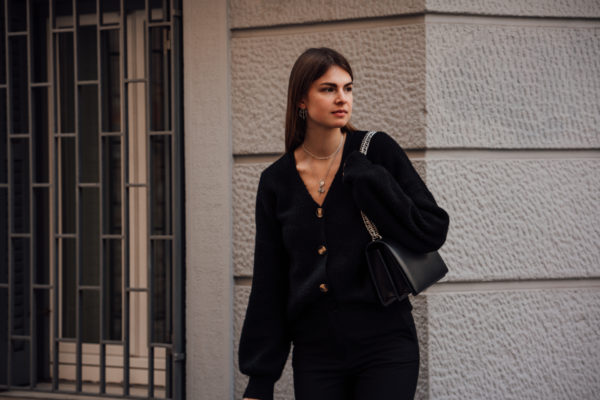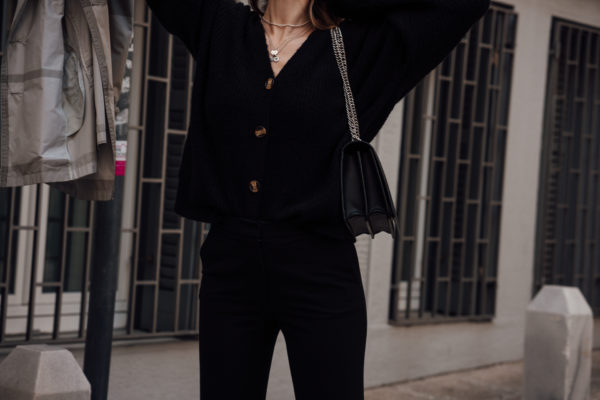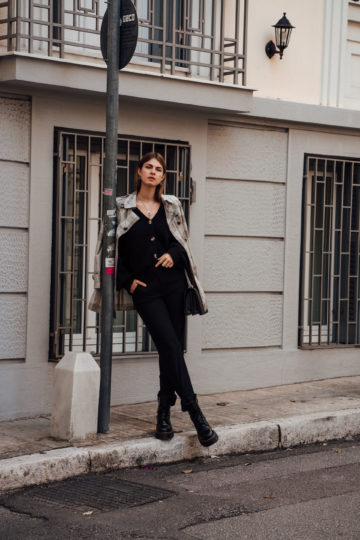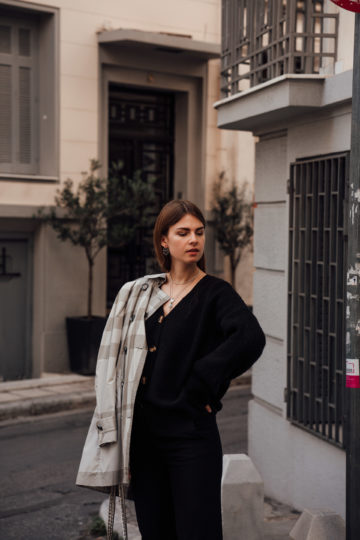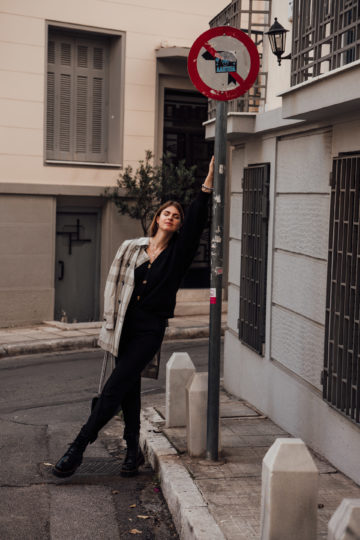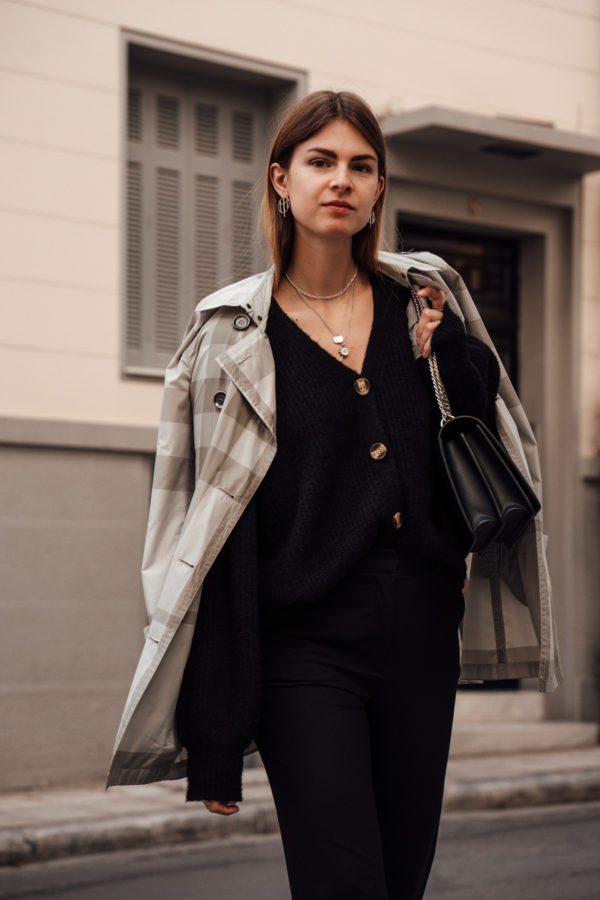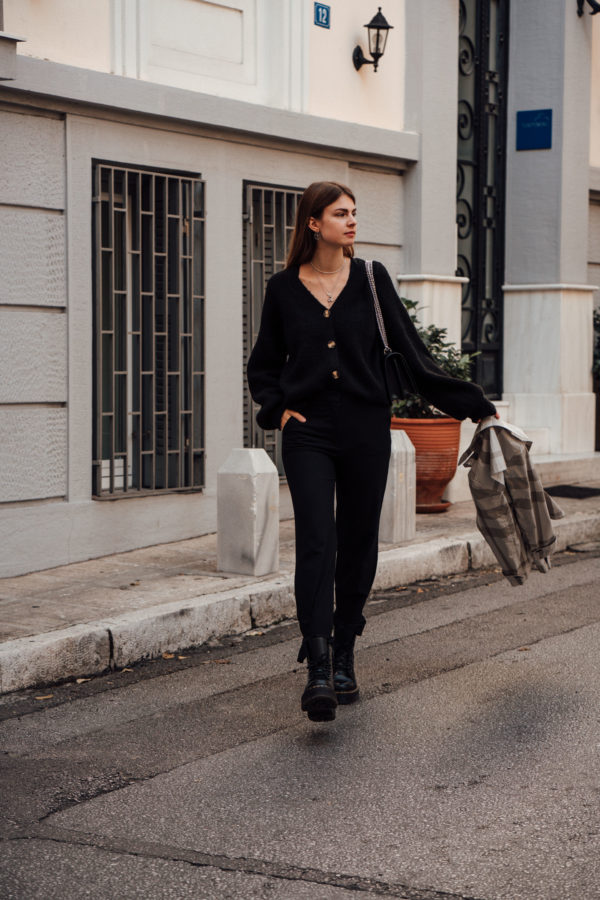 *Ad, brands named – Burberry Trench || Loavies Cardigan || H&M Pants || Dr. Martens Boots || Agneel Bag