As I promised yesterday, here is another outfit you could perfectly wear in your everyday life. I was wearing this outfit almost two weeks ago and to be honest; I underestimated the temperatures in Berlin. I actually thought it would be warmer, so I only put on a trenchcoat. Well, it actually isn't a classy trench coat. It is a mix of a trenchcoat and a windbreaker I would say. But I will call it trenchcoat in the following anyways.
So I already mentioned, that I underestimated the weather that day and this may already indicate that it probably isn't a good idea to wear a trenchcoat in winter. But let me convince you of the contrary because it is possible to wear a trenchcoat when it is cold and maybe even snowy outside. You only have to consider a couple of things, and in the following, I will give you more information about these things:
Should you wear a trenchcoat in winter?
Well, you probably SHOULD wear the warmest winter jacket you can find in your closet win winter, but wouldn't that be super boring? Let's be honest; we don't want to wear the same warm winter jacket every day, we need variation! And to give you some inspiration for this variation I will try to style as many kinds of jackets and coats (not only winter jackets and coats) this winter. But styling them isn't the real challenge, the challenge is to style them for cold winter days. To create a winter outfit with a light jacket, you won't freeze in.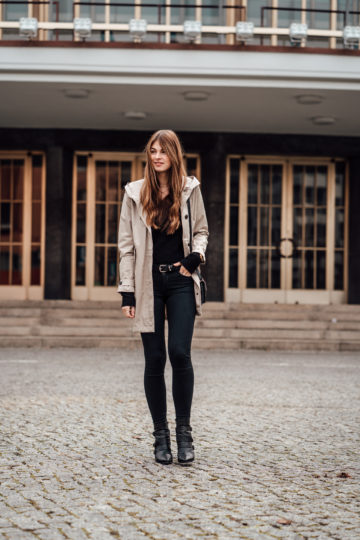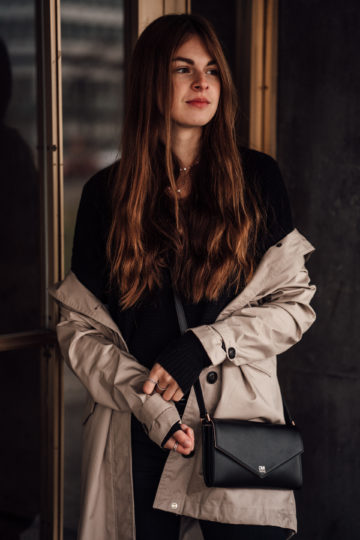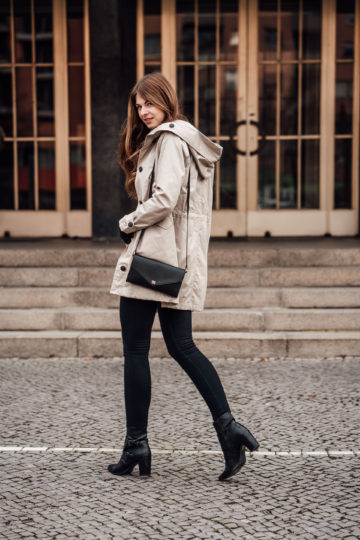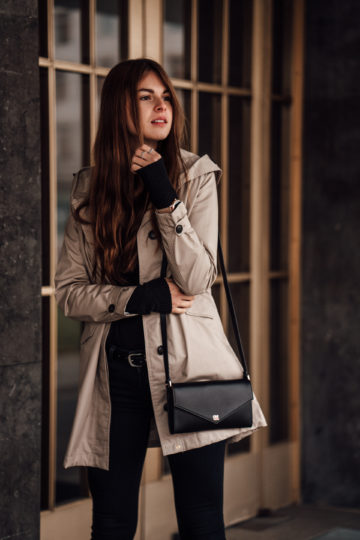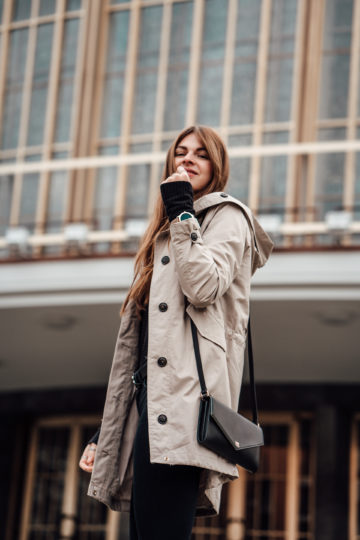 Creating a winter outfit with this trenchcoat aka windbreaker was my first try. And yes, even so, it was colder than expected, I wasn't freezing (except on the hands..). So what did I do to make sure I won't freeze when wearing a trenchcoat and not a warm winter jacket? I layered! I put on several layers of clothes that day: I was not only wearing the black sweater. Underneath I was wearing a top as well as a long sleeve. It worked perfectly in combination with the trenchcoat. Since it is draftproof, it keeps a little bit warmer than other jackets. It is super windy in Berlin right now, so wearing a draftproof jacket is one of the best ideas for sure!
To keep it short: you can wear a trenchcoat in winter, but you definitely have to wear something warm underneath. Wear a very heavy sweater or several layers such as I did. You can also put on a muffler, but I didn't need it that day.
Last but not least let's talk about the outfit combination in general. As you can see, I kept it very simple and combined my trenchcoat with an all-black look. I was wearing a black sweater (+ some more layers of clothes), a pair of black jeans as well as black boots and a black bag. I opted for an all-black outfit to make it look chicer and suitable for a day at the office including some meetings. Of course, there are many other possible outfit combinations. You can create a casual outfit by wearing a pair of sneakers and blue jeans instead of the boots and the black jeans. You can find some more outfits with a trenchcoat in my "Fashion Looks" section, have a look and get some inspirations for one of your next winter outfits.:) Just remember to put on several layers when you want to wear your trenchcoat this winter.
I hope you like this outfit and that it can inspire you to wear not only your winter jacket this season. And please let me know, what kind of jacket you would like to see me wearing this winter. Maybe a bomber or a denim jacket? I am looking forward to reading your comments. Have a lovely day. xx