The fashion trend 2023 par excellence – Quiet Luxury
The fashion trend 2023 par excellence – Quiet Luxury
Loud or rather quiet? The fashion world doesn't always quite agree on this, and fashion trends follow one current every now and then, only to then go to the other extreme. There are times when fashion practically screams at you: I am omnipresent and in no way to be overlooked! Peppered with lots of applications, brightly colored and in neon colors, and absolutely rich in contrast, a fashionista just stands out more and immediately catches your eye. Then the next season it is again "less is more" and fashion reinvents itself with discreet and valuable staged It-pieces again. This season, the world of fashion has again come up with something very fine and follows the signs of the times. But it was actually actress and fashion icon Gwyneth Paltrow who gave the impetus for this with her very special outfits for her court dates in the US state of Utah. What it has to do with it? We'll tell you here!
So what exactly does Quiet Luxury mean?
As the name suggests, the expression means nothing more than "quiet luxury", meaning that the luxury is not flaunted in an attention-seeking manner, but is just the opposite. It presents itself minimalist and with a touch of luxury – and quite discreetly, but of course immediately catches the eye of true fashion connoisseurs. This is how Hollywood actress Gwyneth Paltrow faced the court, and thus the media, during her civil trial – which involved a claim for damages due to an accident while skiing. The camouflaged, stealthy luxury ("Gwyneth Paltrow's stealth-wealth court style") is so discreetly staged that it stands out again precisely because it comes across as so inconspicuously conspicuous. Instead of hanging out in a fur coat and a noble wardrobe with bold labels of big luxury brands, adorned with thick gold jewelry and sparkling diamonds, she had dressed completely in the reduced style of brands that stand exactly for fine accents – and thus practically caused a new style direction – Quiet Luxury – THE fashion trend 2023! The social networks and media have literally overflowed with enthusiasm. And the fashion industry is happy about record sales.
What actually distinguishes the new fashion trend 2023?
There are luxury brands that fashion fans buy mainly because of their eye-catching logos, so that everyone can see right away which brand is being worn and, above all, how deep you had to dig into your wallet for your wardrobe. Those who attach importance to this know which brands we are talking about here (Versace, Dolce & Gabbana, etc.). Brands such as The Row, Loewe or Bottega Veneta are exactly the opposite. Focusing on reduced luxury and staying subtly and discreetly in the background. There are no names widely visible, but these brands unfold all their skills, so to speak, camouflaged and hidden. They are characterized by the very highest quality fabrics and materials, you will find the finest cashmere as well as fine linen, silk or leather. All of them are pure materials from nature. Sustainability is very popular.
The colors are also very pure and true to nature. You'll find classic black and white, plus beige, brown, and gray tones. But what makes the difference to "Quiet" is not only the materials of the highest quality but also the absolutely flawless workmanship.
This is where "Normcore" – which gives the normal an inconspicuous appearance with little shine – then becomes "quiet" combined with "Luxury". Because the luxurious only comes with a really sophisticated appearance combined with quality, workmanship and that very special something. Noble brands like The Row, Bottega Veneta or Loro Piana do this to perfection. That is understatement all along the line. And in times of inflation and war in the Ukraine, this is certainly the right signal to send out, because ostentation is certainly not the order of the day and is not well appreciated. Quite the opposite – as it is visible in the example of Gwyneth Paltrow.
Which pieces you should definitely invest in now
The good thing about this style is that it is usually classic pieces of clothing that are absolutely timeless and can be worn in a variety of combinations. This alone amortizes such a purchase already all along the line. It is a style direction that will outlast all others as a trend. Lasting basics belong in every closet. In which pieces you should actually invest, we show in the following overview.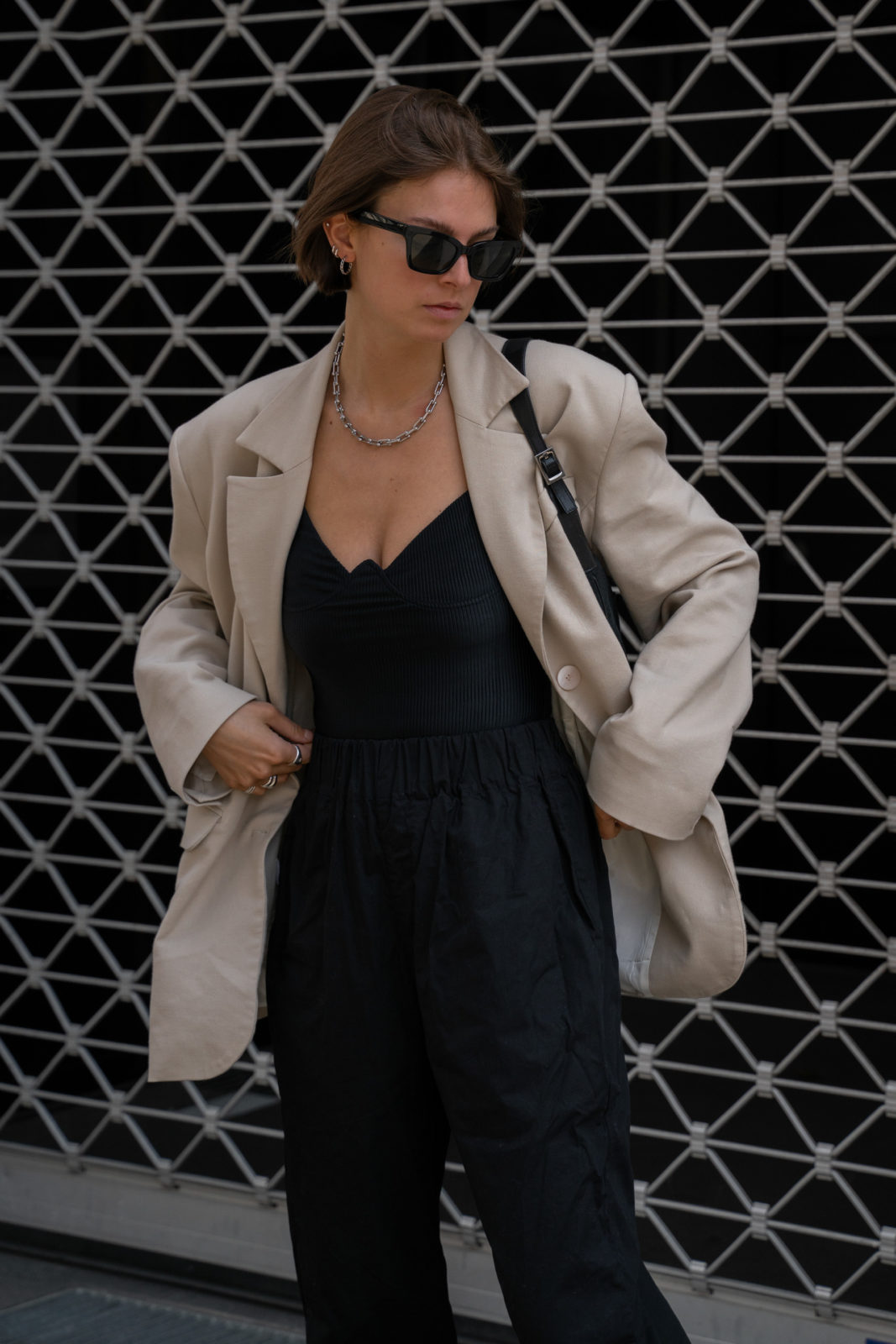 The blazer – the ultimate classic among the basics
A blazer practically never goes out of fashion and can be worn in endless combinations. Therefore, it is the absolute must-have in terms of quiet luxury. Whether worn with jeans or a dress or skirt, in a sporty combination with sneakers or very elegantly with stilettos – a blazer is as changeable as it is adaptable and therefore belongs on top of the list of basics. The perfect blazer should, in line with this fashion trend, come in a classic color and also not be cut too wide or tight. This way you have a real guarantor for a lot of combination possibilities and if the blazer is in a high quality and workmanship, you can basically keep it for life. A true all-rounder – elegant and yet quite casual.

Jeans – always part of the game for decades
Started as pure work trousers, jeans have become absolutely suitable for salons and are an indispensable part of the closets of this world. Therefore, the jeans should also always be there in various designs. It is best to invest in classically cut straight-leg models, they are always hip and therefore in trend every season. It is distinguished by a high waistband and straight legs and thus forms the foundation for an infinite number of possible combinations. At the same time, the jeans should not have any significant washes, should not follow a destroyed look with holes and tears, and should not contain any other conspicuous features – after all, we are talking about timeless classics here and not seasonally changeable trends.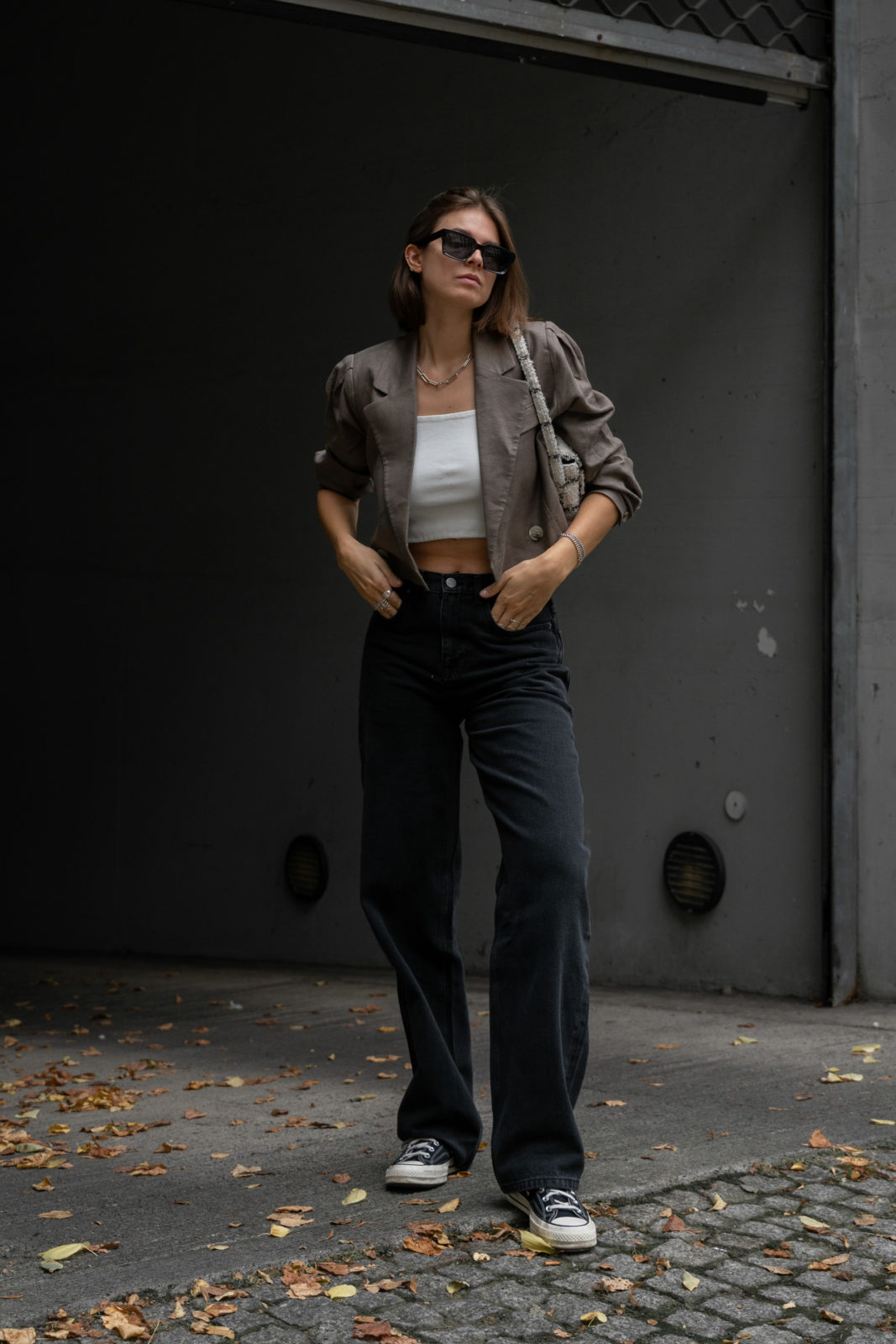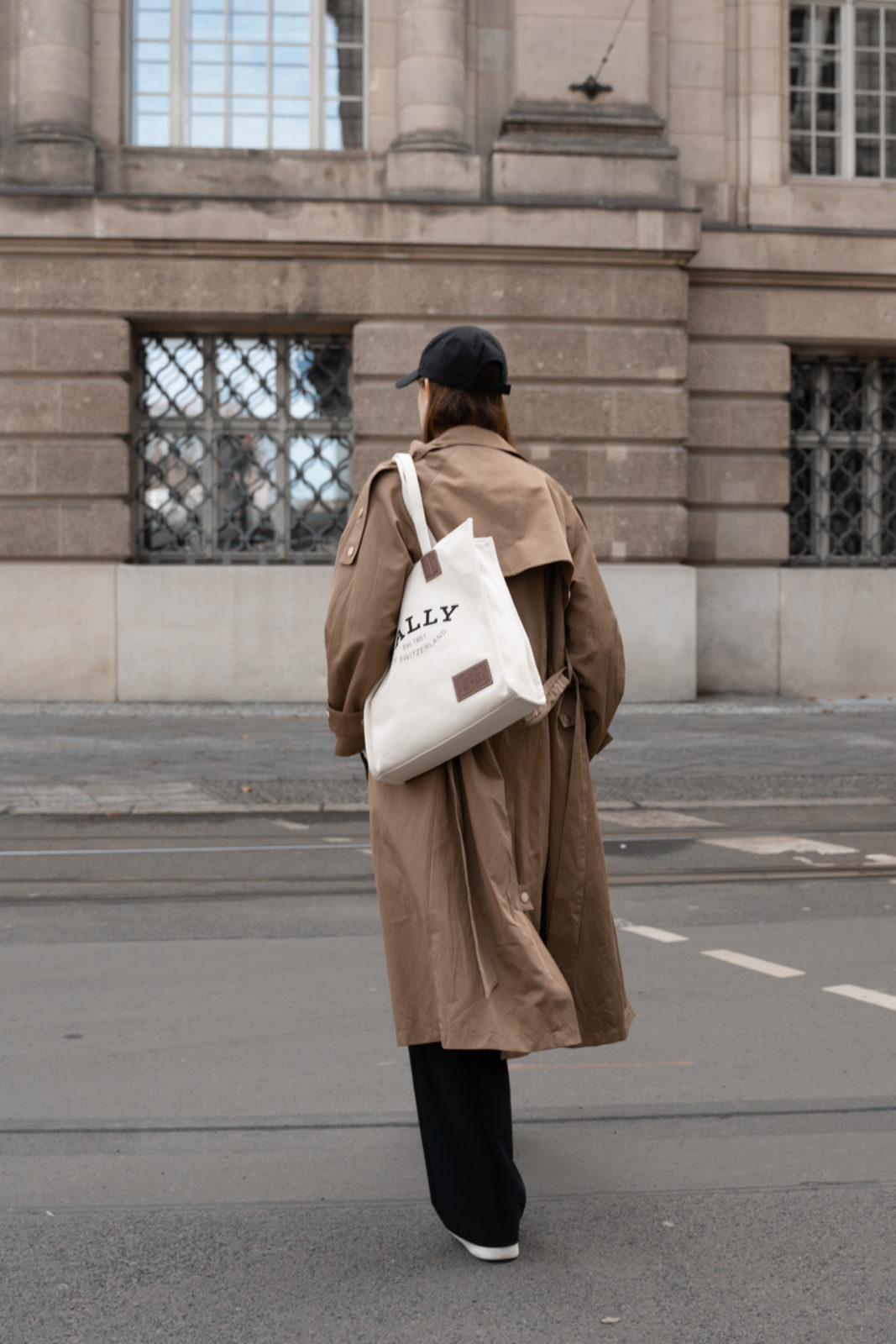 The trench coat – pure coolness meets classic elegance
The trench coat also finds its beginning in a practical use, specifically for the British army, invented by Burberry in the 19th century. Since then, it has been able to start a true triumphal procession and therefore clearly belongs to the favorites among the ultimate basics. It combines the traditional with the modern and can be worn in any season and in all weathers. A trench coat enhances any outfit and gives it that very special something. Equipped with a belt, double button placket, latches on the shoulders as well as a yoke on the back, a trench coat is absolutely timeless. That's why it definitely belongs to the classics and is right up there with Quiet Luxury.
The leather bag – it simply belongs with it
A noble leather bag is definitely one of the classics and should be included in the portfolio of timeless models – and preferably in several versions, after all, they all have their own charm and their respective use. A tote bag is indispensable for everyday life. Spacious and practical, it is on the other hand a real add-on and enhances any outfit extremely noble. It simply fits everything you need for a day at the office or an extended shopping trip. A shoulder bag in a smaller size is just the right thing for keys, cell phone & Co. and of course must not be missing. But be sure to look for high-quality products and this, of course, completely in the clean, no-frills look – just completely quiet.
Accessories – sunglasses, jewelry, belts and so on
Gwyneth Paltrow did not appear in the courtroom without any frills. On the contrary, she carefully chose her accessories for it. But in contrast to ostentatious splendor, she relied on golden accents, because here, too, the rule is: less is more. When it comes to jewelry, she generally prefers discreet and no sparkling jewelry. Precious accessories are guaranteed to enhance any outfit. It is rather simple designs for belts – the buckle should of course not be large and ostentatious, but slim and discreet. And last but not least, a beautiful pair of sunglasses should not be missing. These complete the look with all its classics absolutely impressive.