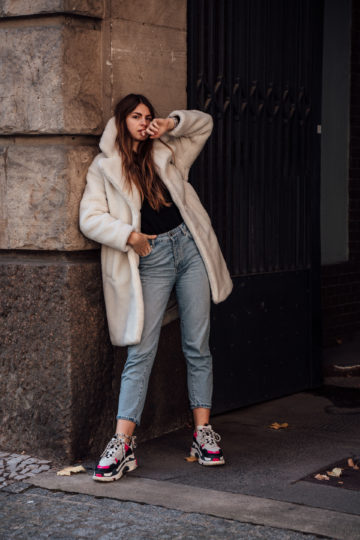 In my last post, I already mentioned that I might share three new outfits this week, and here you go. With today's outfit I am sharing the third outfit of the week and for a change it is none of the outfits we took pictures of when we were in Athens. It's one of the outfits I was wearing in Berlin, and it obviously was quite cold the day I was wearing this outfit. That's why I had to put on a really warm coat, and that's why today's post is all about my new white teddy coat.
Winter Trend: Teddy Coats
You have no idea how happy I am that teddy coats are still in fashion. You might remember that I was wearing my H&M teddy coat I got last year a looot last winter and now that teddy coats are still trending, I decided to get myself another one. But, of course, I opted for a teddy coat that's different to the one I already had. I first wasn't sure whether I should get a dark brown teddy coat or a white one. And as you can see, I ended up with a white teddy coat. Usually, I would always choose darker colours for winter, because white get's dirty way too fast and it matches my skin colour a bit too well during winter 😉 But I felt like it was time for a change, it was time to get something that usually wouldn't be my first choice.
It actually isn't a bad idea to get a white coat. Of course, it still gets dirty a bit too easily, but you have so many options when you want to style a white coat. It basically works with everything, and that's why I would say, you should get yourself one. Maybe you should make sure, that you get yourself a white coat you can easily get cleaned.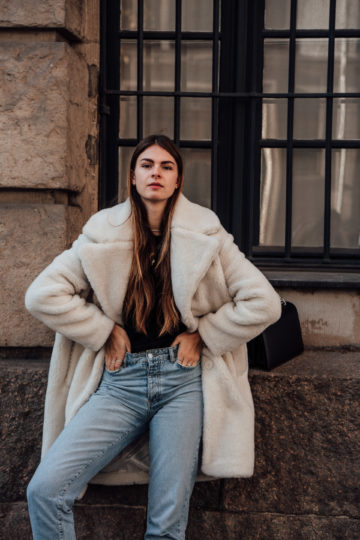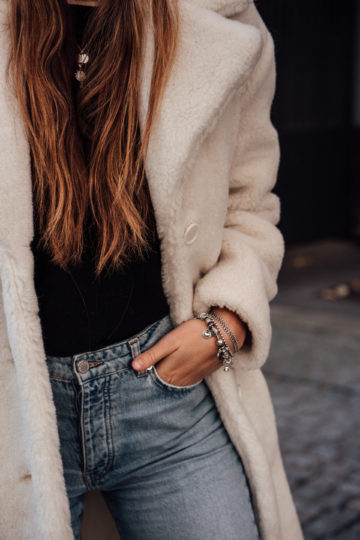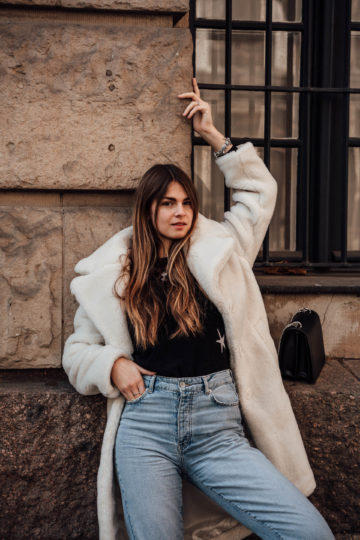 Especially white teddy coats look sooo cosy, and they remind me of polar bears. Teddy coats are usually super cosy, fluffy and warm. Another reason why I like teddy coats a lot is, that everyone can wear them and there actually no styling rules. You can combine it with everything that comes up to your mind. If you don't have a teddy coat yet, you should get yourself one as soon as possible! But don't worry, you can find them everywhere at the moment.
How I combined my teddy coat
The other day when I was wearing my new white teddy coat for the first time in Berlin, I opted for a very casual look. I was wearing this outfit on the weekend, and I didn't feel like dressing up. That's why I put on a pair of mom jeans, a black sweater and my Balenciaga Triple S. After wearing them almost every single day in summer; it's been a while since I last wore them. Maybe I will wear them more often during winter because I can easily wear them with warm socks and I think they would be a great addition to every simple winter outfit. I am also currently thinking about whether I should get another pair of ugly sneakers or not. What do you think about it? Should I get another pair or shouldn't I? I mean, they are still in fashion, and they will be in 2019, AND they are just soooo comfortable. And yes, I do like them a lot.
*Ad, brands named – & other stories Coat || Gina Tricot x Anine Bing Jeans || St. Cloud Sweater || Balenciaga Sneakers || Agneel Bag