Lernsehen dot com GmbH
Made in Berlin – Germany
Founded in 2014, Whaelse.com is a Blog based in Berlin with Jacqueline Zelwis as Blogger.
Our focus is Online Marketing
The company focuses on Online Marketing. With expertise in marketing communications, we cover all areas, from conception to development and implementation, as well as the associated platforms. This gives the term full service a whole new meaning.
Full Service redefined
We have positioned the company broadly since the beginning. With experience in marketing, communication as well as web and software development, we can cover many areas in-house. Besides, we have also built up a broad partner network over the years. Due to that, we have everything we need to transform ideas into concrete projects most efficiently and effectively.
Online since the beginning
We've always seen the importance of the online world, and that's why it's always been the focus of our company. With our blog Whaelse.com as well as several online shops, we are right where things happen these days. We went through all the different phases, tried a lot of things, and learned a lot along the way. Thanks to our knowledge in programming and web development, we were able to build tools to help us tap the full potential by analyzing the markets. All this brought us where we are today and helps us with the development of new ideas and projects, no matter what comes up in our minds.
Do you need help bringing your ideas to life?
Get in contact with us!
Whaelse.com – Fashion, Lifestyle and Travel Blog
Everything started with our Web blog in 2011, today Whaelse.com is our pivotal point when it comes to Influencer, Social Media as well as Content Marketing in the European market in the fields of fashion, lifestyle, and travel.
Right from the beginning, we saw the potential of our blog and positioned it not only in Germany. The internet makes it possible to reach people globally, and we didn't want to confine our business to the German market only. That's why we've always operated globally with Whaelse.com. We reach millions of people all over the world and can share Jacky's interpretation of fashion and lifestyle.
If you know Jacky, you know that she doesn't do anything by halves. Professionalism, discipline, and reliability are the most important values for Jacky when it comes to her work. She always remains true to these values and herself, and that's what her readers and followers, as well as partners, appreciate very much. 
-(written by rd)
Outfit Search Engine on Whaelse.com
We are continually working on Whaelse.com, and it's no longer a simple web blog. Today, Whaelse.com is a web magazine and will also develop into an outfit search engine in spring 2020. This outfit search engine is based on a system developed using the latest "artificial intelligence" technology. As a result, this search engine is able to search our outfits efficiently and will always show the best outfit suggestions. In summer 2020, we will also open our technology to other bloggers, Instagrammers, and platforms to offer an even larger pool of outfit inspiration.
Furthermore, we are currently in the process of having our programming certified as our software development is "hosted in Germany" and designed according to the highest GDPR standard.
Instagram Fashion Blog
With more than 90000 followers, our Instagram fashion account has become an essential part of the blog and company. It's the place where we share daily updates, including outfit inspiration and behind the scenes from our everyday life.
Not only on the blog but also on our Instagram account, we share our interpretation of fashion, lifestyle, and travel and take you along during our days as an entrepreneur. We let our followers be part of the development of ideas and projects because, to us, it is most important to be close to the consumer. Showing personality with every post is essential.
Reaching millions every seven days
As we already did it with the blog, we also positioned our Instagram account globally right from the beginning. We have been using this social network since the end of 2011 to take our readers and followers behind the scenes. We have always followed Instagram's development with great interest, analyzed the platform, and tried to understand it. We do not only want to take our followers and readers along our days, but we also always want to offer the best possible, and that's why it is so essential to understand the platform we are using to do so.
That is one of the reasons why we've been dealing with branded content and IG Ads since the very beginning. We know how the FB Business Manager works in relation to high-reach cooperate brands in-app ads and can use them optimally for our customers and us.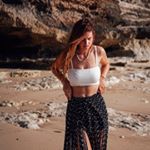 107524 Follower
597 Following
Berlin Original 🤟🏼 Content Creator, Freelance Model Founder @onweekendsshop Doing things in Bali @concretejunglebali Ambassador @stronger
Learn more about my Instagram Fashion Blog
Content Creation for Web, Social Media and Print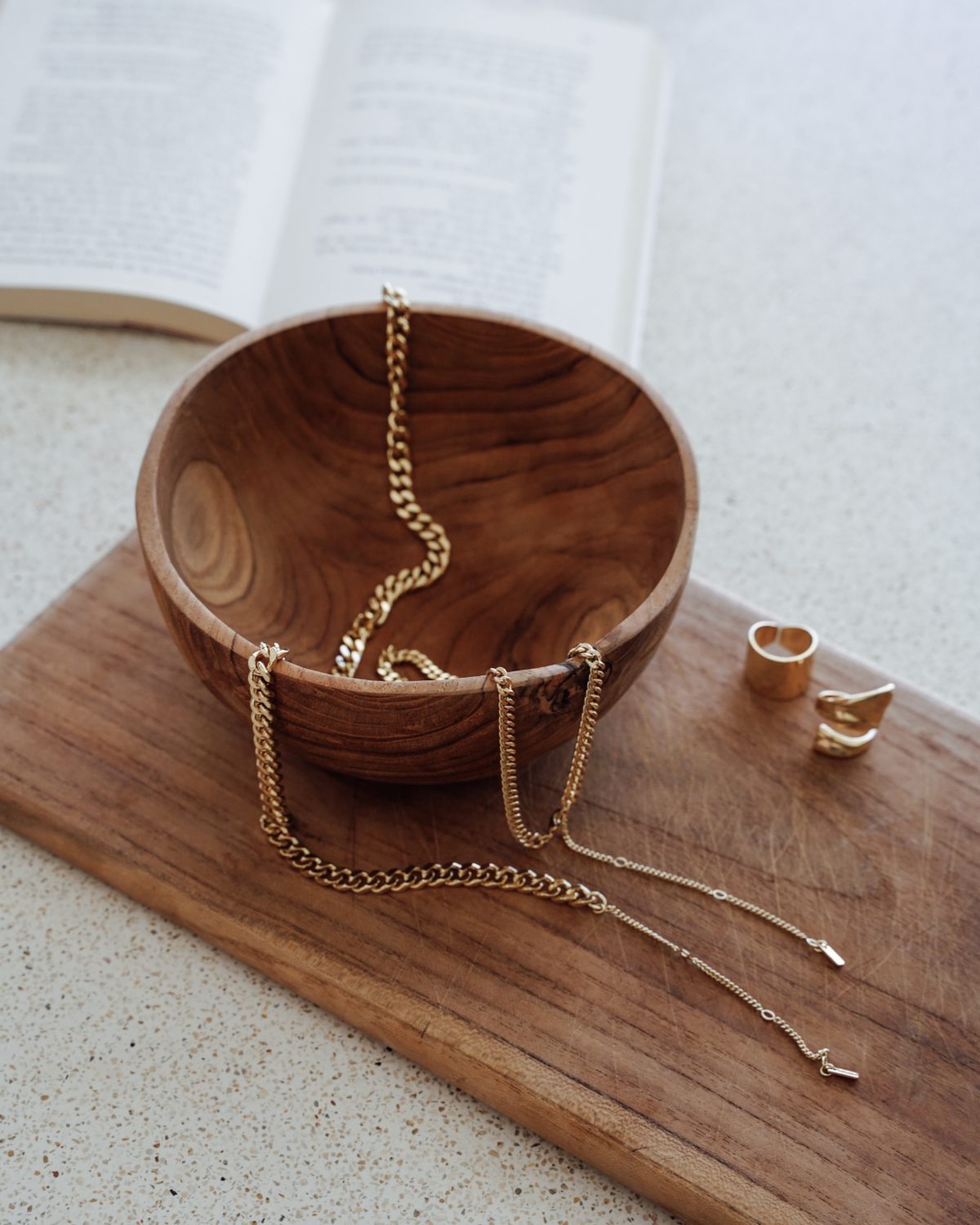 Do you like our visual language?
Don't hesitate to contact us. As we already mentioned, we are continually developing our company and realized at an early stage that we do not only want to use our experience and knowledge for our own channels. We want to share it with others and support brands and companies when it comes to Social Media and Content Marketing.
We work as a full-service agency as we can cover every area in social media and content marketing. We create relevant campaign concepts as well as strategies and take care of their implementation. This is where we can bring in our years and years of experience as a blogger and content creator, as well as the analysis tools we developed and external tools and experts.
We analyze your social media accounts as well as the target group, develop a concept as well as an appropriate strategy, and implement them specifically. We are doing everything as agreed upon with the brand or company and are always having the brand message strategy in mind.
Well-positioned thanks to a broad network of influencers, bloggers and content creators
Thanks to our broad network of influencers, bloggers, and content creators, we are well-positioned. We take care of finding suitable locations, styling, the model/ influencer selection, photography, and editing the content. We can choose from a lot of partners to always deliver a result tailored to the brand.
Since we work as bloggers, influencers, and content creators ourselves, we have the necessary knowledge and resources. We can optimally integrate it into our everyday work life. Additionally, all our travels make it possible to offer you even more locations for content creation.
E-Commerce Brands and Shops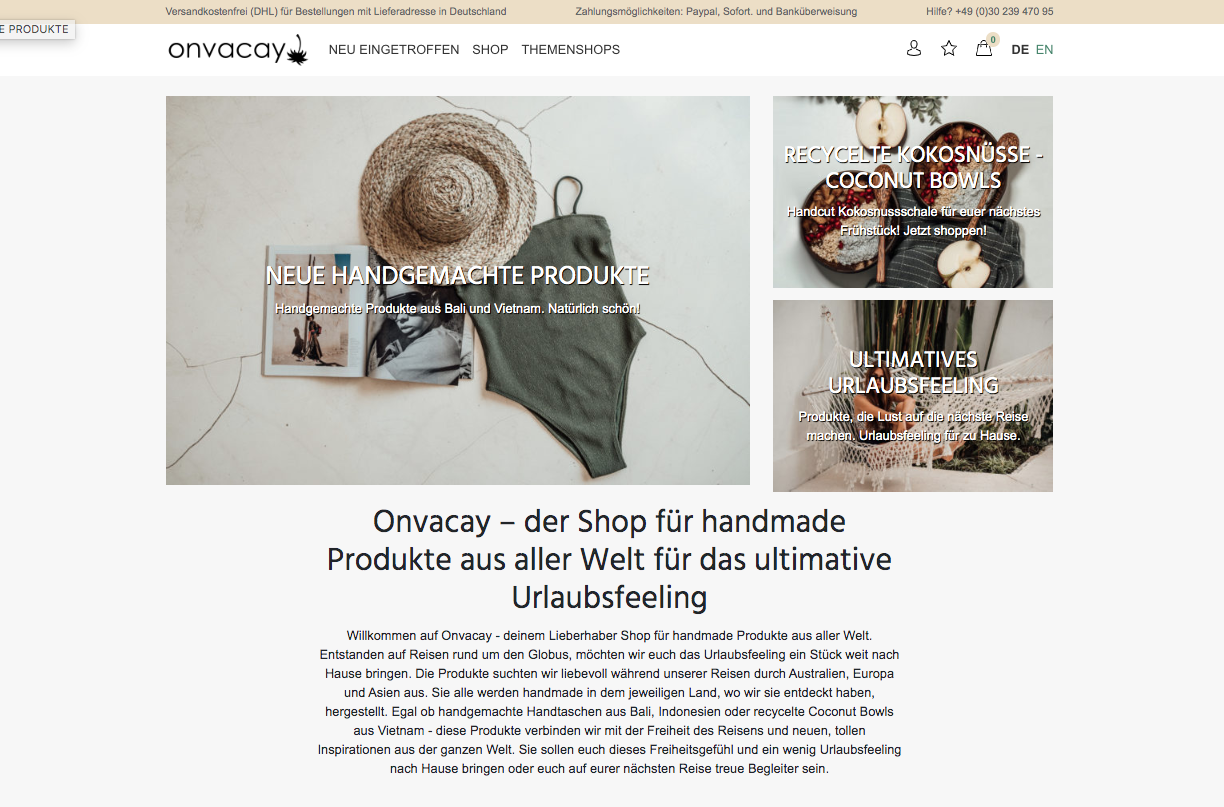 onvacay.de
Onvacay – your online shop for handmade products from all over the world
Traveling has always been a great passion of ours, and we have gotten around the world a lot in the past years. It inspires us the most, and we never come back without a new idea and project as a souvenir. In 2018 we decided to finally bring one of our ideas to life: an online shop with products we discover during our travels. At Onvacay, we offer interior, decoration, and fashion from all over the world, including trending products such as coconut or teakwood bowls.
Today Onvacay is one of the bestsellers on Amazon.de.
Head over to our shop onvacay.de to get a better idea of what it is about.
Multichannel Worldwide
We've been working in e-commerce in the field of multichannel for a long time, and one can say that we do know it better than the back of our hands. 
At a young age, we started trading on eBay and Amazon. It's always been a mainstay and our entry point into this world, so we clearly won't let go of it.
We see ourselves as trend discoverers and always try to put trends on the right platform as quickly as possible. Driven by creating new bestsellers, we became experts in platform-controlled search engine optimizations. We love all platforms, no matter if it's Amazon, eBay, or real. We understand them and their pitfalls. Today we represent private as well as home brands in the most professional way.
Fulfillment, IT architecture and monitoring – developed by Lernsehen dot Com GmbH
In more than 15 years of multichannel activity, we have always been open to new technologies and moved with the times. The monitoring of product sales and goods flows was optimized through the development of our own programs. As part of this, we have created a basis with further developed ERP systems for efficient order management. Today we are fully automated.
Lernsehen dot com GmbH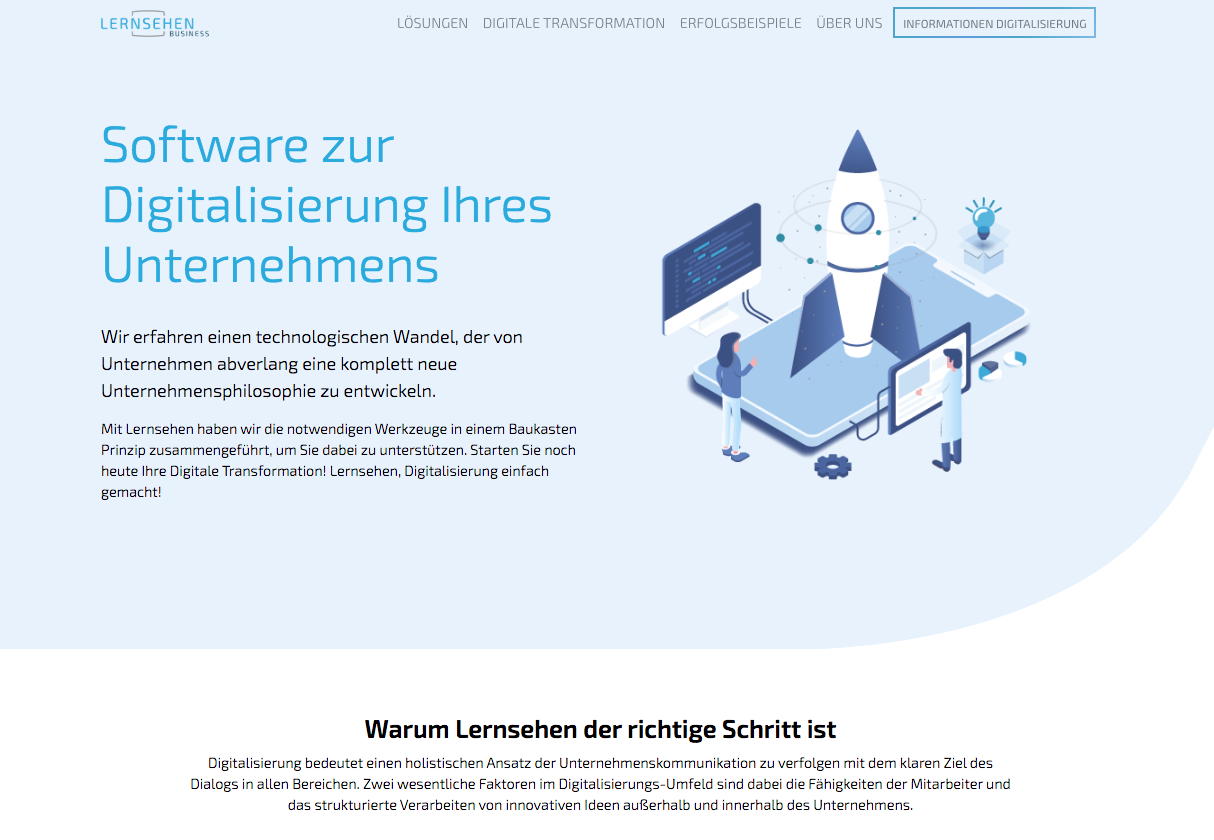 Lernsehen.com is a toolkit based on a modular principle to efficiently and quickly transform your company in times of digitalization. It is already used in small and medium-sized companies as well as banks with up to 1000 employees. Lernsehen.com was tested by the Cologne University of Technologie in the course of a study for an international energy and technology group and was named the test winner. Find out more about it here.
The know-how of Lernsehen.com is placed at the disposal of all Whaelse.com customers and partners. This makes it possible to help companies in one of the fastest-growing industries, the fashion industry, to have no longer to hide from digitalization.
4skulls UG (haftungsbeschränkt)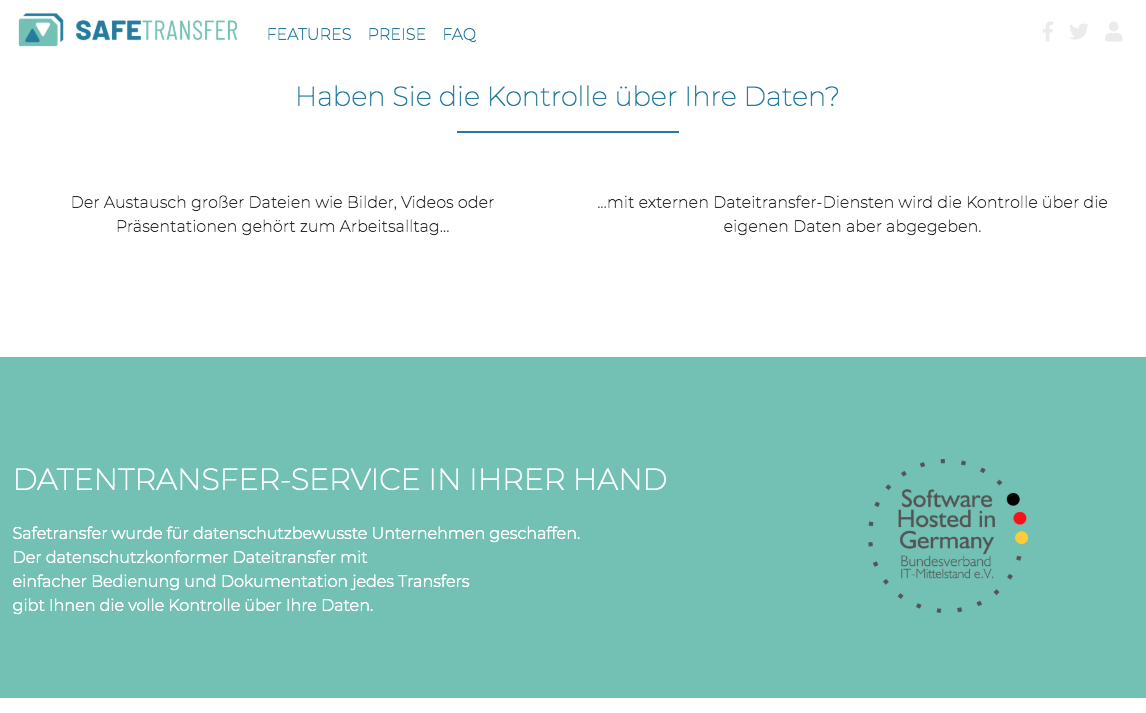 When you work as a blogger and content creator, transferring documents is a big part of the business. We at Whaelse.com always had problems transferring presentations, concepts, NDA's and other strickly confidential documents.
Attachments are often too large for an email, and with GDPR, new barriers for data transmission came up. That's why Jacky and her team played a key role in the development of a file transfer system made in Germany. She is the product manager and brand strategist for the software safetransfer.eu. She uses every free minute to develop the platform further and is the point of contact when it comes to usability and marketing.
This white label file share software is available for all customers and partners of Whaelse.com to make file sharing in compliance with the GDPR possible in their businesses as well. Keep full data control – safetransfer.eu is hosted and developed in Germany.