Oh, how I miss the warmth and the sunshine while looking at these pictures. It's still super cold in Berlin and to make matters worse, I'm a little bit sick! But I have a lot of work to get done, so there's no time to stay at home and recover. But I don't want to complain in today's post; it's all about this outfit I was wearing on one of our last days in Sri Lanka. And with sharing these pictures, I would like to get your mind off the cold here in Germany – I know, that's much needed. It's been too cold for too long; spring should hurry up before we all freeze to death or get depressive.
Railway Tracks in Sri Lanka
Taking the train in Sri Lanka is one of the MUST-DOS! But not only driving is an adventure, even the tracks themselves are! At our last hotel, the railway tracks were right between the hotel and the beach. They were about two meters away from the hotel I would say and to go to the beach we had to cross them. But there's no barrier or something that warns you when the train approaches. Well, the train itself honks, but then it's already super close. Therefore you have to be very careful and should at least double check before crossing the tracks.
Whenever I see railway tracks you can enter easily; I just have to use it as a location for outfit pictures. And especially the scenery at this place in Sri Lanka looks amazing. I love how the railway tracks look with all the palm trees in the background. Well, everything looks better with palm trees in the background, doesn't it?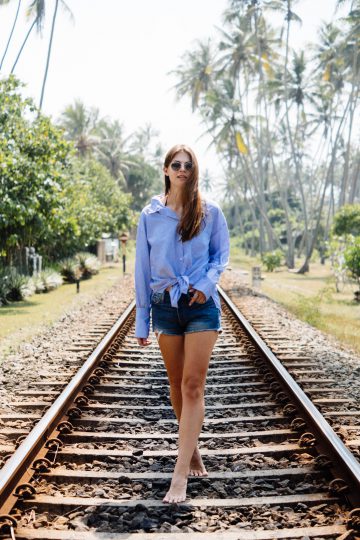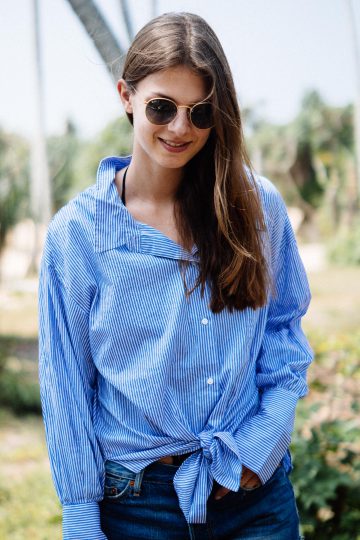 Striped Shirt and Denim Shorts
Some of you might wonder, why I was wearing a shirt with long sleeves in Sri Lanka. Well, I always have some pieces with long sleeves with me just in case I get sunburned, OR it get's too cold at night, so I can't walk around in a t-shirt only. But when I was wearing it that day in Sri Lanka, I didn't have a sunburn, and it wasn't night. I actually didn't have to wear it at all during our vacation. But since I had it with me, I thought, why not wearing it and taking some nice outfit pictures, so I brought it for nothing. 😉 I simply combined it with a pair of denim shorts, and that's it. Once again a very simple and minimal summer vacation outfit. What do you think about it? Leave me a comment and share your thoughts with me. xx