It feels so surreal that it is already October and summer is completely over. Now you can also see it in the streets as the trees are changing the colour of the leaves and it also is getting colder and colder. The temperature stays below 20°C, and it's raining a lot. But at the end of September, we also had some very nice late summer days with lots of sunshine, and that's when I was wearing the outfit I want to share with you today.
Wearing an oversized shirt in autumn
Before I will share all the outfit details, I want to let you know, that you can not only wear this autumn outfit on a sunny day, It also works on colder and rainy days and in the following I will let you know what you need to do, if you want to wear it on one of these days.
It was a sunny yet a little bit chilly day in Berlin. I think we had degrees between 15 and 20°C, that felt a little bit warmer thanks to the sunshine. I really felt like wearing an oversized shirt that day as well as boyfriend jeans for the most comfort I could get without wearing a pair of sweatpants and an oversized hoodie.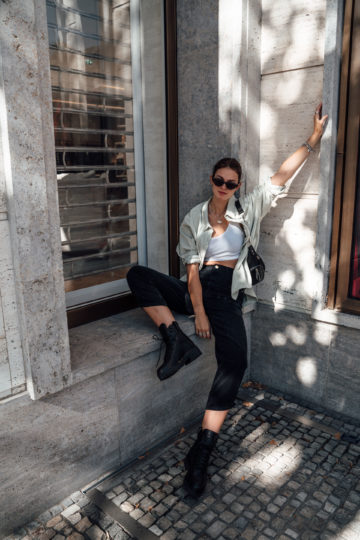 I bought this oversized shirt at the beginning of the year, but never really wore it. Now that it is getting colder, I didn't want to wait any longer. You know, that I own a lot of oversized shirts and I am wearing them all year round. But this shirt is just perfect for autumn as the corduroy is a quite thick material. I also feel like corduroy is an autumn fabric in general, don't you think?
You can combine an oversized shirt in many different ways. Wear it buttoned or unbuttoned as I did that day in Berlin. If you want to wear it unbuttoned, you can either wear a t-shirt, a tank top or a crop top underneath. On colder days you could also go for a less oversized shirt underneath. On that day in Berlin, I really felt like wearing the oversized shirt with a crop top underneath. To finalise the outfit, I put on a pair of slightly high-waisted boyfriend jeans as well as a pair of black boots, and I was ready to go for a walk in our neighbourhood.
If you want to wear this outfit on a colder and maybe even rainy day, you only need a jacket or coat that's waterproof, or you go for a raincoat. Black boots will also work on colder days. You also might want to wear another top instead of the crop top, but this really depends on how cold it is.
How do you like this outfit, guys? It's none of those very fancy and fashionable looks, but it's perfect for the weekends or whenever you don't need to dress up and just want to feel comfortable. I am looking forward to reading your comments. xx
*Ad, brands named – Zara Shirt || American Apparel Top || Pinko Jeans || Boots via Omoda || Bershka Bag || Chimi Sunglasses