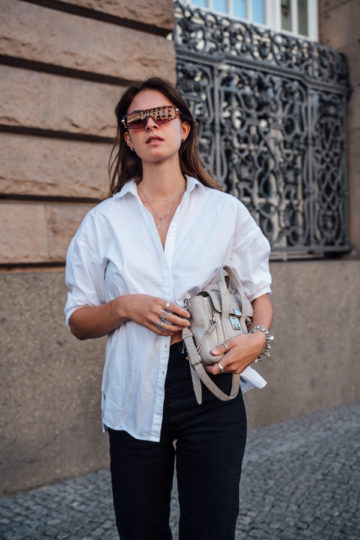 Again I am a bit late with taking up on the latest fashion trends. But I like watching it for a little while before spending all my money on the latest trends. Well, I didn't have to spend money in regards to the trend I want to talk about today as I already had it at home. Still, I took my time to get used to it and to forge an opinion. Obviously, I decided that I do like this trend, and that's why I am not only talking about it today, I am also sharing an outfit idea with you today. And guys, who would have thought that Flip Flops would be such a big fashion trend?
Trend watch: Flip Flops
I've always been wearing Flip Flops, but mostly when I was on vacation or when I didn't have to dress up on a summer day at home. In late spring, I started seeing more and more street style with Flip Flops, and when I was in Copenhagen for Fashion Week, almost every third outfit included a pair of Flip Flops. Around that time, I started to like the idea of wearing them daily and even to a meeting (or at Fashion Week) a lot. Luckily I have had a few pairs of Flip Flops in my shoe closet for years, so I didn't have to get myself some pairs first. I started wearing them at the office or on the weekends, but I never took any outfit pictures until two weeks ago.
I can't wait to bring all my pairs of Flip Flops with me to Shanghai, Hongkong and Bali and to create more outfits and share them with you.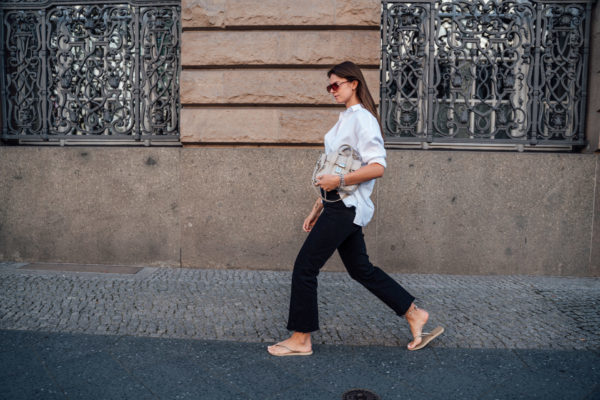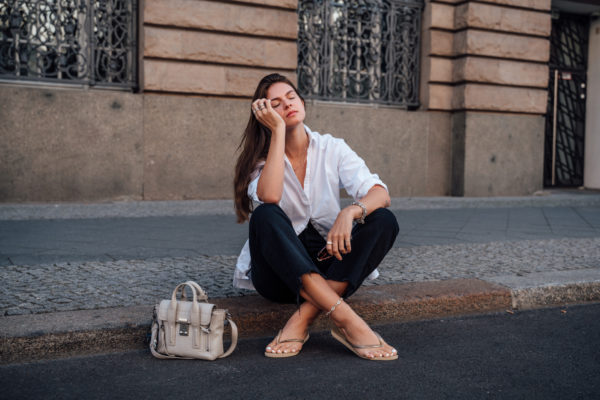 The reason why I do like this trend so much is that it is another very comfortable trend. Also, it's none of those trends that take all you money haha. Probably all of you have a pair of Flip Flops at home, so you don't need to invest in it. You can work with what you have a home and give it a try. Even when you end up not liking the trend, you can still keep the Flip Flops and continue wearing them on vacation.
How to combine Flip Flops this autumn
If you want to wear your Flip Flops as a fashion piece, you need to create slightly different outfit combinations as you might have done in the past. It's all about contrasts here, so the combination of a chic outfit with a pair of Flip Flops works very well. I decided to keep it simple yet slightly chic and combined my Flip Flops with a pair of black jeans and a white shirt.
You can either wear this outfit at work or on the weekend when running errands or meeting up with friends.
Other than that you could also style your Flip Flops with a pair of long wide-leg pants, a chic midi or maxi dress or a blazer and dad jeans combination. I do have so many outfit ideas in mind; I can't wait to style some of them and share them with you on the blog.
Don't forget to leave me a comment and let me know how you like this outfit and what you think about the current Flip Flop trend. Also, if you want to know more about how to wear Flip Flops this autumn or have any outfit requests, don't hesitate to let me know. xx
*Ad, brands named – Gestuz Shirt || Levi's Jeans || Havaianas Flip Flops || 3.1 Phillip Lim Bag