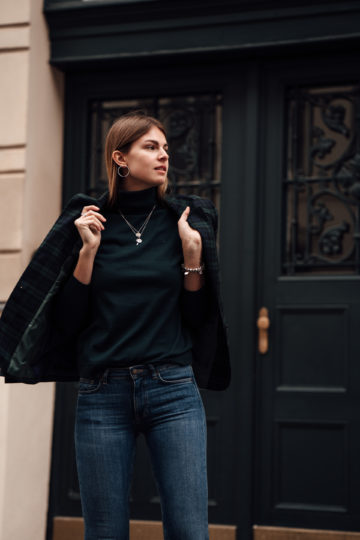 You can find new collections in stores and onlineshops on a regular basis, but when was the last time you really noticed something new? Something that caught your attention not only in terms of design, but also in terms of features and function? Honestly, for me it's been a while.
<! - more ->
But, of course, I would not talk about this issue if it had not changed recently. And, of course, that's what I want to talk about in today's new post.
Thanks to GANT you can now wash your blazer
As you might already guess by reading the title of this post, the "innovation" that recently got my attention is the new washable blazer by GANT. There may be blazers that can be washed, but all the blazers I have have to get dry-cleaned, so I can't wash them at home. Have you ever thought about whether you can wash your blazer or not?
The blazer's care instructions usually recommend to NOT put it in your washin machine and let it dry-clean. This doesn't depend on the quality of a product, it depends on the outer material, the lining as well as on the way those materials are processed and sourced. Depending on this washing the blazer at home can cause the blazer to warp or even shrink. But as I said before, this has nothing to do with how good or bad the quality of the blazer is, but really just with the processing.
Since blazers are usually worn over a shirts, sweater or blouse, they do not have to be washed as often as T-shirts or sweaters. However, you have to getyour blazers cleaned from time to time as it can also absorb nasty smells such as the smell of food or smoke.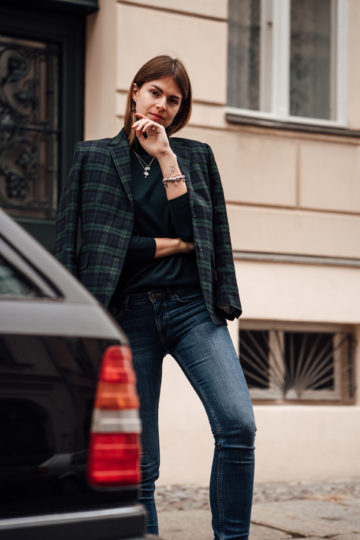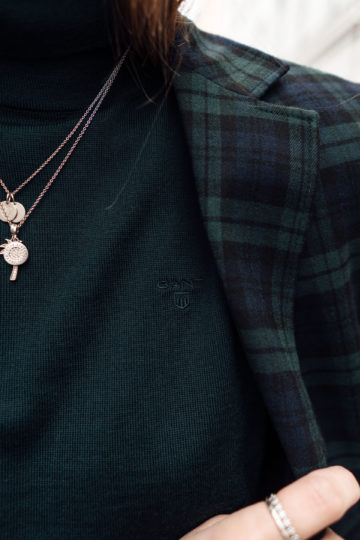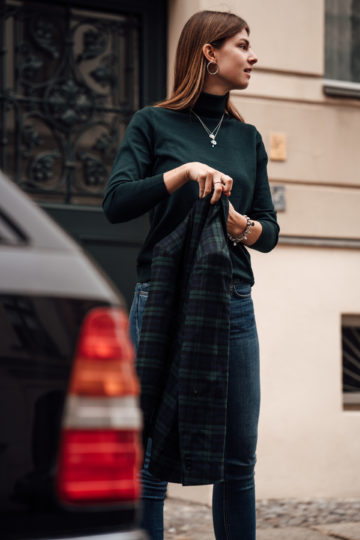 And that's the reason why I am so excited about the washable blazer by GANT. I can now wash my blazer at home and don't need to bring it to a dry-cleaner. And in terms of design and quality, there is no compromise. You get a high quality classic, which can now be cleaned at home.
Casual chic office outfit
GANT already has several models of the washable blazer and as you can see, I opted for the washable Blazer in blackwatch pattern. As you might remember, blackwatch is one of the current trends and something you can't go wrong with this autumn and winter season. It definitely is an autumn essential, because regardless of the fact that it is a current trend, blackwatch is a classic pattern you can always wear.
I combined my blackwatch blazer with a turtleneck, blue jeans and green boots for a quiet day at the office. I decided to pick up some of the blazer's colors in the rest of my outfit, because I think that this always makes your outfit look a bit more chic. If you want to make the whole look even more chic, because you want to wear it at a meeting or appointment, you can combine the blackwatch blazer with a pair of matching pants or a simple black jeans. Of course, you can also wear a different pair of shoes. Black boots or high heels will always work, for example.
How do you like this casual chic office outfit with my new blackwatch blazer by GANT? And what do you think about the fact, that you now can wash your blazer thanks to GANT?