Blog Posts and Youtube Videos of the Week
After finishing off with all the content from Bali, it was time to share autumn outfits on the blog, and that's exactly what I did the last week. I shared three new outfits, and all were autumn looks. The first outfit post was all about a mustard midi dress I combined with a pair of cowboy boots. I have to say, that I do like this look a lot, but the combination might not be my favourite. Have a look yourself and read more about why I am not so sure about the outfit.
I also shared an outfit wearing my all time favourite trench coat. It's a casual outfit I was wearing on a weekend, so I combined the trench with a pair of black jeans, platform boots and a floral top. The last outfit post was all about the washable blazer by Gant. It's such a cool piece, and I love, that I can wash it at home and don't have to let it get dry-cleaned. Check out the post, if you want to know more.
I also shared a few new videos on YouTube. I had some problems with my editing program in the past weeks, but I finally managed to finish all my vlogs from Milan and shared them on YouTube the past week. Other than that I also shared the very first episode of BBSTB, "Berliner Bossschwestern Talken Business". I am doing this series together with Luisa, but unfortunately, it's only available in German. We are talking about ourself, our business and everything in between.
Looks of the Week
The past week we didn't really take outfit pictures due to all the events and appointments. We planned to do much more, but we ended up spending too much time at the office. And as it gets dark around 4 pm, it's such a challenge to take outfit pictures. I really don't like autumn and winter and can't wait for the end of December when the days start to get longer again! But anyways, here are the three outfit pictures I can share with you today: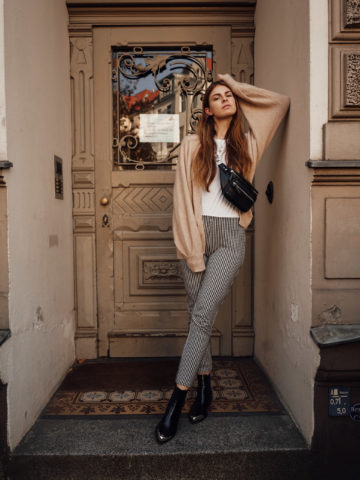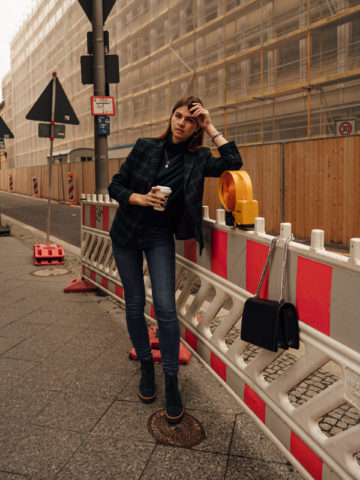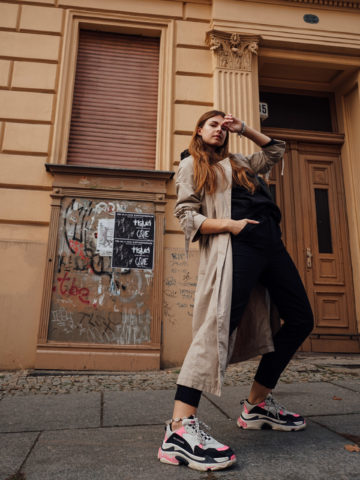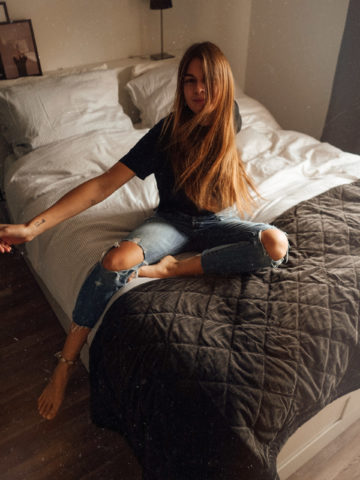 What happened the past week
The past week was an eventful week, but we had a quite calm weekend. We spent both days, Saturday and Sunday, mostly at home and just tried to relax. We didn't even take a lot of outfit pictures, because the weather wasn't the best and we just didn't feel like doing it. This calm weekend was much needed for a very stressful week.
My Monday started with my weekly training at Aspria. I love the fact that I have a weekly appointment and know, that I will work out at least once a week due to it 😉 I went straight to the office afterwards and tried to get some work done. And that's what I did for the rest of the day. Tuesday I spent most time of the day at the office again, but in the afternoon I met up with Kim, and we decided to go to the gym together – that was the second and last workout the past week. Wednesday was the last day of the past week I had time to work at the office.
I tried to make the most out of it and in the evening we went to the launch party for the H&M x Moschino collection that was available in stores from Thursday on. We also had the chance for a little pre-shopping, but the only thing I bought was a dog leash haha.
Thursday and Friday I had a couple of appointments and meetings. I visited a PR agency on Thursday morning to pick up something for an upcoming collaboration. Afterwards, I met up with Julia (@juliasteyns) for lunch and, of course, to take some pictures. And in the evening I went to the launch dinner for the very first Vila Talent Awards collection. As you might know, I was part of the German jury, and the designer from Germany was the one who won the award. 🙂 It was great to see the collection, and I had a really nice evening with the Vila team, the winners of the awards and the other bloggers. I was in bed way later than I wanted to and so tired on Friday morning. But I had to meet up with Kim and Caro at 8.30 am to shoot some lookbooks, and we also went to an event together, the Carpe Diem Breakfast Club in collaboration with Aveda. We talked a little bit about hair care and ate some delicious bowls from Beets & Roots. Afterwards, I finished shooting the lookbooks with Kim and Caro and went straight to the office once we were done to get some last things done before the weekend.