A new season is just around the corner. It's getting colder again, and accordingly, the outfits are getting warmer. At least in the ideal case. With the new season come new trends again, and with them, many new outfit options. In the following weeks, I would like to introduce a few of the winter 2021 trends, and I want to begin with one of my favorite trends, the sweater vest.
If you think of sweater vests, you might first think of your grandparents. The name is a bit dusty, but the garment itself celebrates a revival as an absolute trend piece in winter 2021/22. And in this post, I am sharing why it is one of the big fashion trends for fall and winter 2021/22 and how you can integrate the trend into your everyday outfits.
Fashion trend sweater vest
The slipover has actually celebrated its comeback in the fashion world a little earlier this year. Already in the spring of 2021, you could see it everywhere. However, it is now taken into the winter season. No wonder because the sweater vest is very versatile and can be perfectly used for layering looks, which keeps us nice and warm in the winter.
The choice of different models seems endless, from classic grandpa style with V-neck to turtleneck sweater vests or vests in bright colors. The fashion trend sweater vest will be anything but boring this winter. If you are still unsure whether you should join this winter 2021 trend, this blog post might change your mind. In the following, I will show you how you can combine the trend piece now.
Knitted sweater vests for women – how to style the classic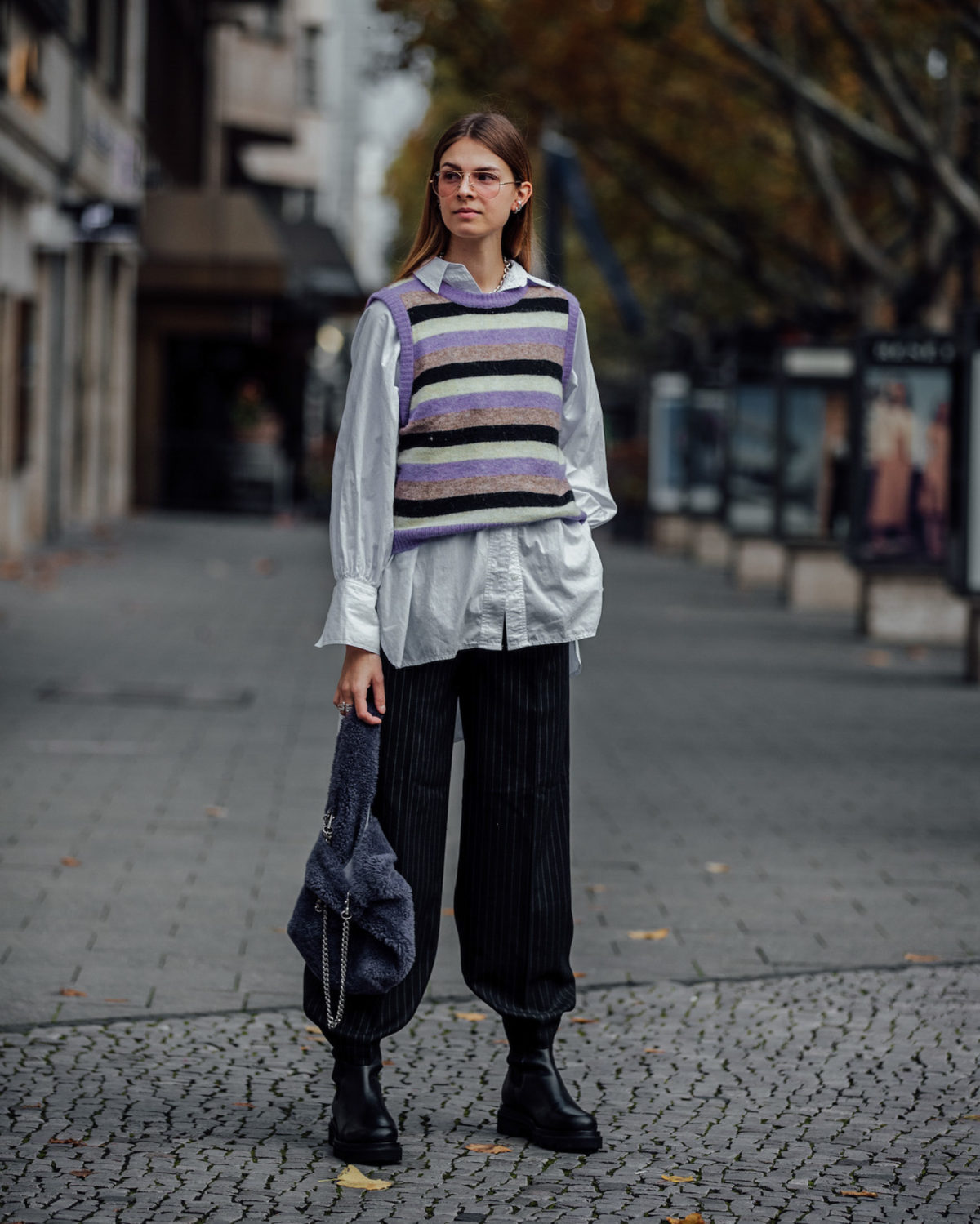 Especially during the cold days, you should go for knitted sweater vests. But don't worry, most of the sweater vests that you can currently find in stores and online are knitted. The knitted sweater vest is the most classic form of this fashion trend.
The knitted sweater vest currently comes in many different designs. Whether classic with V-neck, slightly oversized at the shoulders, or with eye-catching prints and bright colors. The selection of sweater vests for women has something to offer for everyone.
One of my favorite combinations is a knitted sweater vest and a button-down shirt. For a more casual look, it's best to wear an oversized shirt in white or black underneath. If you like it chicer, it is best to choose a regular fit. The collar must be visible, so you loosen up the look a little. The sleeves, in turn, you can roll up or leave long and buttoned.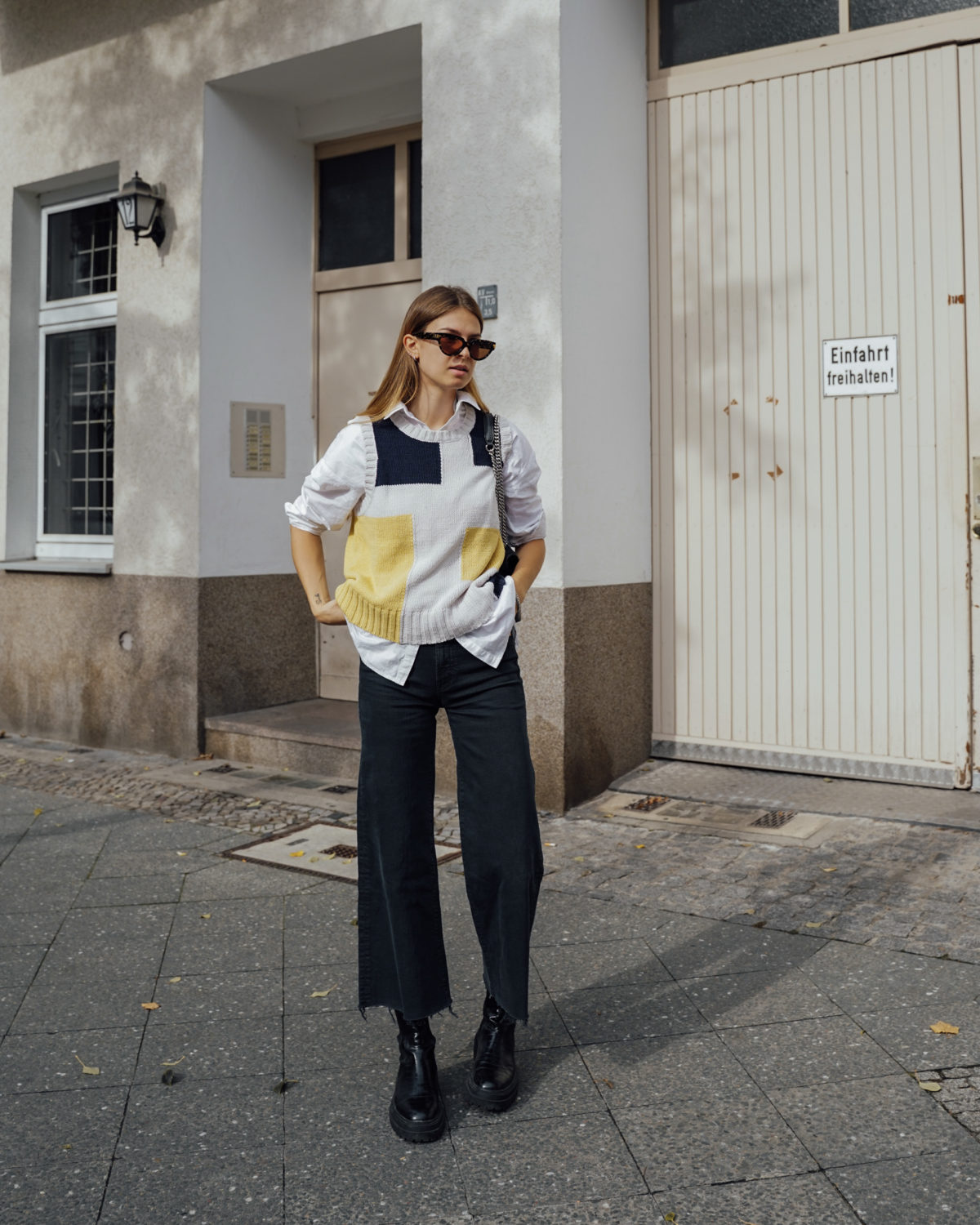 Oversized sweater vests for a casual look
As you can probably guess, I like the oversized sweater vest best. The advantage of this women's sweater vest option is that you can incorporate it into your layered look even easier. The bigger and looser the sweater vest, the thicker your layer can be underneath. For example, you can also wear a knit under the sweater vest. So you are swapping the actual function of both garments (PullOVER, PullUNDER).
The great thing about the sweater vest is that there are no limits to the possible combinations. From monochrome to colorful or prints, everything is possible. For example, you can combine the oversized sweater vest with a sweater in the same color and a contrasting color. The print mix is also a great styling idea.
If it is a little warmer, then you can wear the sweater vest without anything underneath. In my opinion, this also works best with an oversized sweater vest. Add a pair of loose jeans or suit pants, eye-catching shoes, as well as accessories, and you are good to go.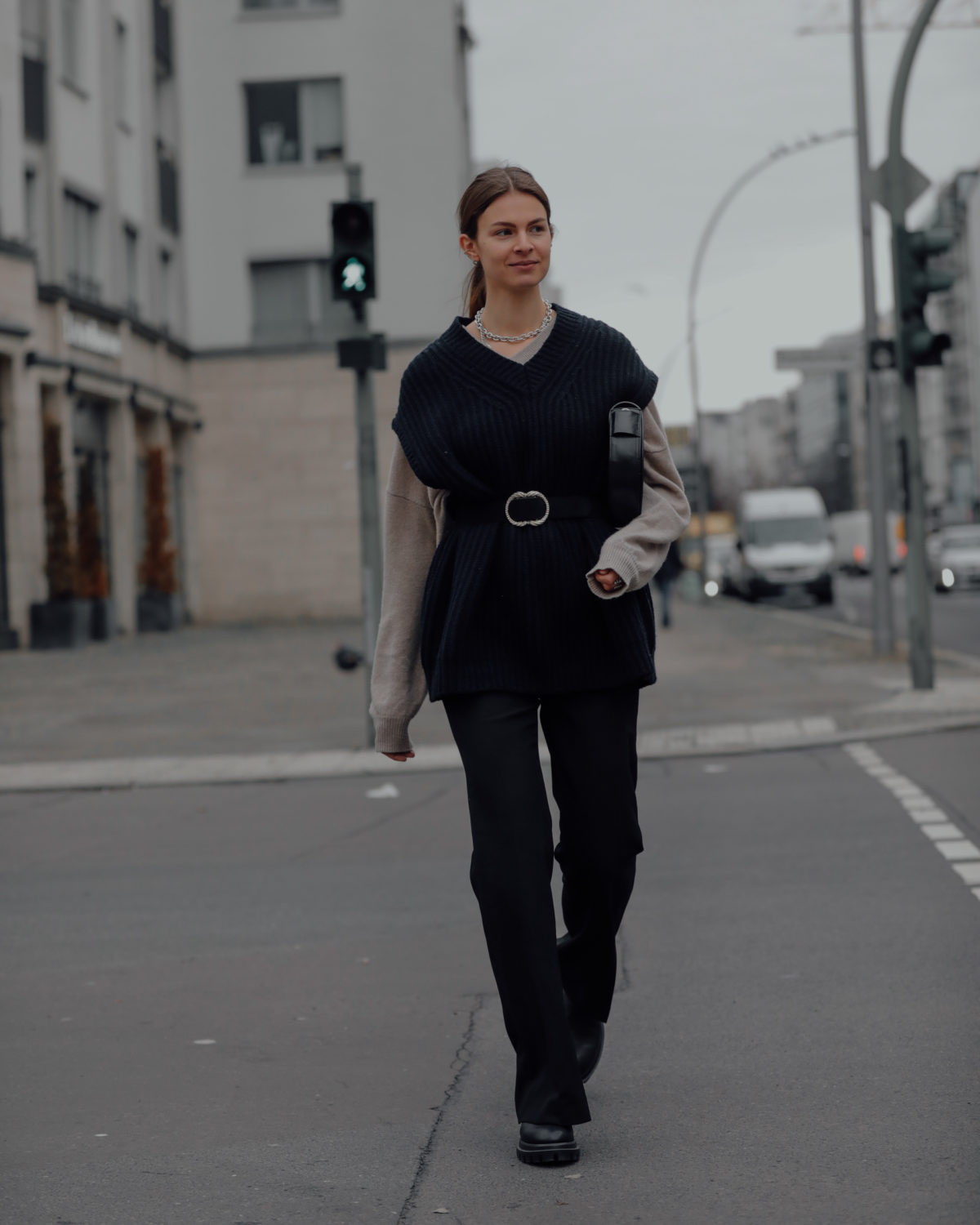 More sweater vest outfit ideas for fall and winter
The fashion industry once again shows off its creativity when it comes to the sweater vest fashion trend. In addition to the classic women's sweater vest, they created more unusual models such as styles that are open on the side and held together only by a ribbon for lacing or models with zippers. Of course, you can also find the combination of both in one sweater vest model. These sweater vests are eye-catchers that create great fall and winter outfits.
Another sweater vest outfit idea is, for example, the combination with a long dress. For this, oversized models are the best option or sweater vests that are open at the side. These sweater vest styles sit loosely over the dress. I have only tried the combination with a loose midi dress, but I can also imagine combining sweater vests with tight dresses.
When it comes to layering outfits with sweater vests, there are also many options here. I have already shown you the variants shirt and knit underneath. But you can, of course, also pull something over the sweater vest, such as a vest. Work with different lengths and colors of one color family for a chic sweater vest outfit for fall and winter.
Is it worth it to join the sweater vest trend?
I hope this post can give you an answer to that question. I would definitely answer it with "yes." The sweater vest trend has been going on for some time now, and it certainly won't disappear after the winter. In general, any trend that can be combined in various ways and includes classic pieces is a trend you can go with. The chances are high that you will still wear the trend pieces even after when the trend is over.
With that in mind, feel free to let me know what you think of the sweater vest and how you like my outfit ideas. I look forward to reading your comments.