With the 1st of Advent just around the corner, the Christmas holidays are also getting closer and closer. And with the upcoming Christmas season come numerous occasions for which festive outfits are needed. Together with the online store De Bijenkorf, I want to share two outfit ideas for the festive season with you today.
Festive fashion for the Christmas holidays is the big topic of today's post. I've put together two different looks for you, so there's something for each of you. At the same time, as you are used to from me, I focused on comfort for both looks. The result is casual chic Christmas outfits that you can also wear perfectly in everyday life with slight modifications.
Festive outfit with dress and blazer
Dresses can not be missing for the holidays. And even though I generally don't wear dresses very often, they do belong to Christmas, and I enjoy styling them for a festive occasion sometimes. At De Bijenkorf, I have found many beautiful designer dresses for you. From maxi to midi to mini dress, everything can be found.
In my opinion, there is not one dress or style that you should wear for a festive outfit. Generally speaking, whatever you feel most comfortable in, can and should be worn. Whether it's a mini dress combined with high heels or knee-high boots, a maxi dress with sneakers and a knit sweater over it, or a midi dress styled with ankle boots and a blazer. These are just three of countless other ways to combine a dress festively.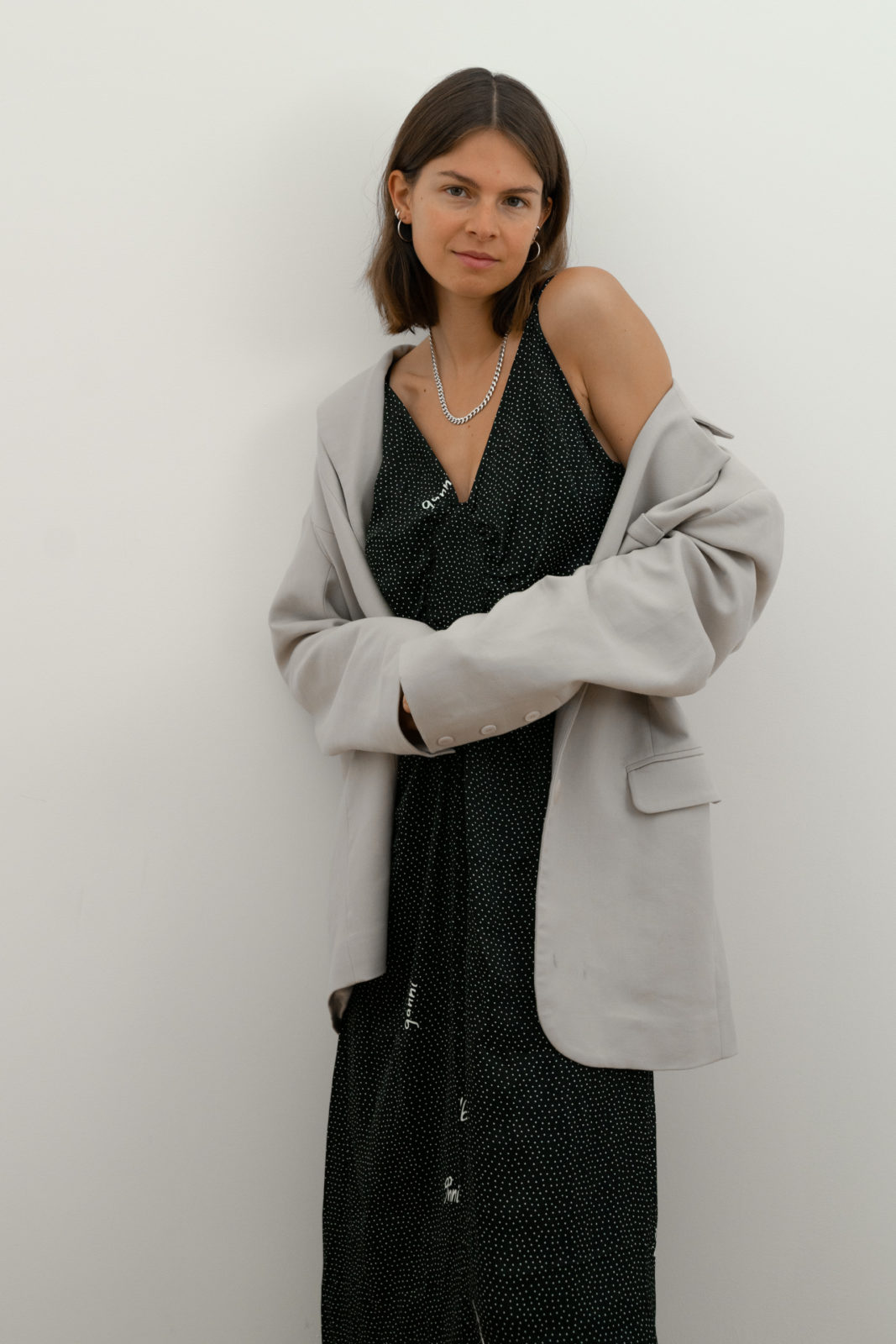 I opted for a satin midi dress from Ganni. For me, satin is a material that looks particularly chic and is perfect for the holidays. I combined the black satin midi dress with cowboy ankle boots in a light cream shade and an oversized blazer in a beige tone. Personally, I like to play with contrasts, but you could go for black boots and a blazer for a more simple look. Also, this Ganni dress would look great with high heels or even high boots that are tight on the leg.
Christmas outfit: oversized shirt combined with black pants
My second festive outfit for the Christmas holidays consists – how could it be otherwise – of a pair of pants and an oversized shirt. I worked with specific accessories and details to twist an everyday look into a Christmas outfit.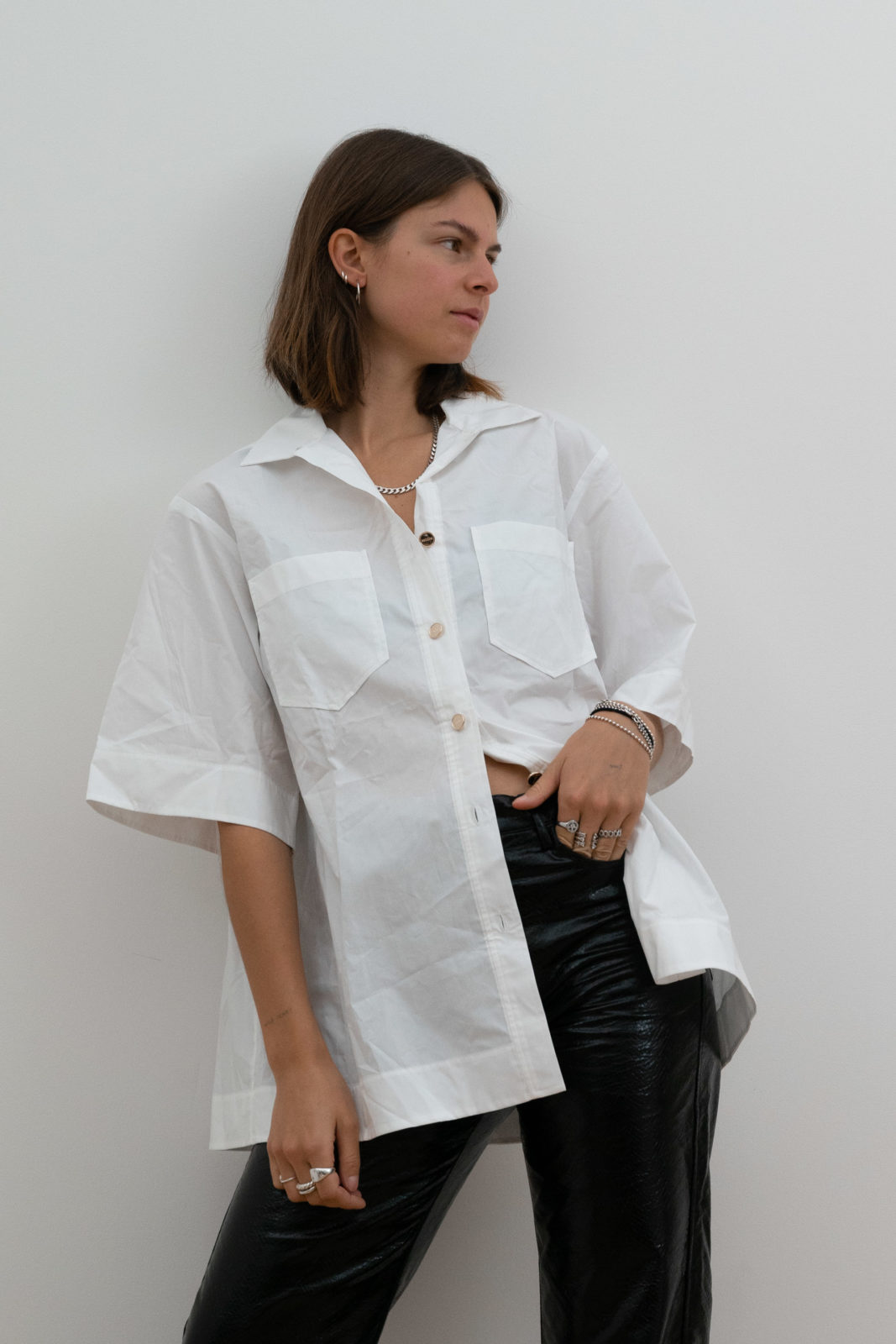 The main focus is on the Sandro shirt, which I found at De Bijenkorf, among many other fantastic designer pieces. What makes this shirt perfect for your festive outfit? The material looks super high quality, making it ideal for fancier outfits. Plus, the gold buttons are perfect for festive occasions.
It's best to combine the shirt with black pants because the combination of black and white is a classic, and you can never go wrong with it. When it comes to the pants, you can choose the model in which you feel most comfortable. I chose PU leather pants, but you can also combine the Sandro shirt with jeans or cloth pants.
I would wear sneakers or boots to this outfit in everyday life, but since it is an idea for a Christmas outfit, I have resorted to high heels for a change. That's all it takes for your festive outfit for the Christmas holidays.
Festive accessories to complete your Christmas outfit
I have given you each the basis for your Christmas outfit or festive outfit with the two previously shown looks. Of course, you still have plenty of room here to make the outfits even more festive. This always works best with accessories.
In general, everything that glitters and shines screams festive. However, you should definitely make sure that you do not overdo it here. If the rest of your festive outfit is rather plain, add a more eye-catching festive accessory to round out the look.
This can be a bag, a pair of shoes, hair accessories, jewelry, or even a belt.
A bag with sequins plus a classic black belt. Or a small black bag and a hairband in an eye-catching red – a bit of an eyecatcher is ok, but here too, less is more. Just try it out and let me know what your perfect Christmas outfit looks like.