I told you that we had some beautiful summer days in Berlin last week and, of course, we took full advantage of the nice weather and took some pictures of the last summer outfits worn in Berlin this year. Yep, they are probably the last summer outfits I was wearing in Berlin this year… I mentioned before, that it is getting colder again and I know, that I the days on which I could only wear a nice summer dress are over. Maybe we are very lucky, and this September will be a very warm one, but I have only little hope. All the more am I excited for the trip we are currently planning for October: three weeks in Indonesia. Well, we still haven't booked anything and October, and November are actually going to be very busy, so I hope we don't have to postpone this trip to the end of November or next year. Fingers crossed everything will work out as we want it to and that we can make time for this trip.
I really want to go on this trip, because I don't want summer to end and I also want to continue sharing summer outfits, because they are always so much more fun to wear and share. For now, I still have some summer outfits I was wearing in Berlin left, so we all have to put up with these for now. No beaches, to palm trees, but the atmosphere on this summer day was pretty nice as well. As you can see, we took these pictures when the sun was about to set, and I love the warm light, how the sun makes everything shine and look so much more beautiful.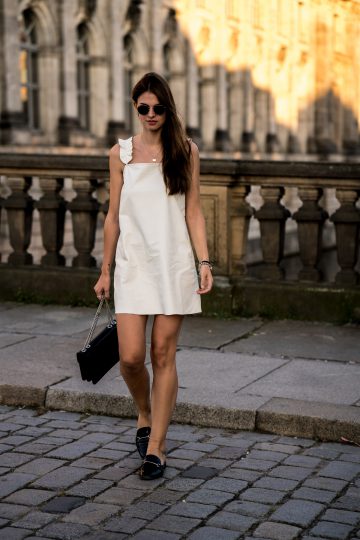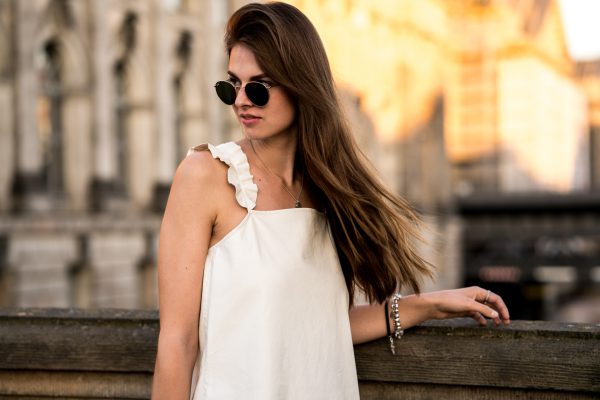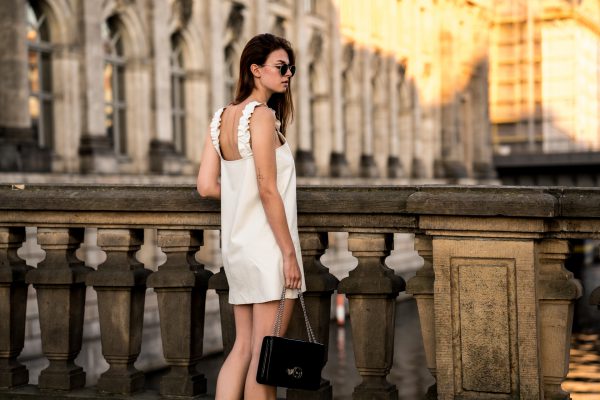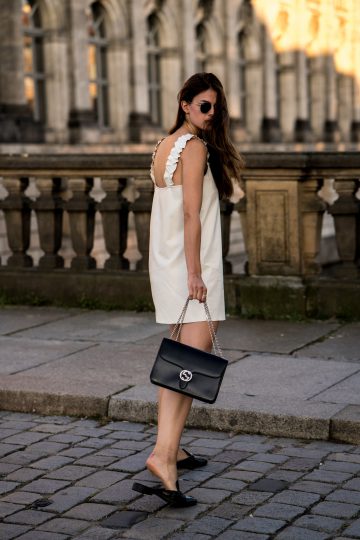 Wearing a white leather dress in summer
First of all: it is a fake leather dress, no real leather! And secondly: wearing (fake) leather dresses in summer actually isn't the best idea. Luckily it wasn't that warm the day I was wearing it, I think we had around 25°C, and due to chilly wind it felt more like around 20°C, and I actually was a little bit freezing in the evening. You can perfectly wear a fake leather dress on days like these, especially when the sun isn't that strong. I couldn't have chosen a better day to wear this dress, that's for sure 🙂
I kept it very simple that day and put together a very classy and chic black and white look. I combined my white leather dress with my black Gucci bag, black mule sandals as well as my round sunglasses from Ray Ban. Last but not least I added the pieces of jewellery I am wearing almost every single day, and that's it. How do you like this simple yet chic outfit?
Last but not least I would love to get your feedback: what do you want to see more on the blog? What should I change? And should I post more often or less often? I am thinking about changing a few things on the blog and be more focused. Oh, and you could also let me know if you want to see more video content. So far I had only filmed when I was travelling, but maybe you want to see more of my daily business? Let me know, guys! xx