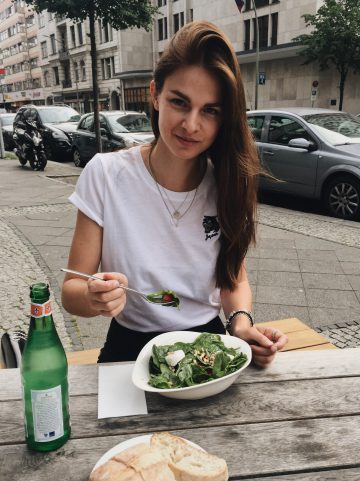 Happy Sunday everyone! It is such a busy weekend, and I am on the go non-stop until this afternoon – you can't imagine how much I am looking forward to spending the evening at home, doing nothing but eating and watching Netflix. Don't get me wrong, I love being active and having much to do, but on the weekends I prefer keeping it calm and being home 🙂 Not that the activities these weekends have been a lot of fun. But anyways, that's not what I want to talk about today. Because today it is time to share a new "24 hours a day, 7 days a week" post, in which I will tell you everything about the past week. So let's start with the past weekend.
The past weekend was exactly how I like it best: super calm and relaxed. We didn't do much at all; the only "event" was the birthday of a friend who turned 30 the week before. We were home late and slept in on Sunday – unfortunately, I didn't sleep very well. Therefore I was useless all Sunday. The only thing I did was going for a long walk with Jimmy, eating and watching Netflix before going to bed early.
Monday to Friday were some very busy days; I didn't only spend at the office. Monday and Tuesday I had to catch up on a lot of work, work I couldn't do the week before due to the trip to Amsterdam. I didn't do anything else but work.
But on Tuesday I left the office on time (around 6 pm) and went for a run together with Jimmy. It felt good to be active again because I have been super lazy lately. And I don't feel quite comfortable at the moment. I want to get back into a fitness routine and be more active, so hopefully, I will feel better about myself soon – yep, even I feel uncomfortable from time to time.
Wednesday didn't start at the office as usual because I had to drive to the Bikini Berlin and take some pictures for my next article I am writing for their journal. Afterwards, I headed to a seeding event by Reserved and then it was finally time to start working at the office. I actually expected to be back at the office around 2 or 3 pm, and I was back at 1 pm – I love when things work out faster and better than expected 😉 So after being on the run all morning, I was quite productive at the office afterwards. And since Wednesday was the warmest day of the week with temperatures around 30°C, we went to a lido after work. It actually was the first and probably last time this year – how sad is this?!
Thursday was another full day at the office. I had to get a lot of work done – yep, as every single day – and had to prepare a couple of things, because I had to leave the office early on Friday. It was the first day of the B&&B in Berlin, and I was there for Fossil that day. Janina Uhse and Felix Jaehn are the faces of the new Fossil campaign, and together with other influencers and bloggers, I had the chance to talk to them in a private meet and greet. After two hours at the Bread and Butter, I headed home, had dinner with my boyfriend and later that day we went to the Fossil after show party of which a private set by DJ Felix Jaehn was part of. I had such a great time with the Fossil team, and the other girls as you probably saw on Instagram 🙂