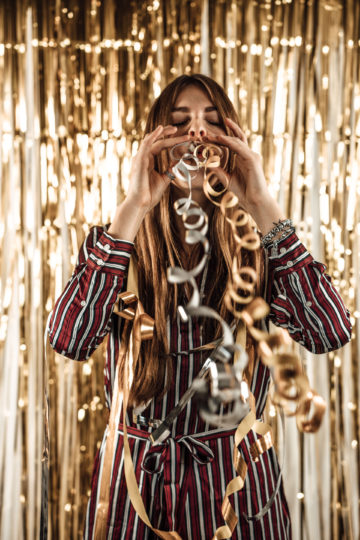 The year is coming to an end, and it's time to plan the last night of the year! Do you already know what you will do on NYE? I actually have no idea. I also don't know what I want to wear this year. Of course, I thought about it a lot already, and I know, that you have this question in mind as well. That's why I teamed up with GANT to create two different NYE outfits. One of the outfits is perfectly suitable for a cosy night at home and the other one for a party night. I hope these two outfits will help you to find your perfect look and maybe they will also help you to decide what to do on NYE.
The perfect Party-Outfit for NYE
You want to party on the last night of the year and have the best time with friends in a bar or a club? Then this might be the perfect outfit for your party night.
When we are going out, we definitely need an outfit that, is chicer and more eye-catching than the ones we are wearing in our everyday outfit. But, of course, at the same time, it has to be classy. So how about this beautiful chemise dress from GANT? It is not only super chic, but it also works perfectly for the last night of the year. I opted for a simple outfit combination and wore the chemise dress together with a pair of loafers. I mean, walking in high heels all night isn't fun at all! So if we want to survive the whole night and have the best time, we always fall back on flat shoes. And since the dress is an eye-catcher itself, we honestly don't need fancy details or anything else to put together a nice party look.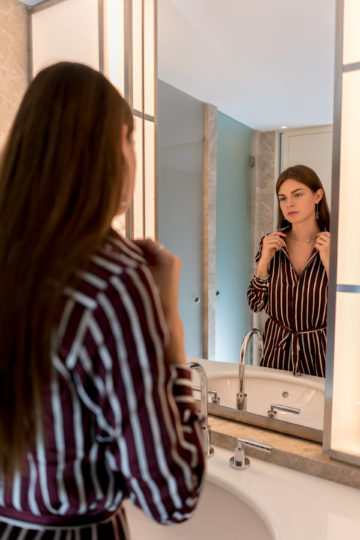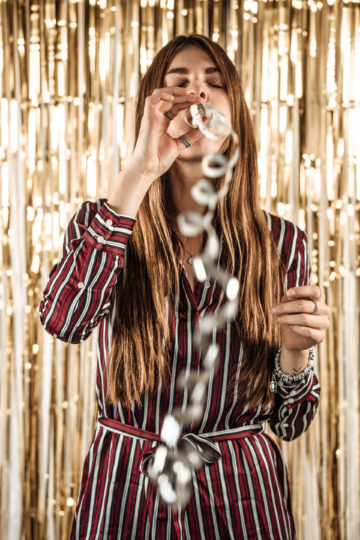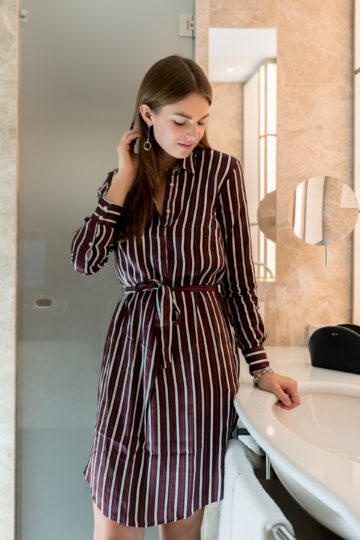 I just added some filigree pieces of jewellery: a pair of earrings, a chocker as well as the rings and bracelets I am wearing every day. If you like it more opulent, you could also wear statement jewellery. I am sure, not matter, what kind of look you will choose, you will have a great time!
What to wear when spending NYE at home
The second NYE outfit idea for 2017 is perfectly suitable for a night spends at home. I know a lot of people, who enjoy spending this last night of the year at home, with their beloved ones. And when you don't want to party on NYE as well, you don't need an outfit as fancy and glamorous as a party outfit; you can wear something casual chic instead.
How about a black culotte combined with a red sweater from GANT? Culottes are way more chicer than black jeans could ever be. At the same time, they are super comfortable, what makes them perfect for an NYE spend at home. I chose the red sweater for this outfit because I think it's nice to have a touch of colour. Red also is a very festive colour you can not only wear on Christmas but during the whole festive season including NYE.
I also combined this outfit with some filigree pieces of jewellery and my favourite lacquer loafers. Because when you are at home at a friend's place to celebrate the new year, you don't have to wear uncomfortable shoes. 🙂
I hope these two outfits will help you to find your perfect NYE outfit. Which of the two I just shared do you like best? I am looking forward to reading your comments. xx