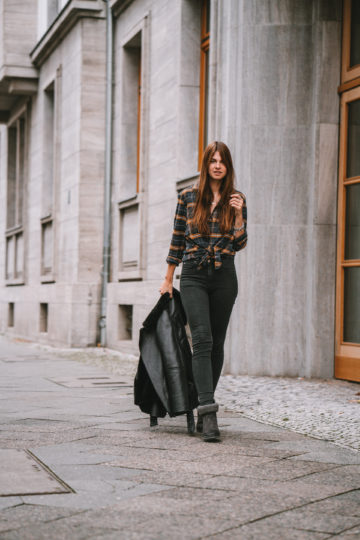 Those who follow me on Instagram might already know, that I became sick in the middle of the last week. The timing was the worst because I was invited to Wolfsburg from Thursday to Saturday and had to take a lot of pictures for the upcoming festive season. But it wasn't something I could change, so I tried to make the best of it, drank a lot of ginger tea and tried to relax as much as possible so my body could recover. Due to this sickness, I couldn't work on the blog as much as I wanted to. I didn't share a weekly recap (no worries, this Sunday I won't skip it) and I also couldn't work on some of the outfit posts I have in the pipeline.
Luckily I am feeling much better today, and I also spent the last two days at the office to get some work done. Therefore I tried to catch up on everything I couldn't do due to the sickness and preparing some new outfit pictures was part of it. 🙂 The next days I will share two everyday outfits as well as two outfit inspirations for NYE, and I hope you will like them. Let's start with the first "everyday" outfit featuring my new oversized plaid shirt.
How to wear an oversized plaid shirt in winter
One of the things you might not know about me: I always buy my sweaters and shirts in M or L even though I am usually a size S. What can I say, I like it oversized! I often also check the men's section, but then I usually go for a small or medium size, because the cut is already wider than a women's cut. The oversized plaid shirt you can see me wearing here is actually from the women's collection, and I got it in size L.
I have to admit, that I first wasn't quite sure about the colour. I still was in travel and summer mood and wanted to wear colourful and bright clothes only. But the weather in Berlin actually isn't suitable for bright summer clothes and I that's what I did not only have to realise but also to get used to haha. In winter it is all about darker and muted colours and this plaid shirt fits perfectly into the winter clothes category. I actually really like the muted tones, and I actually think that this plaid shirt will also look nice in summer. But in summer I would probably combine it with a pair of white or denim shorts or a white denim skirt to add some lighter colours. 😉
But how did I combine it for a winter day in Berlin? I stuck to the darker mood and combined my oversized plaid shirt with a pair of dark grey jeans, grey winter boots and my black shearling jacket. I also added some pieces of jewellery – the ones I am wearing every day – and that's it. It's a quite simple look, perfect for a day spent at the office or in the city running errands. I would also wear it when meeting up with friends or my family. In short: this outfit is suitable for every occasion that doesn't call for a formal or chic outfit.
How do you like this outfit? And do you also buy your sweaters and shirts at least one size up? I would love to hear if I am the only one doing it haha. Leave me a comment and let me know. xx