Oh yes, it's getting warmer in Berlin, and the sun is shining almost every day. It's crazy how the weather changes one's mood, isn't it? During those cold and rainy days in Berlin, I was in such a bad mood, and I didn't feel like doing anything at all. I was a little bit powerless and demotivated. But now that it is finally getting warmer and sunnier, I'm in such a good mood. I'm motivated to go outside, to take new outfit pictures and to write new posts for you guys. I get up way earlier in the morning and get so much more things done, it's great! It is perfect that it finally feels like spring and that I can take new pictures and be productive, because after such a quiet week on the blog last week, I really want to share more posts this week. Yesterday I shared the first outfit of the week, and it was one of the outfits I was wearing on a cold and inconstantly day here in Berlin. Yesterday's outfit didn't look like spring, and I am so happy that today's outfit does. I've been waiting for sooo long to share spring outfits on the blog finally, so here you go.
Spring Awakening in Berlin – Casual Spring Outfit
Spring Awakening in Berlin, I think that's how you can call it. It took way to long for spring to awake, and we haven't had enough nice days so far. Fingers crossed, that spring will stay this time and that it won't get colder again. I don't mind a few rainy days as long as it is not getting colder again. I also wouldn't mind if it would just get a little bit warmer, so I can be outside with an outfit like this one on without freezing. The day we were taking the outfit pictures I had to wear a jacket, and I only took it off for the time we were taking the pictures.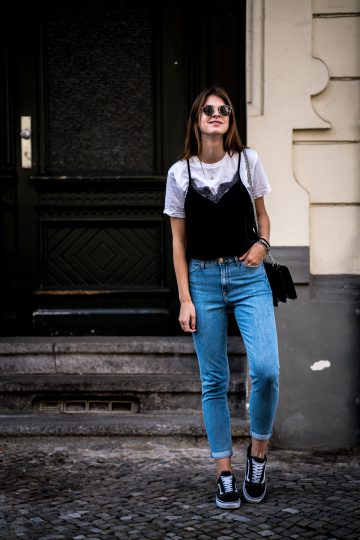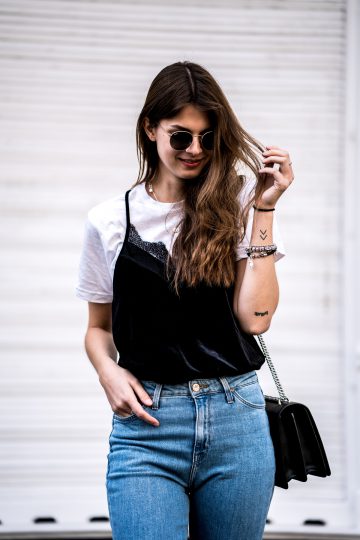 This is the perfect casual spring outfit: it's comfortable yet chic, and I absolutely love the simplicity. I was wearing a new pair of Mom Jeans I just got from Lee Jeans, and I can tell you, it's super comfortable. It is the perfect everyday jeans, especially when you're sitting at the office most of the time. Additionally, I like the colour a lot, I didn't have a mom jeans in light blue before, and I think I will wear it more often during summer. Light blue jeans are perfect for summer, don't you think?
I combined my new pair of jeans with a white t-shirt, I pulled over a black camisole with lace details, put on my black Vans and added a few accessories such as my Agneel bag and my round Ray Ban sunglasses. I love how the tops match the shoes; they work very well together, don't you think? How do you like my casual spring outfit?
P.S.: Can you believe it's May already? Time flies, and I really have to plan the next travels 😉 I was in Berlin the whole April, and I haven't planned anything for May so far… any suggestions? Where should we go? Which places do we have to see in May and June? All recommendations are much appreciated. xx