I hope you don't mind, that I didn't share anything yesterday. I told you that I would share more outfits this week, and I am sharing more, but we didn't have enough time to take outfit pictures for every single day this week. So after one day without sharing a post, it is time to share another outfit today! It is the kind of outfit you see me wearing very often: it's all black, super casual and comfortable. It is one of the outfits you can wear on a busy day or just one of those normal days you're working most of the time, having nothing special planned for the day. It actually works for a lot of occasions, so I would not only wear it on a day at the office or on a busy day running errands. I would also wear it when meeting up with friends or head out for dinner with my boyfriend. Read everything about the outfit details and my personal highlight of the look in the following:
All black is always a good idea
Yep, I was wearing an all black outfit once again. But all black is always a good idea; I said that before and nothing has changed. I was dressed in a new pair of Lee Jeans, the Scarlett Jeans, which is super comfortable. The T-Shirt is also from Lee, and it's part of the current "I Am Scarlett" campaign. The Scarlett jeans are one of the most-loved jeans from Lee, and it's available in different variations: low waist, normal waist, high waist and cropped. I got a high waisted pair of Scarlett jeans.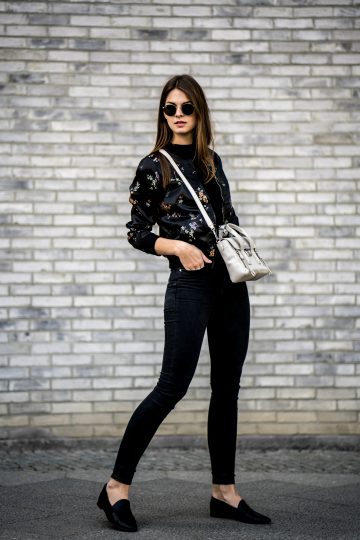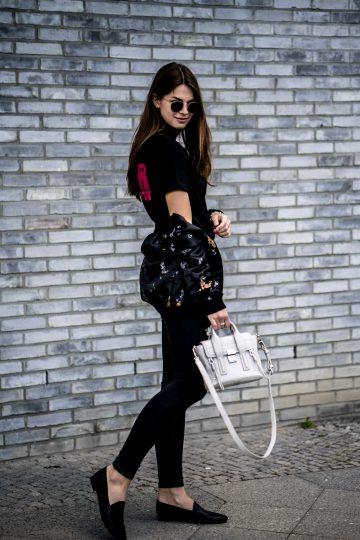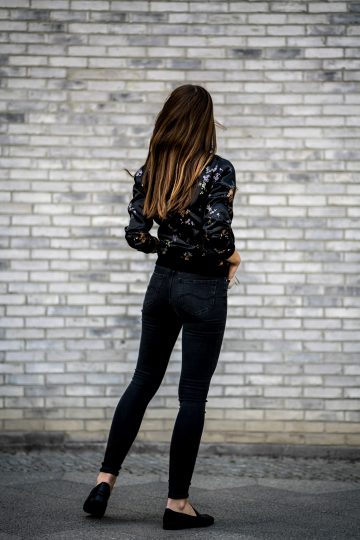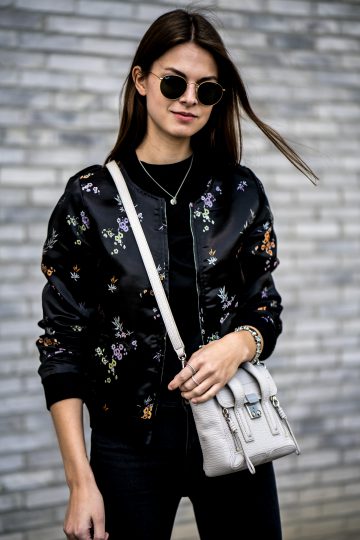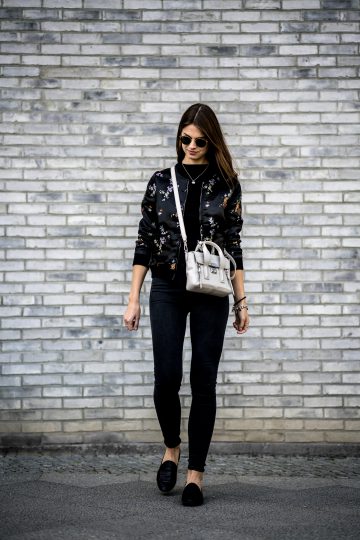 I combined it with the campaign shirt, but I was wearing it the other way around 😉 I saw someone else wearing the shirt this way, and I really liked it. I think it looks way more interesting, doesn't it? This way it also works a little bit better with the bomber jacket I was wearing. The floral print of the bomber jacket doesn't work perfectly with the print of the shirt, but I wanted to wear it anyways. And I really like the way the final outfit looks.
Mini Pashli
The absolute highlight of this outfit is my new bag: the Phillip Lim Mini Pashli. I wanted this bag for so long, for at least five years! When I first saw it a couple of years ago, I wanted a bigger size, but I've been wearing a lot of smaller bags lately and got used to them. I think smaller bags are more comfortable and handy. That's why I decided to get this Phillip Lim bag in "mini". I first wasn't sure about the colour. Black always works, but I just didn't want to buy another black bag. I have several black bags, but sometimes my black bags doesn't work with the outfits I am wearing. And when I saw this colour online, it was love at first sight. I think the colour is called "Feather", it's a light grey kind of colour… but whatever it is called, I like it a lot! I couldn't wait to wear it – finally -, that's why I was wearing it the day I was wearing this all black outfit. What do you think about the outfit and my new bag? xx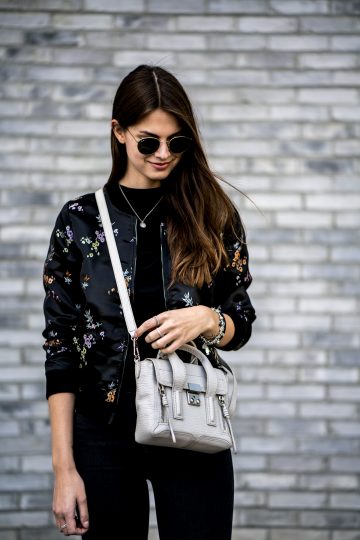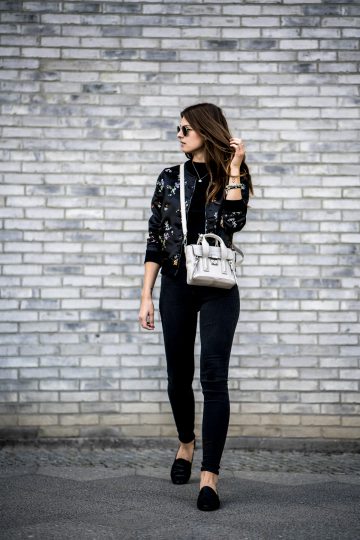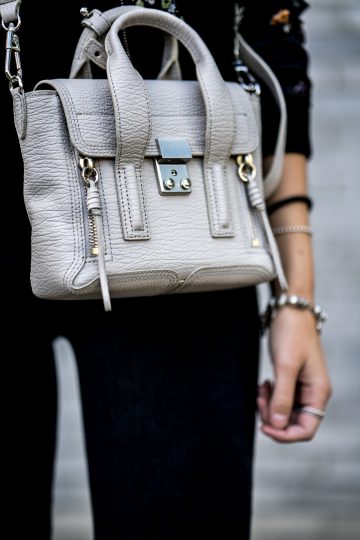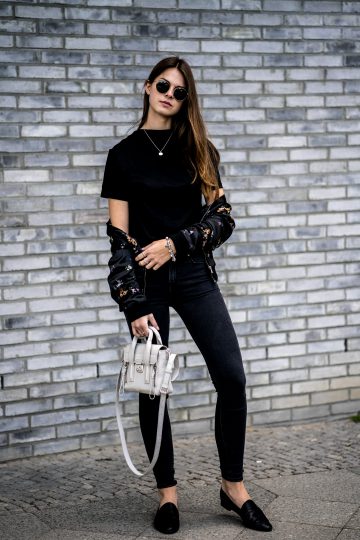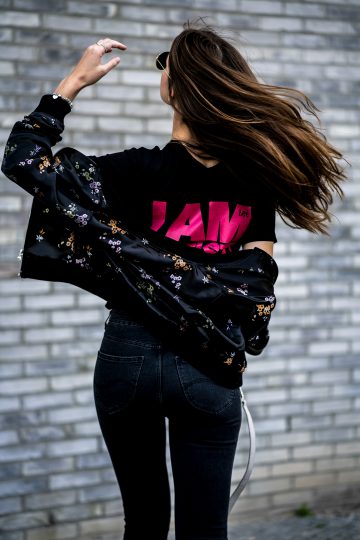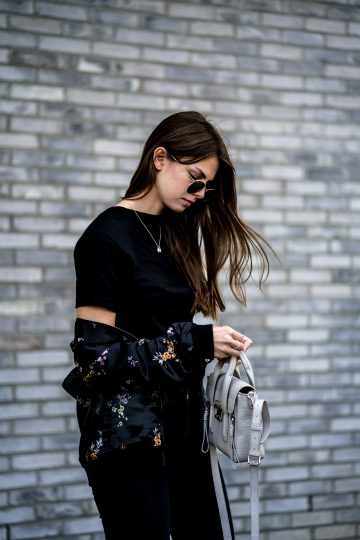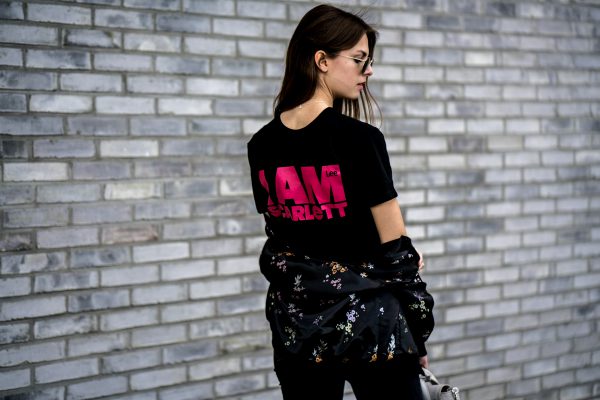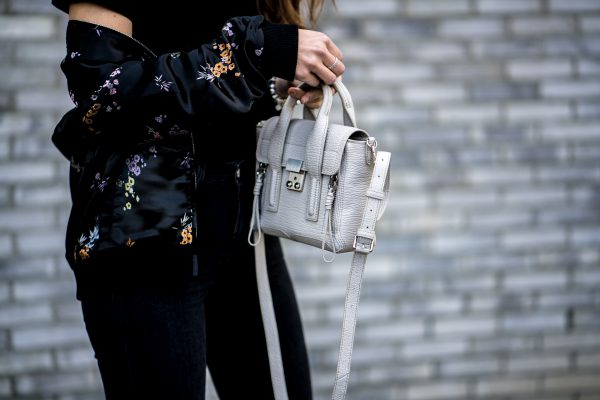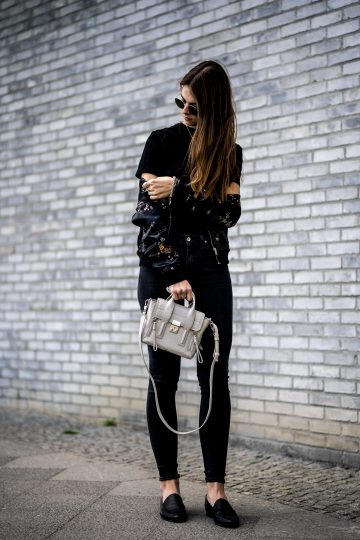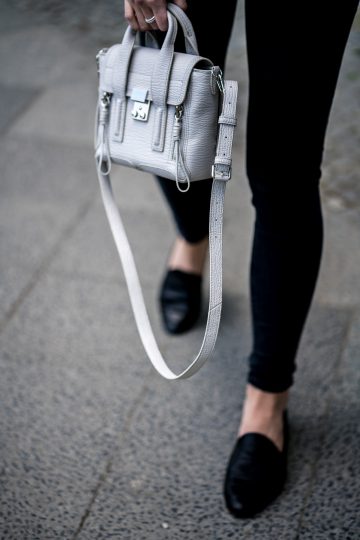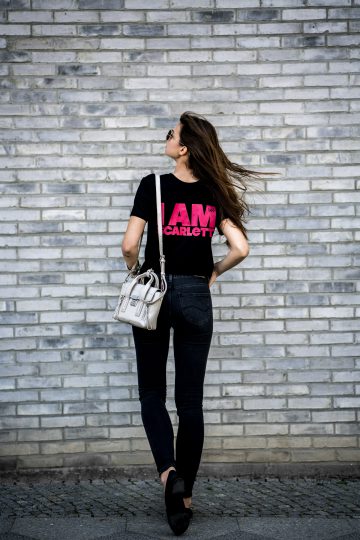 T-Shirt and Jeans sponsored by Lee.