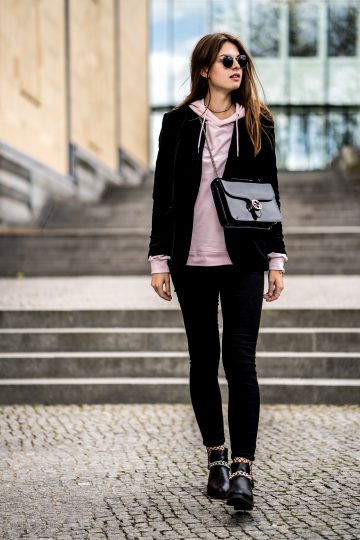 Happy Monday, happy new week! Today is a public holiday in Germany, but since I didn't share that many posts last week, I didn't want to take today off as well. So while I am probably spending a very calm day at home, working a little bit and probably watching a lot of Netflix, you can have a closer look at one of the outfits I was wearing last week. This is the first outfit of much more I want to share with you this week because I don't want it to be as calm as it was last week here on the blog. This week I want to share at least four outfits with you. Well, I think I won't be able to share more than four because the weather still is very inconstantly. But it is supposed to get better this week, so fingers crossed it actually will get better! And fingers crossed I can take advantage of this public holiday and take new outfit pictures today. We will see… but I will keep you posted. For now, you can have a look at this outfit and head over to my Instagram afterwards, if you want to see what I am up to today and if you want to know whether we take new outfit pictures today or not.
Hoodie x Blazer – this is casual chic
I really felt like wearing one of my hoodies that day, but since we were meeting my family for brunch, I didn't want this outfit to look like one of my typical Sunday outfits: super comfortable and everything but chic 😉 That's why I combined the hoodie with my velvet blazer to add a chic touch to an overall very comfortable and casual outfit.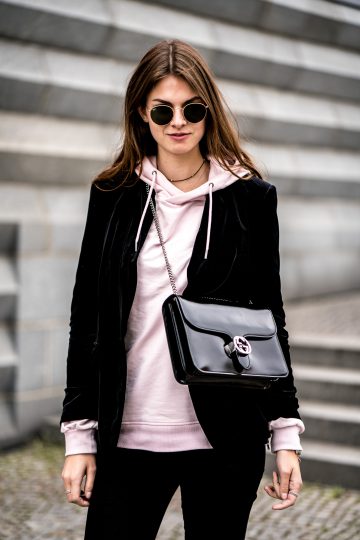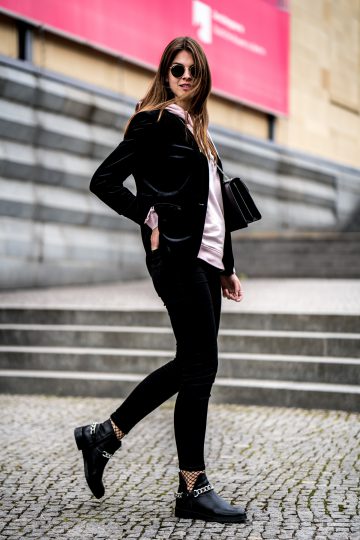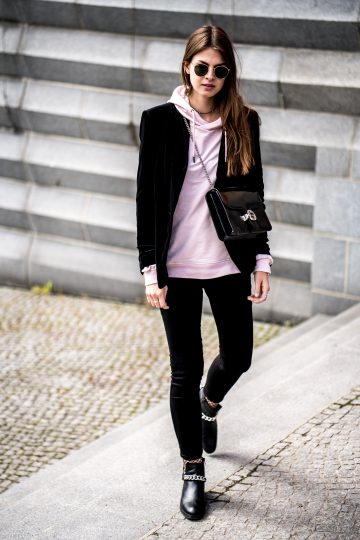 Another piece I chose to make the outfit look even chicer is my Gucci bag. Every outfit looks better and classier with this bag, doesn't it? That's one of the reasons why it is always worth to invest in a bag like this one. Quality over quantity goes for so many things, and it does for bags as well.
I finalised the outfit by wearing a pair of black jeans. They're very simple, but you can never go wrong with them. At the same time, they don't have a lot of details, but I wanted to add a couple of more details to make this outfit look a little bit more interesting. That's why I opted for my black boots with the chain detail as well as my fishnet socks. Last but not least I out on my favourite round sunglasses from Ray Ban and I was ready for brunch with the family.
Did I mention, that I love the fact that hoodies are back in fashion? I used to wear many hoodies when I was younger, but the older I got, the fewer I wore them. There were many reasons why I stopped wearing them. One of the reason is that I wanted to change my style, I wanted to look grown up and not like my younger self anymore. When I thought about hoodies, a picture of my fourteen-years-old-self popped up in my head, and I really didn't want to be that person anymore. So that's one of the reasons… now I am grown up, and I am more confident. I know what I feel most comfortable in, and I know, that this is more important than to look like others would like to see me.