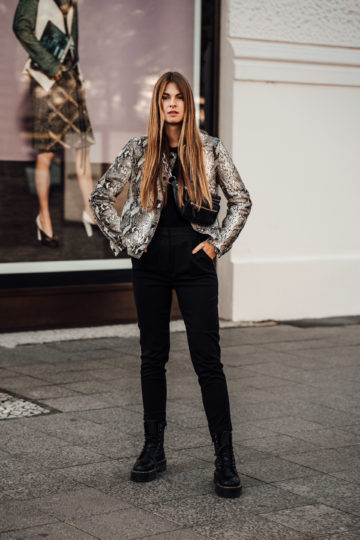 Autumn did not only arrive in Germany, but it also arrived on the blog, and from now on I am sharing no more outfits from Bali and just autumn outfits. Well, I will share one last post that is Bali-related these upcoming days, but it won't be an outfit. As you might know, it will be a restaurant guide.
Even though I liked sharing all the outfits from Bali, I also can't wait to share all the autumn outfits we took pictures of from Berlin. Summer is my favourite season weather-wise, but spring and autumn are my favourites when it comes to outfits. Spring and autumn outfits are usually way more interesting as you can play with layers, different kind of clothes as well as colours and add more details.
This autumn season I am not only trying out new colours but also new prints. You know, that I do like the leopard print a lot and it still is in fashion. But there also is a new trend you will probably see more often during autumn and maybe even winter: snake print.
How I styled my snake print jacket
I've actually been thinking about getting a snake print shirt for quite a while now, but instead I got a snake print jacket. Not bad at all, because the jacket offers even more possible combinations than the shirt. Another plus point is that I got it in size large and I do love everything oversized. Due to this size, I can wear it in combination with a chunky sweater as soon as it gets colder.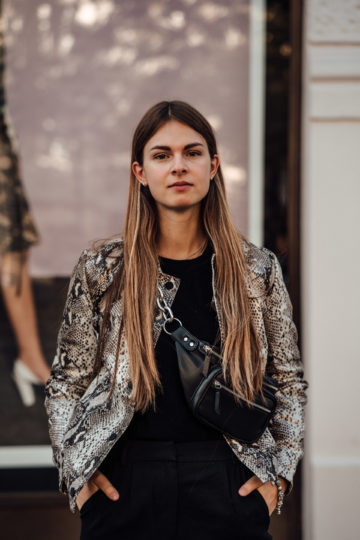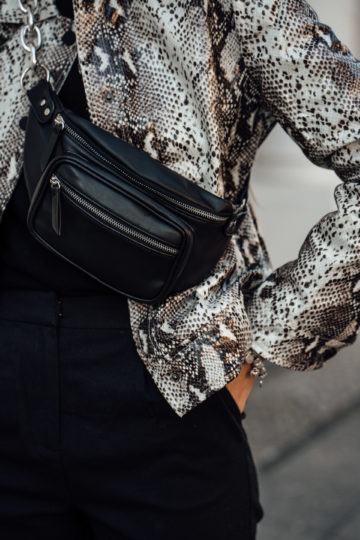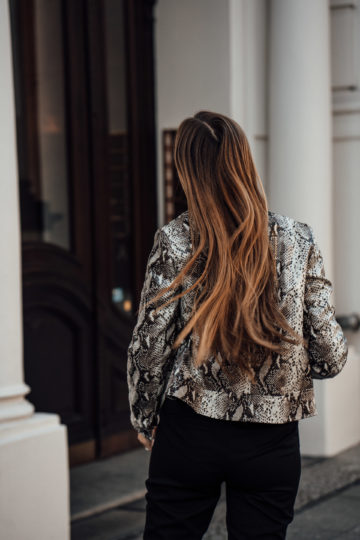 The day I was wearing my snake print jacket for the first time, I decided to keep it simple. That's why I styled it with an all-black outfit as it is my go-to look whenever I am in doubt. I first wasn't quite sure how to combine snake print, and all black is always a good idea. In this case, I was wearing a black t-shirt, a pair of black trousers, black boots and a black belt bag. It was such a comfortable yet cool outfit, and due to the snake print jacket, it looked everything but boring.
Another outfit I have in mind is an all-white look in combination with the snake print. It definitely would look fresher than the all-black outfit and would be perfect for late summer days or spring. Clothingwise you could either wear a top and pants combination or a white dress. And, of course, a skirt would also work. I wouldn't say that there are any limits when it comes to the kind of clothes. Other than the all-white outfit, I think something more colourful could look great too. How about some red or yellow details? Maybe I should try this combination sometime too. 🙂 How would you combine snake print? Do you already have a snake print piece yourself?
What are your autumn essentials?
I am currently trying to put together some autumn essentials for the wardrobe. I do have a few essentials such as black boots and leather jackets I've been wearing for years now. But I would like to update my essentials for the autumn season. I already got a few new, but before I share them, I would love to know, what you wear every autumn. What are your autumn essentials?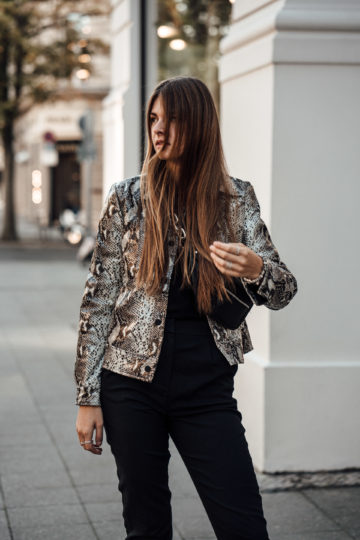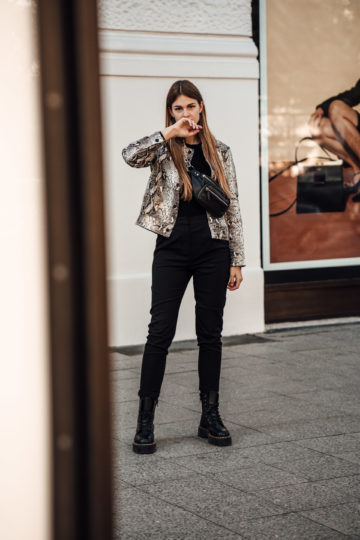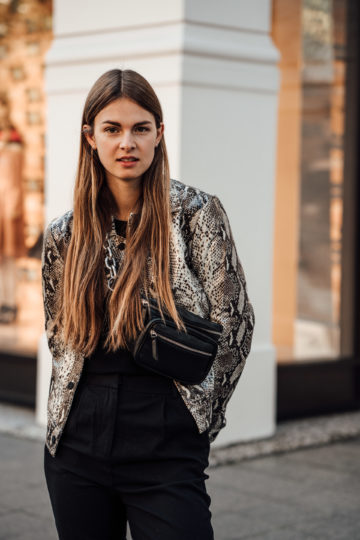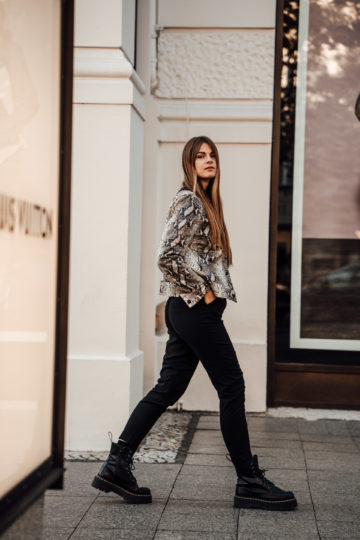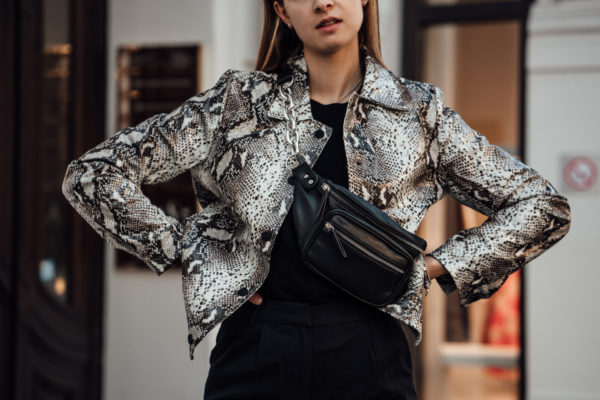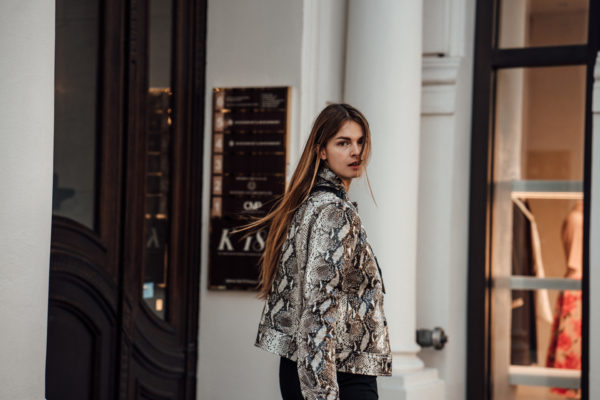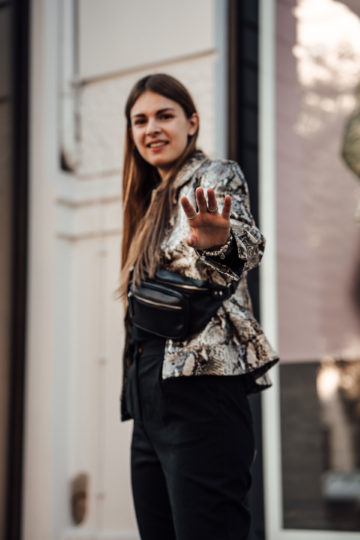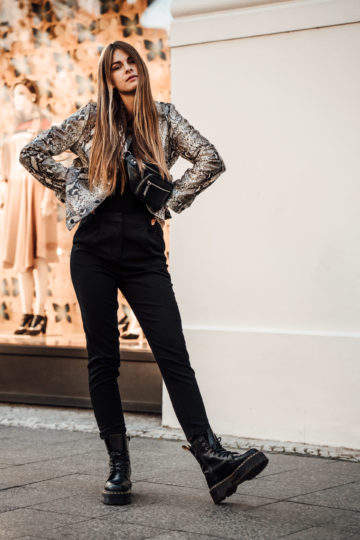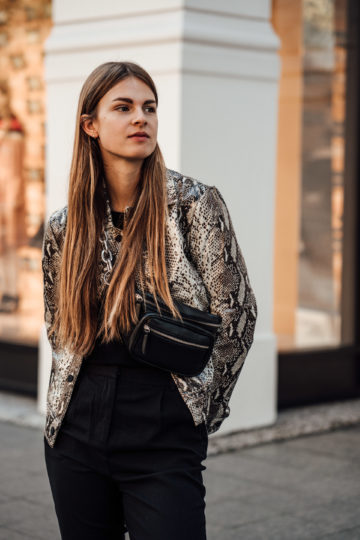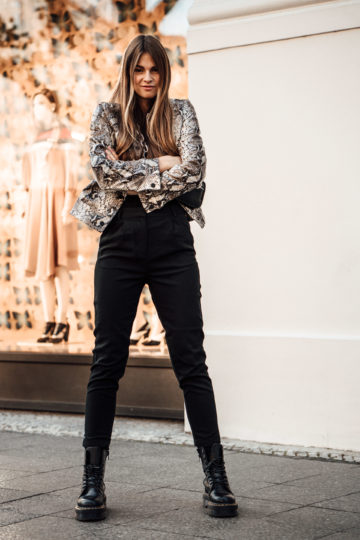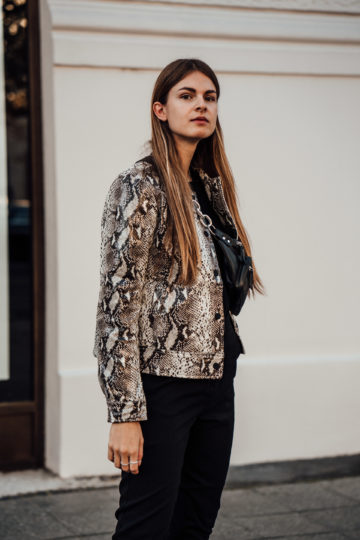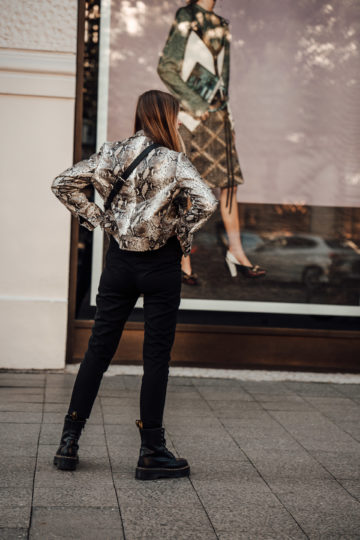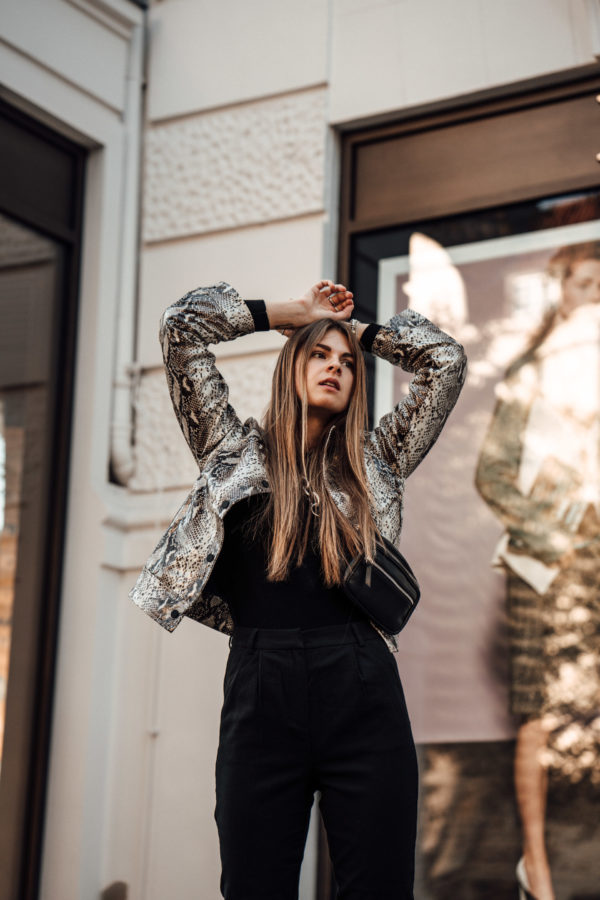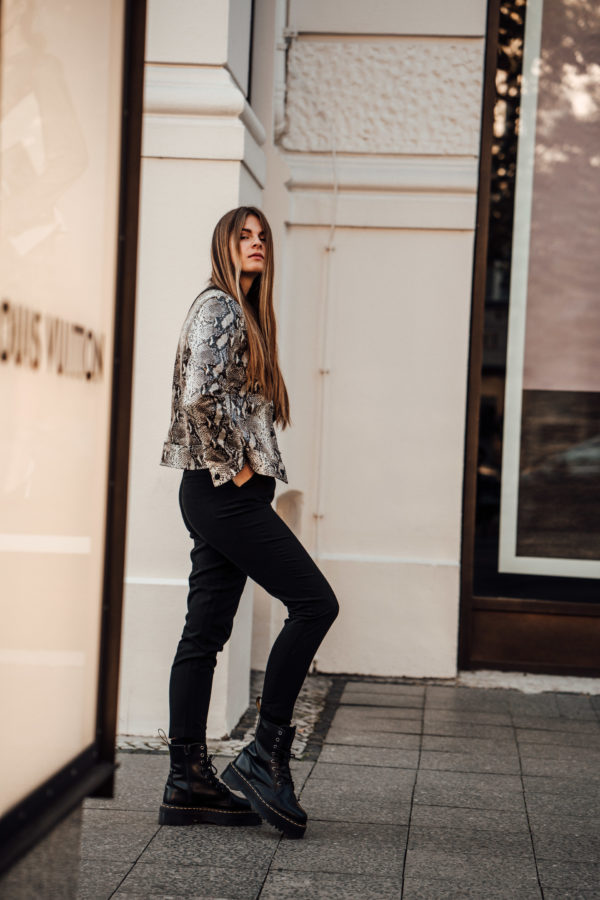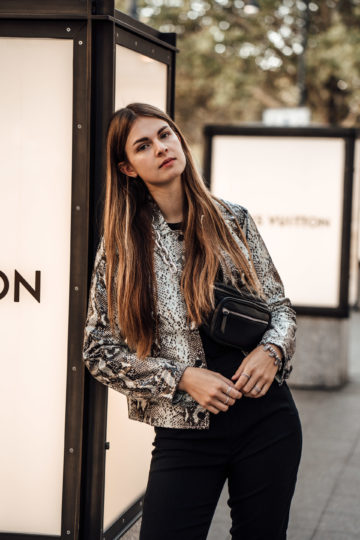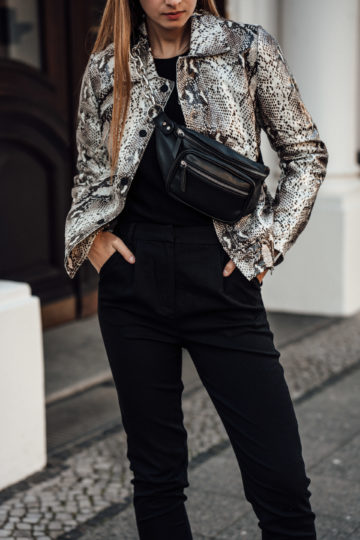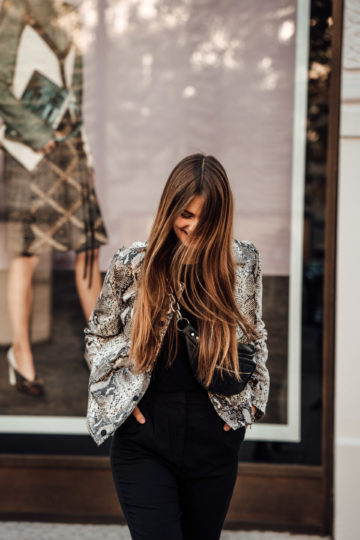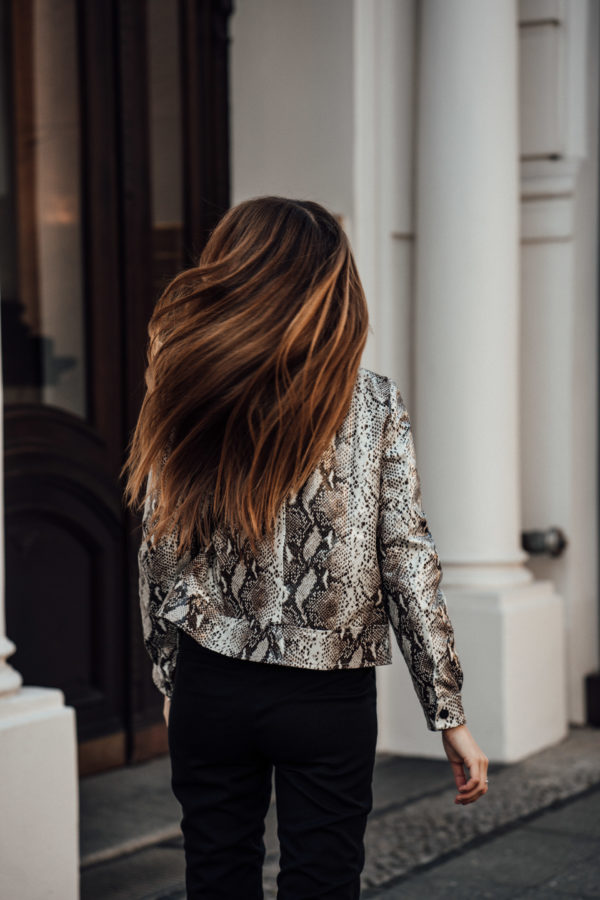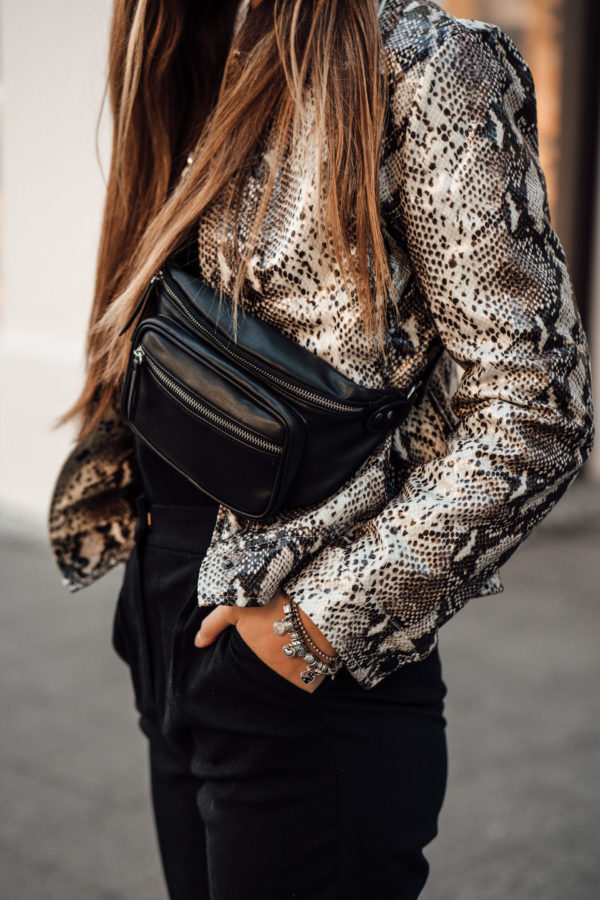 *Ad, brands named – Loavies Jacket || Zara Pants (old) || Dr.Martens Boots || Bershka Belt Bag