Happy Thursday guys! How do you like seeing autumn outfits here on the blog instead of Bali content? I actually do like it a lot even though I loved all the Bali pictures and I am missing this island a lot. But sharing outfits that are more suitable for the current weather situation makes it possible to inspire you in case you need some outfit inspirations. And this week seems to be all about animal print. In yesterday's post I was talking about my new snake print jacket, and today I will share an outfit with another leo print skirt. Well, if you are lucky enough to live somewhere where it is still sunny and warmer than 15°C you will be able to wear this look. If not, you probably won't. I was wearing this outfit about two weeks ago, but the temperatures in Berlin dropped, and I wouldn't be able to wear this outfit at the moment. So much about outfits that are suitable for the current weather situation…
Anyways, let's talk about the outfit details and the reason why I like this outfit. And once you're done reading this post and looking at all the outfit pictures, I would love to get your feedback.
Combining a Leo Print Skirt and Cardigan on an autumn day
Leo Print is still in fashion, and I won't stop wearing it, so I just added one more leo print piece to my closet: a leo print skirt. Yes, I do have several leo print skirts, but is there such thing as too many? I don't think so. And all my leo print skirts are different. The colours are different, the cut and fit are different, and the print is different. I couldn't tell which one is my favourite, but one thing is for sure, I do like all of them.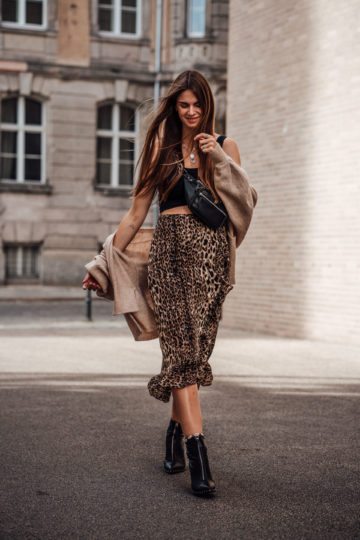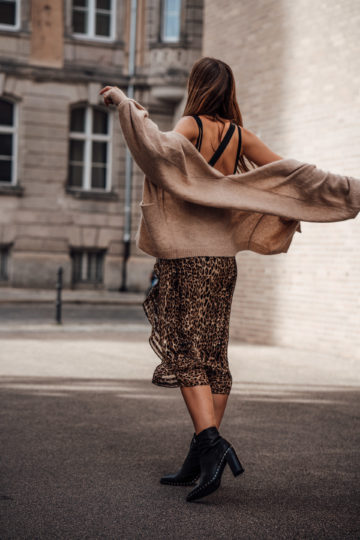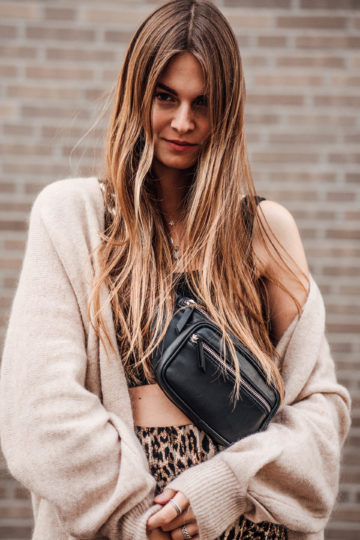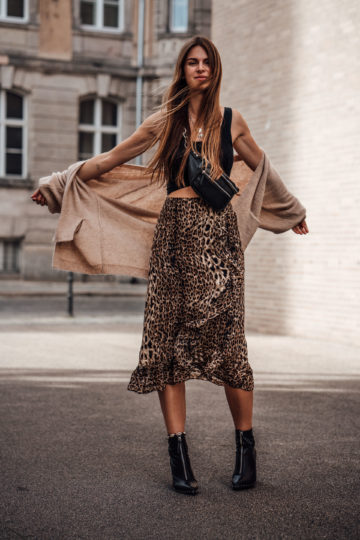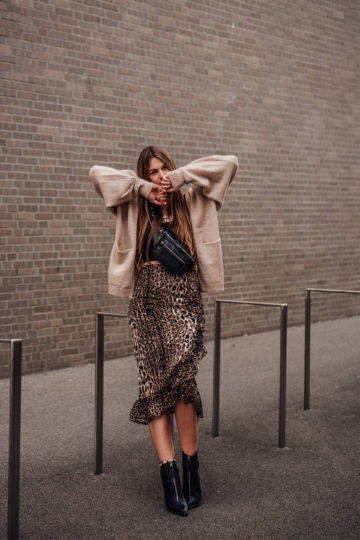 What I like best about this leo print skirt is the length as well as the ruffle detail in the front. There was a time when I would have never worn a skirt or dress of this length as I always thought it would make my calves look even bigger then they are. But I changed my mind – or got used to the look – and now I really like the look. Of course, it depends on the kind of shoes I wear this skirt length with, but today's outfit is a good example of the kind of combination I like best.
But enough about the skirt itself, let's talk about the outfit combination I opted for. Usually, I would combine a leo print piece with black to keep it simple. And yes, I was wearing the leo print skirt with black pieces that day, BUT I also added something quite unexpected: a beige cardigan. I used to have a lot of cardigans in my closet when I was younger, but a couple of years ago I decided to sort them out as they weren't very fashionable. And guess what? Cardigans are back in fashion. The lesson I've learned is that you should never sort anything out because everything is coming back haha.
Anyways, I've always liked cardigans, and I am happy that they are back in fashion. And yes, I couldn't wait to put together an outfit with a cardigan, and that's why I combined my leo print skirt with one. And how well do these two pieces look together?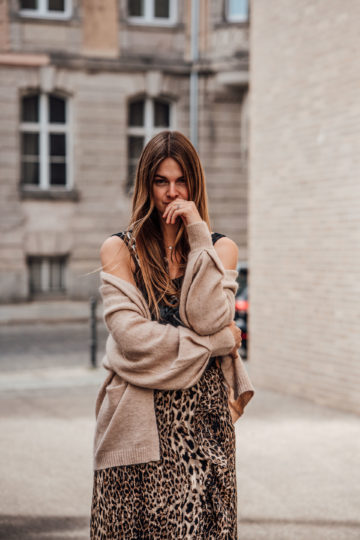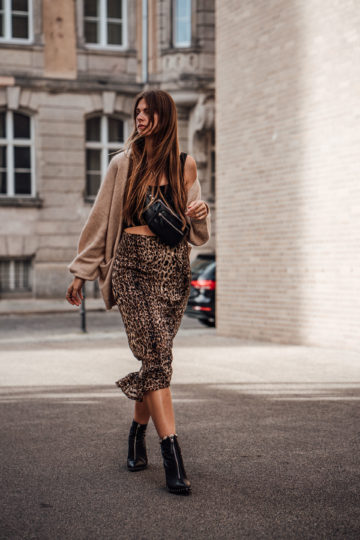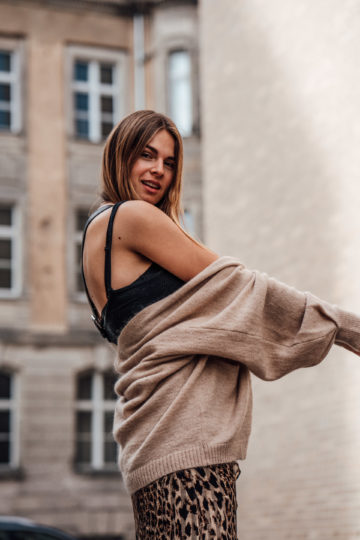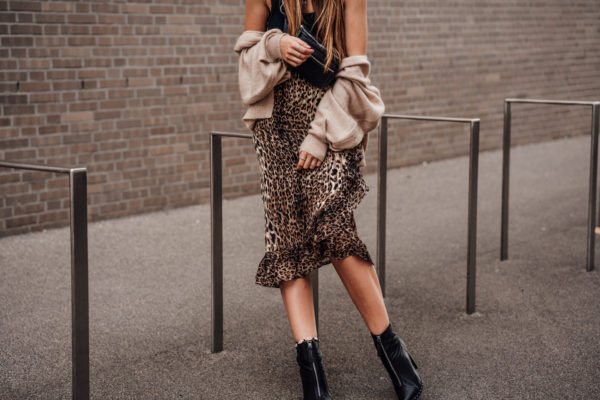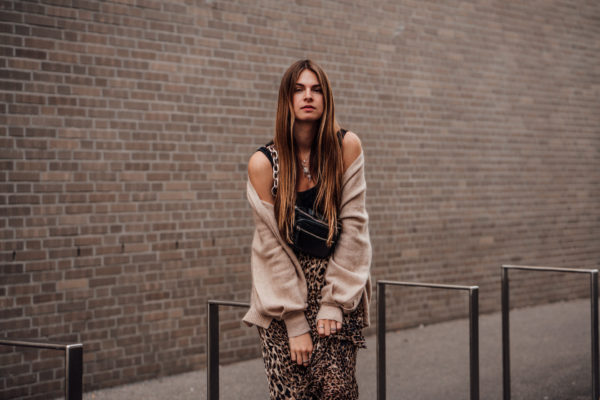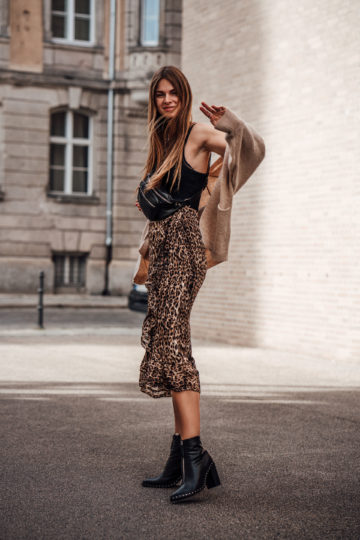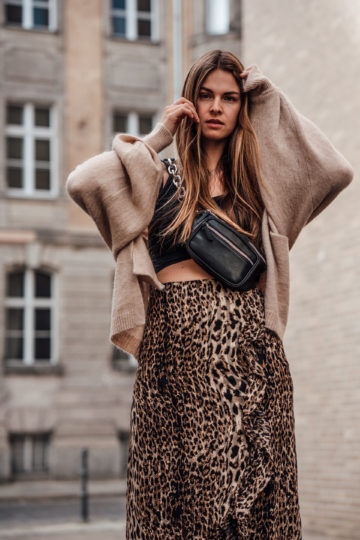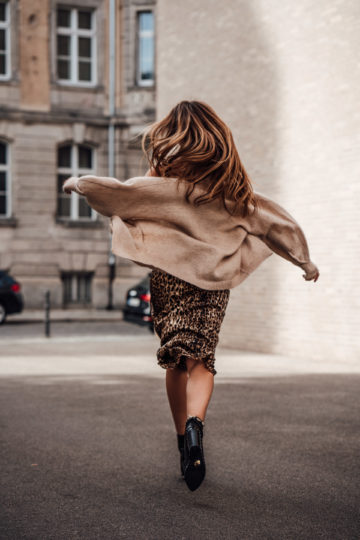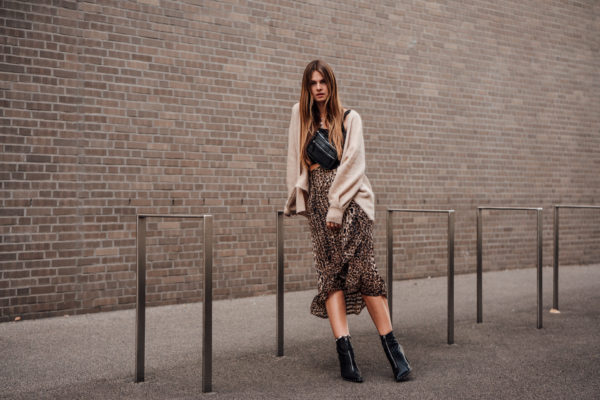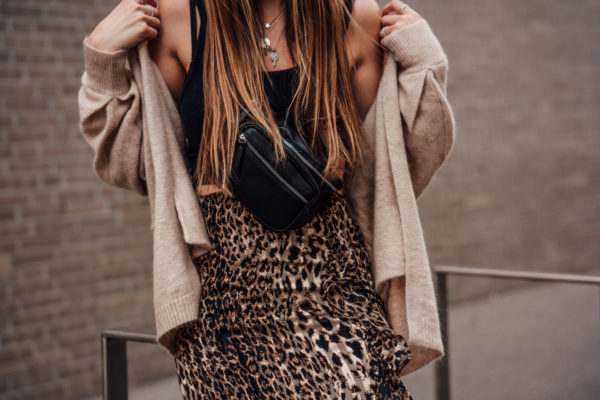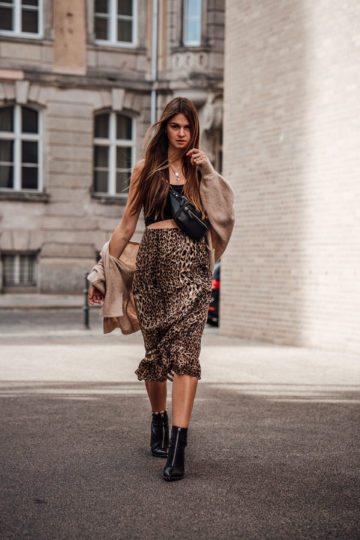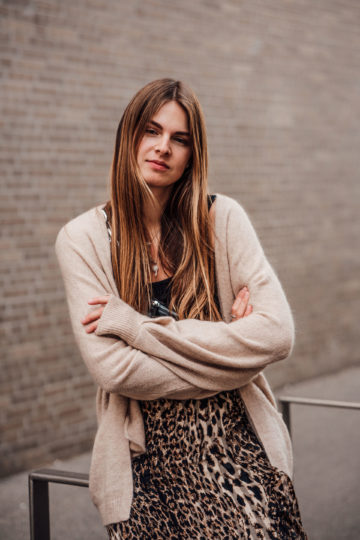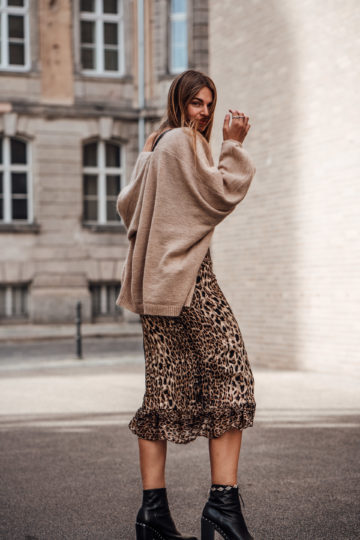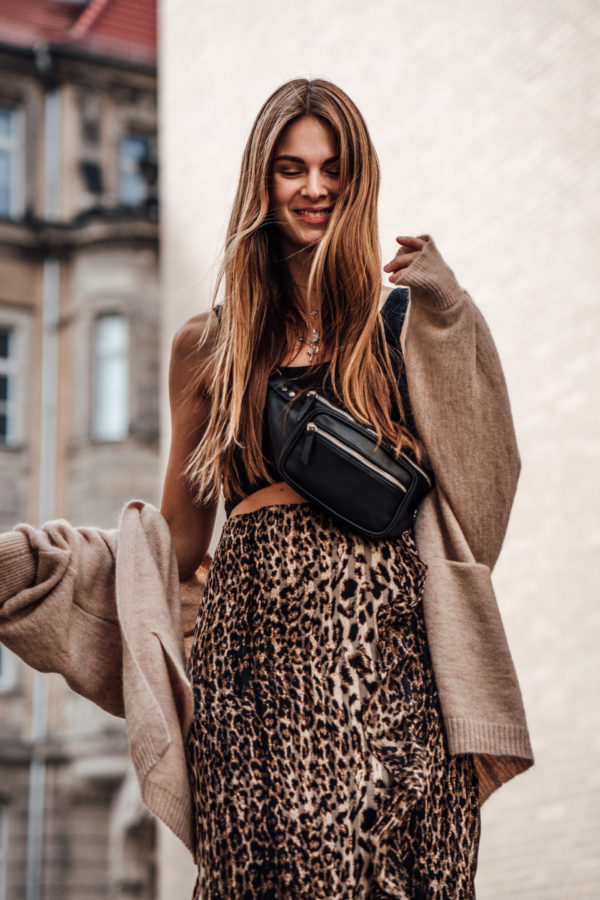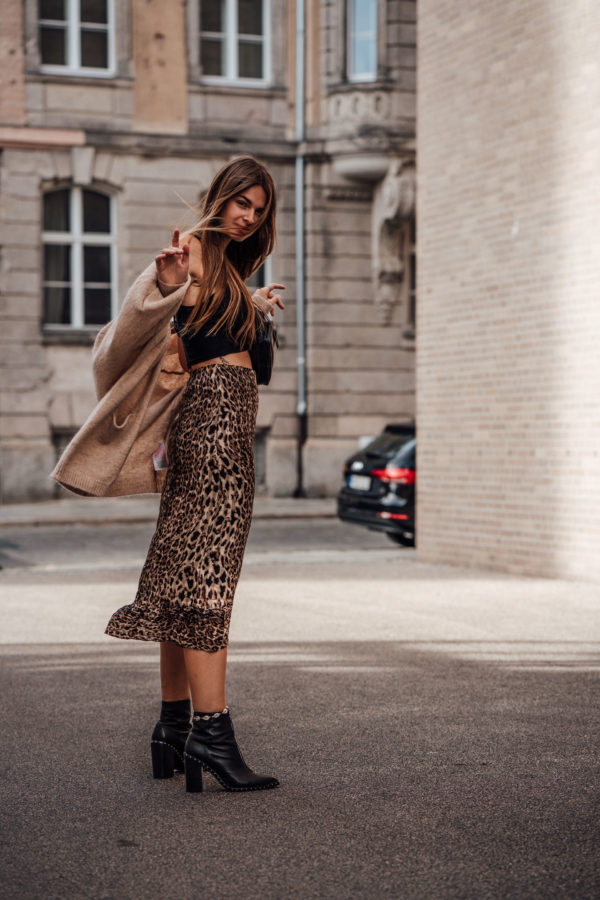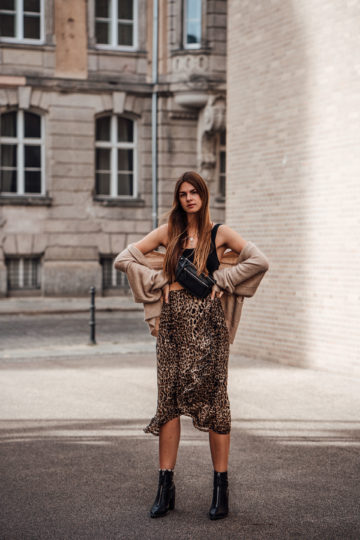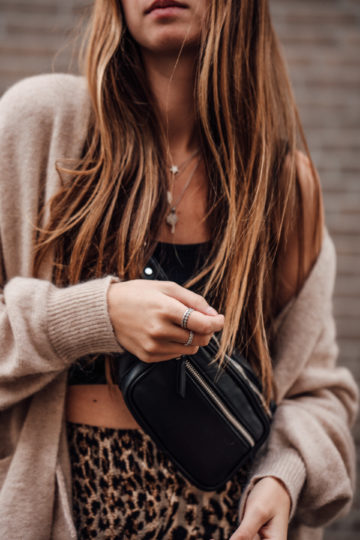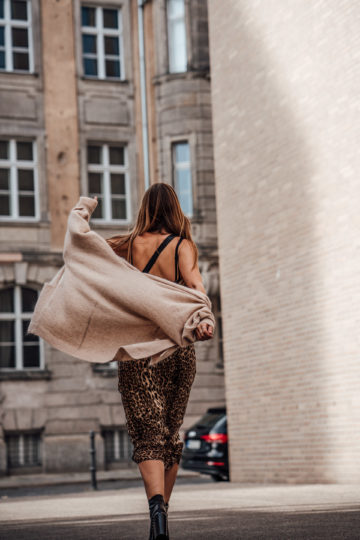 *Ad, brands named – YAS Skirt || Urban Outfitters Top || YAS Cardigan || Sol Sana Boots || Bershka Belt Bag