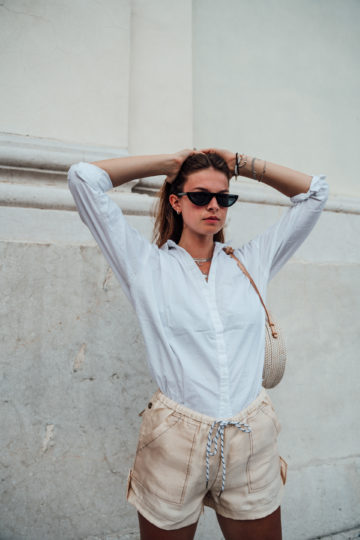 Now that I shared everything from Copenhagen Fashion Week, it is time to continue with the two outfits we photographed when we were in Italy mid of August. In general, we didn't work a lot and also didn't take a lot of outfit photos there as we just wanted to enjoy some free time with our friends. So the two outfits I am sharing this week are really the only ones from this trip. And once they are online, I will start sharing outfits I was wearing in Berlin the last days. Until yesterday it still was very summery in Berlin so that the upcoming posts will be a mix of late summer and early autumn outfits. Stay tuned for more.
For today's post, including the first outfit from Italy, I would like to share; I will focus on our white Ata bag from Onvacay. For those who don't know yet, Onvacay is my online shop, and we mainly sell handmade things from Bali, including the classic Ata bag. We got it in three different colours and three different sizes, and they are my go-to bags whenever I am travelling. Read more about it in the following.
Onvacay Ata Bag casual-chic combined
For our Italy vacation, I brought our large Ata Bag in white, but we also have it in black and natural as well as in size small and medium. The large one is, obviously, the best choice for when you have to carry a few more things. And whenever I need to put together a casual chic outfit, I opt for the white one. The white Ata bag is the easiest to style for a chicer look, I would say.
What I like a lot about our Ata bags is that the strap is quite long so that you can wear it in a lot of different ways. You can either leave it long and wear it over the shoulder or cross-body, or you can tie it in various lengths. As you can see, I tied it that day as the shorter strap makes the bag look a bit chicer and it also is my favourite way to wear it.
Now that you know about this hack for our Onvacay Ata bags let's move on to the outfit combination I chose for dinner that day. As I mentioned before, I wanted to wear a casual chic look. My go-to piece of clothing for a casual chic look always is an oversized white shirt.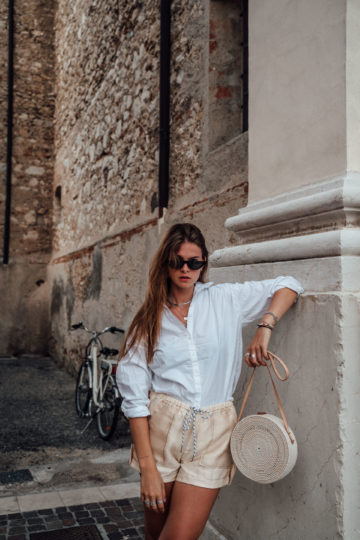 You can never go wrong with it, and it's so easy to style. That evening I styled it with a pair of beige shorts. I recently got them on sale, and they're from Ganni. They work perfectly in combination with the white shirt as well as the Ata bag, and that's why I had to wear it. To finalise the outfit I put on some comfortable sandals from Asos, a few pieces of jewellery and a pair of sunglasses.
Wearing whites in summer
I do like this outfit a lot. Not only because it is very comfortable, but also because I love all the light colours. I like wearing whites and other light shades in summer, especially when I am tanned. Also, in autumn and winter, it's not always a good idea to wear white. When it's raining a lot, and the streets are dirty, the clothes get dirty easily as well, and that's only one reason why I don't like wearing a complete white look in the colder season. But in summer, when we are mainly wearing short clothes and are tanned, white is such a nice option. As I will extend summer a bit by spending a month in Bali until mid of November, I recently got myself a few more white shorts. I really can't wait to bring them with me for our one-month-trip and show you some more ways to style white and other light-shaded shorts.
Let me know what you think about white clothes and how you like the outfit I was wearing in Italy. I am looking forward to reading your comments. xx
*Ad, brands named – Gestuz Shirt || Ganni Shorts || Onvacay Bag || Asos Sandals || Pilgrim Sunglasses