The week is slowly coming to an end, and I want to share one last outfit post with you before the weekend begins. It's the second and last outfit I have from Italy. We didn't take a lot of outfit photos when we were there, but I was mainly wearing something very comfortable (sweatpants and oversized shirt kind of comfortable or only swimwear) these days in Italy. The two outfits we photographed are actually the only outfits that were worth taking photos. The first one I shared was a casual chic look I was wearing for dinner one of the days. And in today's post, I am sharing an outfit I was wearing for an evening stroll. It is the perfect combination of comfortable and summery pieces of clothing. In the following, I am sharing a little bit more about it with you.
Combining a cropped hoodie with an asymmetric skirt
As much as I love summer, I also love spring and autumn clothes. I love to combine skirts and shorts with oversized and cosy sweaters or hoodies, and that's something I can only do in late spring or early autumn. So whenever it is slowly getting colder at the end of summer, I start getting my sweaters and hoodies out. That's why I was really happy when Sandra told me that she had some of her new styles with in Italy. For those who don't know it yet, Sandra has her own label (mainly jewellery and clothes) called Black Palms the Label. She just launched a few new products and had some of them with her in Italy, and one of the products was a cropped hoodie. I didn't have any sweaters or hoodies with me in Italy, but it got quite chilly in the evenings, and that was the perfect opportunity to wear the kind of outfit I like a lot: the combination of a skirt and a hoodie.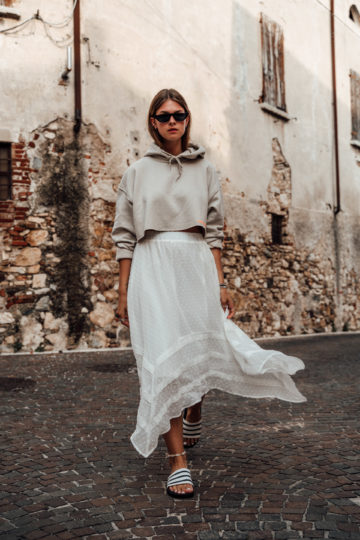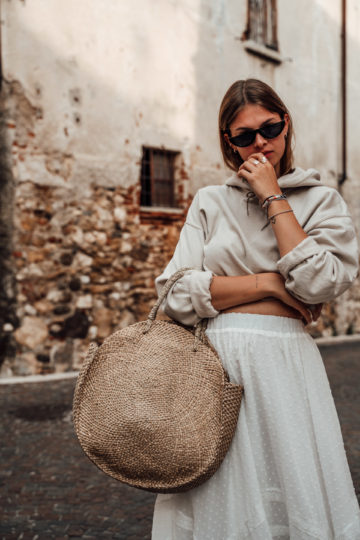 Both pieces you can see me wearing here are from Black Palms the Label, the hoodie and the skirt. The asymmetric skirt is the perfect piece for the days between summer and autumn. It also was just perfect for that evening in Italy. A mini skirt would have been a bit too short, and I probably would've ended up freezing that evening. Also, I usually feel more comfortable in midi skirts. In this case, I also like the cut and all the details because they make the skirt such an eye-catching piece.
I had seen the combination of the cropped hoodie and the asymmetric skirt on Sandra before, and I liked it a lot. That's why I decided to wear it as well. 🙂 I do like the contrast of the cropped hoodie and the white, feminine skirt and I wanted to make the contrast between these two styles even bigger and put on my Adidas slippers as well as cat-eye sunglasses and one of our Onvacay beach bags.
How to wear our Onvacay beach bag "Lovina"
By now, you probably know most of our Onvacay bags. In the other outfit post from Italy, I showed you our classic ata bag. It's the one you seem to like most, but my favourite bag is the one you can see me wearing here: our "Lovina" bag. It is the perfect beach bag, and it's a hundred percent natural – made of seagrass. The size is perfect for when you need to bring a few more things. You can either bring it with you to the beach, but you can also combine it with a city look as I did in Italy.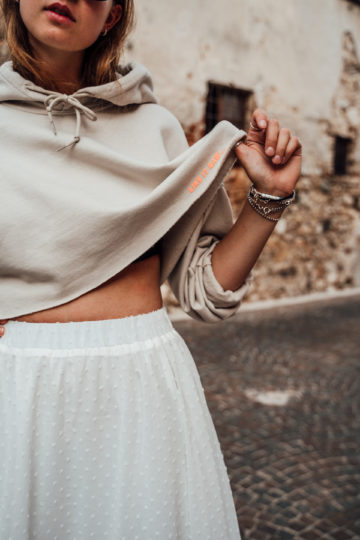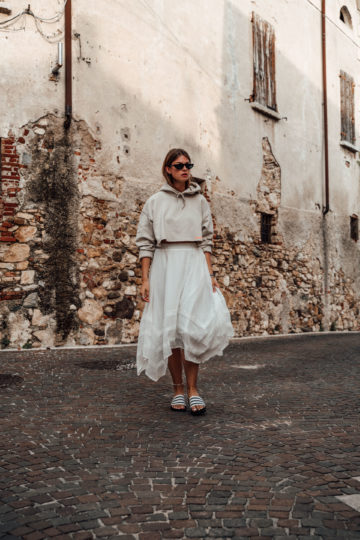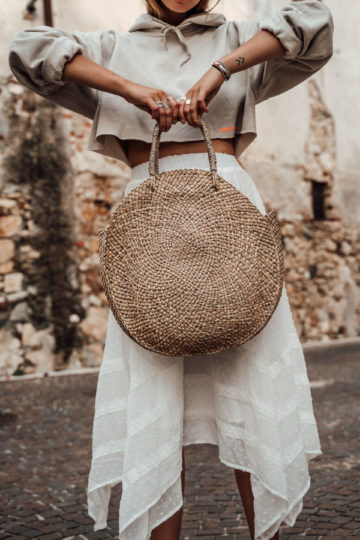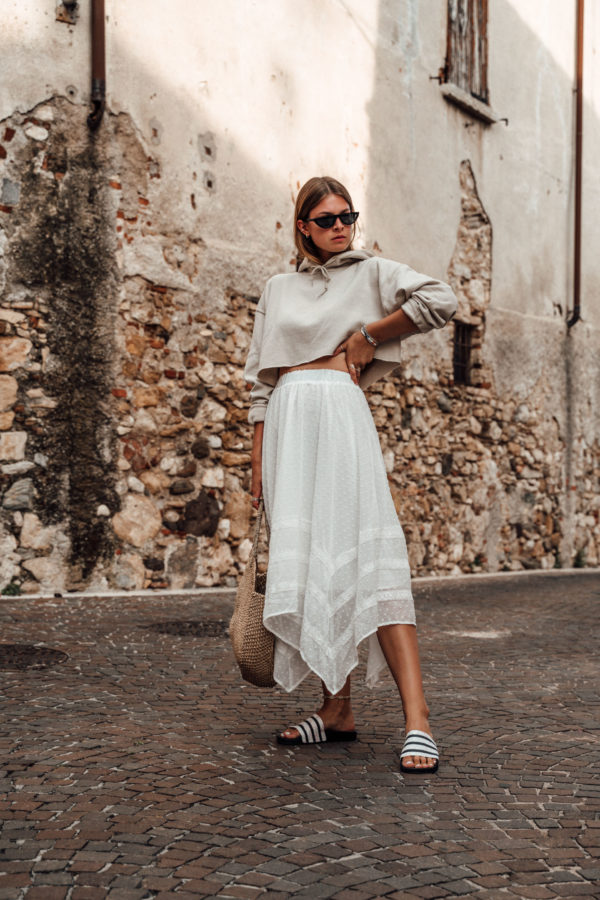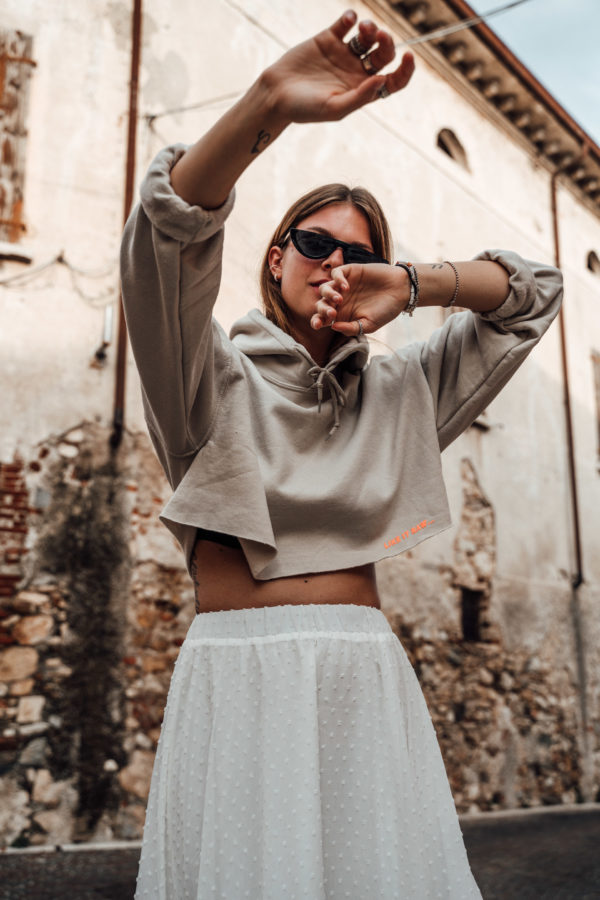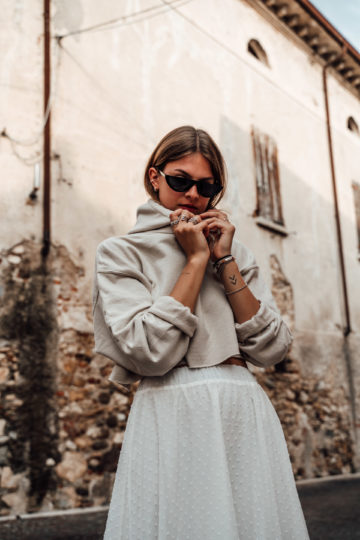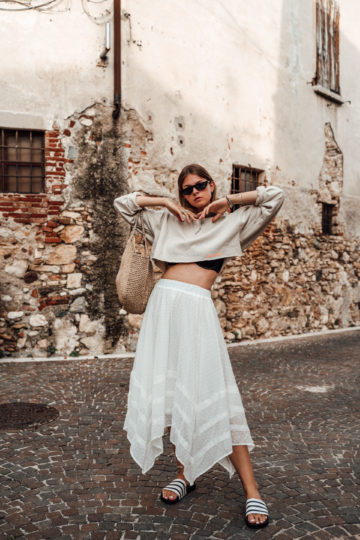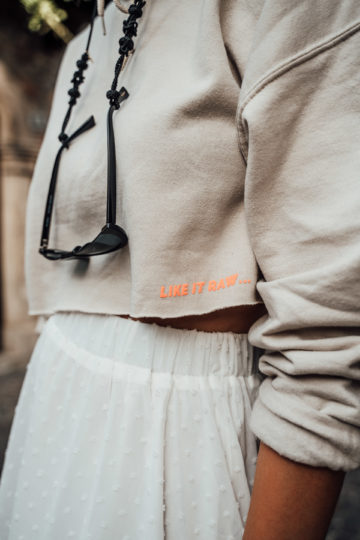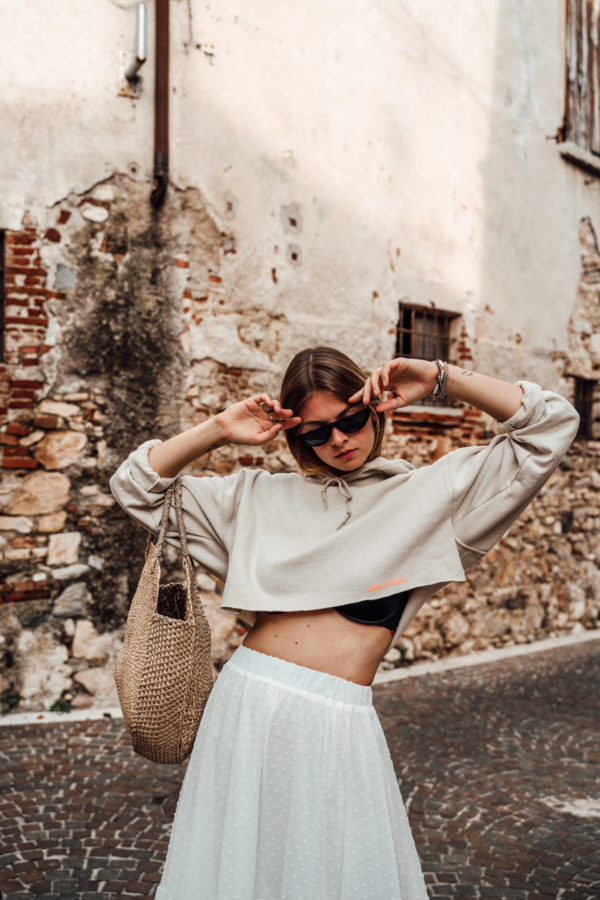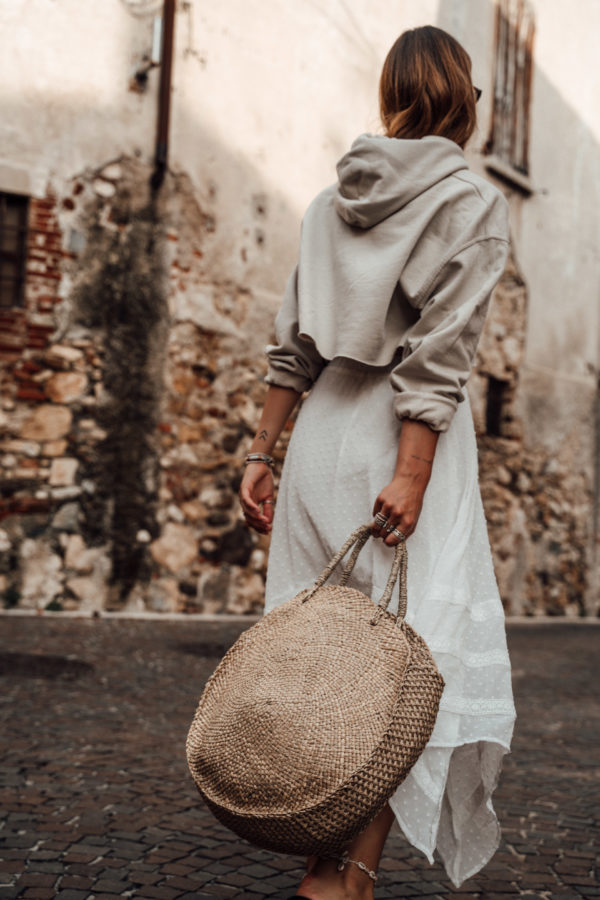 *Ad, brands named – Black Palms the Label Hoodie || Black Palms the Label Skirt || Onvacay Bag || Adidas Shoes || Pilgrim Sunglasses