When I plan my outfits for Fashion Week, I often check my older posts to remember the outfits I felt most comfortable in, and that positively surprised me. I say surprised because I often just try new things and I never know if I end up liking it or not. Trying something new is one of the fun parts of my jobs, Who follows me knows, that I do not have one specific style I stick to and I think that's something you also don't have to do. Of course, if you know what you like and what you feel most comfortable in, make it your uniform. But never be afraid of trying something new just because you think you can't.
So with all this trying, I have a wide range of different outfits. I also kind of have a uniform I always wear when I don't feel like getting creative and trying new styles. All the outfits that don't belong to this kind of uniform can be put in two different categories: the ones I like and the ones I didn't like in the end. And since I do have these different categories for all the outfits I shared in the past; I do need to go through older outfits to remember which ones where the outfits I liked, and I felt comfortable in. I also need to analyse why I liked them and what made them special for me. And once I know, I can try to create similar looks, and that's how I put together the outfit I am sharing with you today.
Leopard Print Midi Dress and Knee-High Boots
Do you remember when I combined a leopard print midi skirt with these black high boots? It was an outfit I first wasn't too sure about, but I ended up liking it a lot. It was the combination of the midi length with the knee-high boots I liked best, and that's why I wanted to create another outfit with this combination.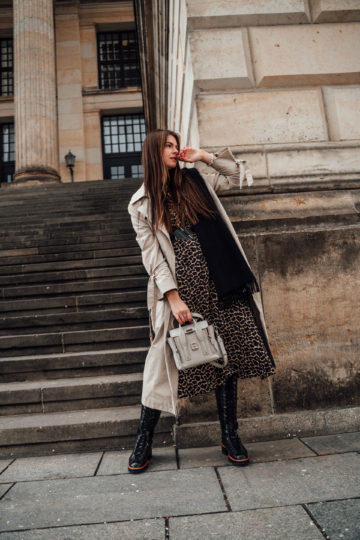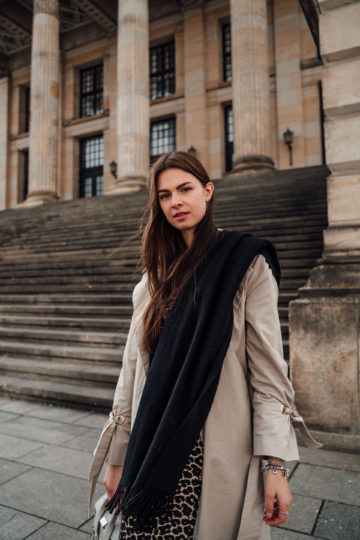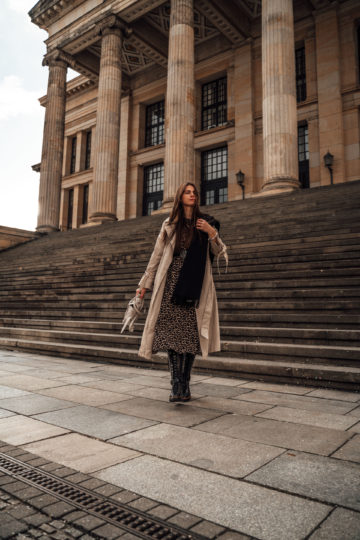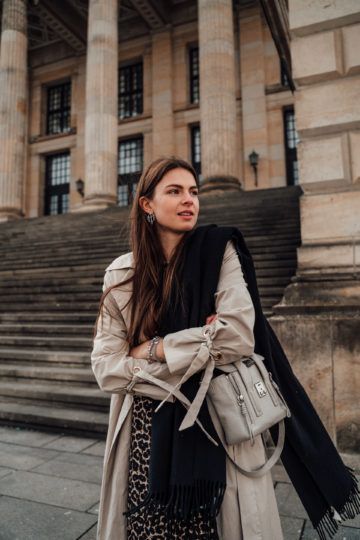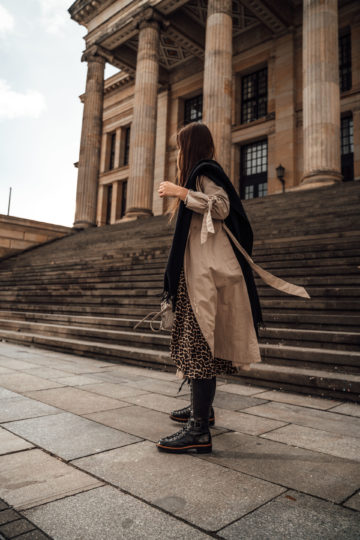 For Fashion Week in Berlin, I opted for a midi dress with leopard print and the same pair of boots: the lace-up boots from Santoni. That I was wearing another leopard print piece wasn't on purpose, I actually just realised when I started writing this blog post. 🙂 I would wear any other midi dress or midi skirt with knee-high boots as well, and maybe I will soon share another outfit to show you another option.
I already mentioned why I like to combine midi length dresses and skirts with knee-high boots, but let me quickly repeat the main reason for me: it optically elongates your legs and makes you look taller. In this case, the lace-up detail also adds some more details, that make the whole outfit look more interesting. So it definitely is a flattering outfit that doesn't look boring at all to sum it up.
Wearing a trench coat in winter
The thing I don't like at all in winter is choosing the right jacket or coat for a look when the main focus is on what I am wearing underneath, and the jacket or coat is just a means to an end. That's exactly the case with this outfit. I ended up wearing my favourite trench coat even though it is not the smartest decision to wear a trench coat in winter. But since it is quite oversized, I was able to wear a few layers underneath so I wouldn't freeze. I also added a scarf to this look I could wrap myself in just in case it would get too cold.
So wearing a trench coat in winter definitely can be an option, you just have to make sure to wear enough layers so you won't freeze.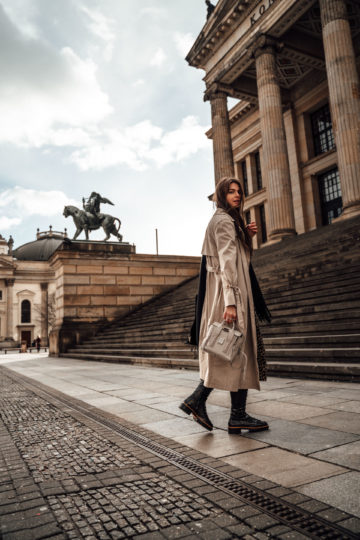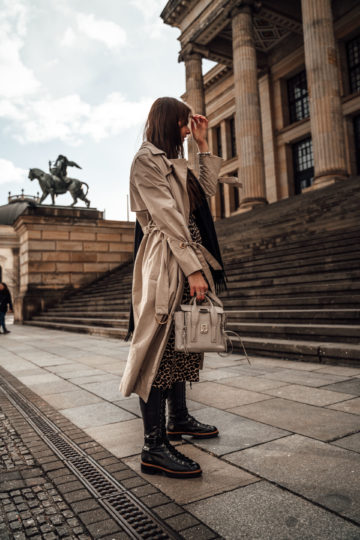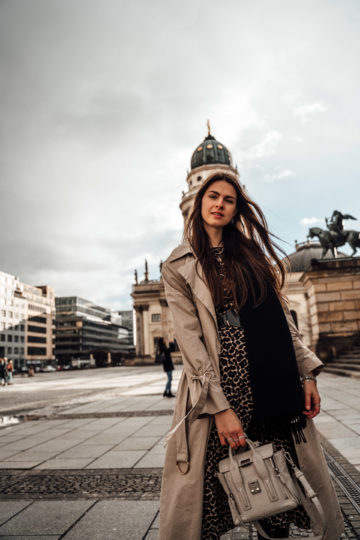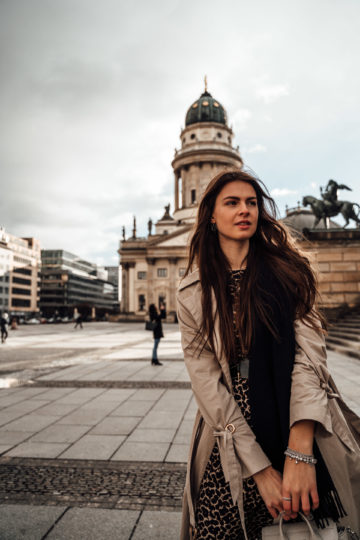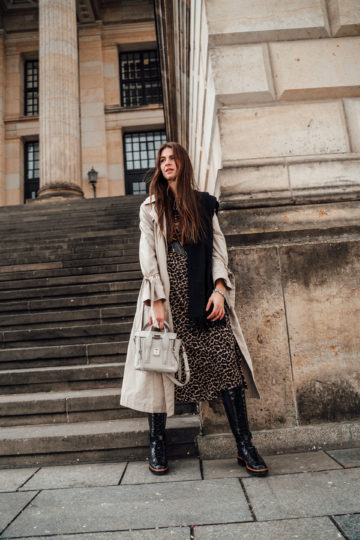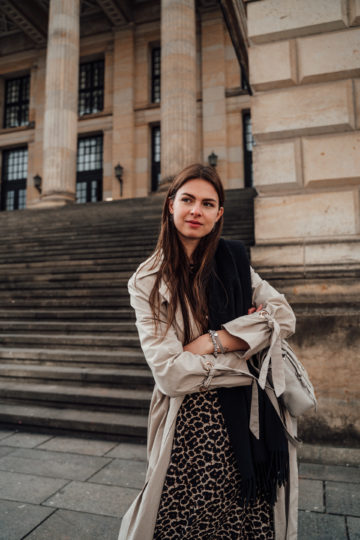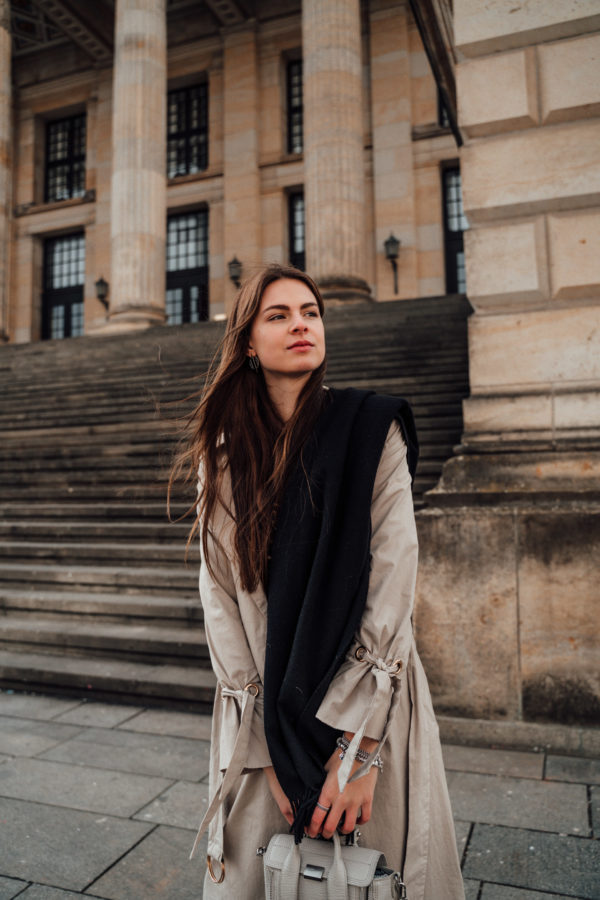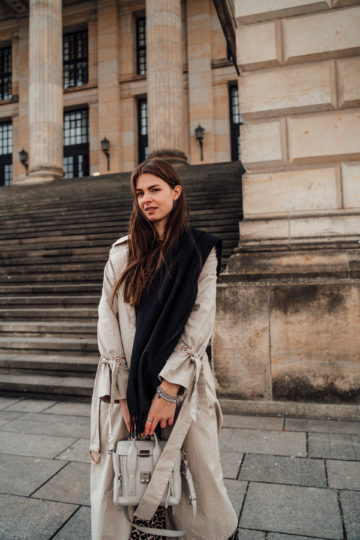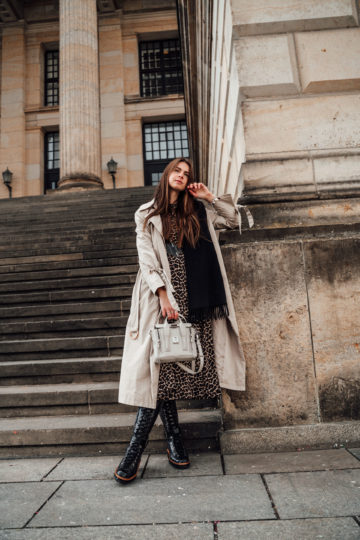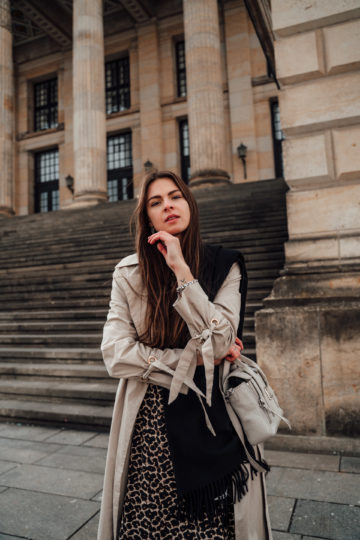 *Ad, brands named – Jake*s Trench Coat || Loavies Dress || Santoni Boots || Phillip Lim Bag || Acne Scarf