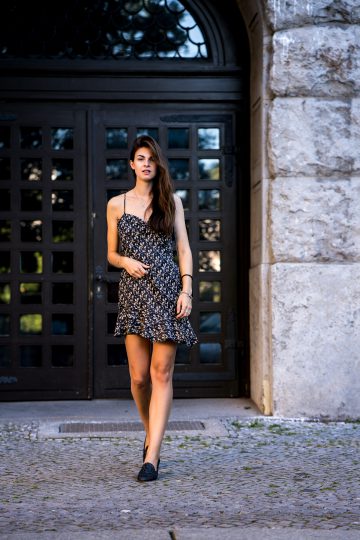 I can't believe today is the last day of August! Time flies so freaking fast, and I feel a little bit pressurised. There were so many projects I wanted to start and get ready this year, many places I wanted to see and experiences I wanted to make. Now it feels as if I won't be able to reach all my goals for 2017. Not that I can't be proud of what I achieved this year, but there was just so much more on my list. Well, I still have four months left to work even harder and reach maybe at least one more goal, travel to at least one more place I want to see and do one more thing I really wanted to do in 2017. What about you? What did you want to achieve and get done this year? How has it been so far? 🙂
Think about what you want these last months of the year to be like, what you want to get done and which goals you want to achieve and then start working on it! You just have to start at one point. But before you start thinking about it, you can have a closer look at the outfit pictures I want to share with you today in addition to these profound thoughts. It is an outfit I was wearing earlier this week. And can you believe it? Summer came back for at least three days this week – I couldn't be any happier about it.
Asymmetric dress with floral print
I found this dress on sale at Zara the other day, and I couldn't resist. When I saw it online, it was the cute and print that convinced me to order it and try it on. And when I tried it on at home, I also fell in love with the fabric, it feels so good on the skin, is soft and feels comfortable cold. Too bad I didn't see it earlier because I think it is the perfect summer dress.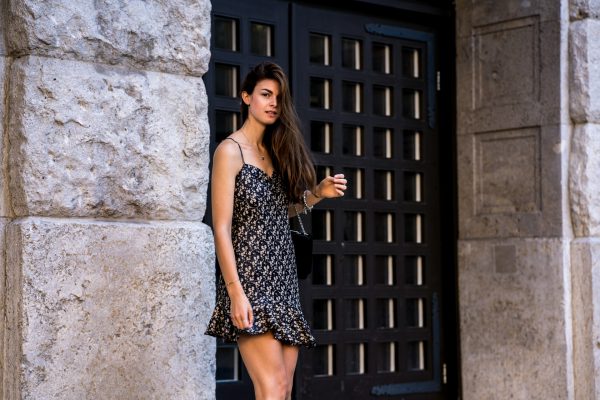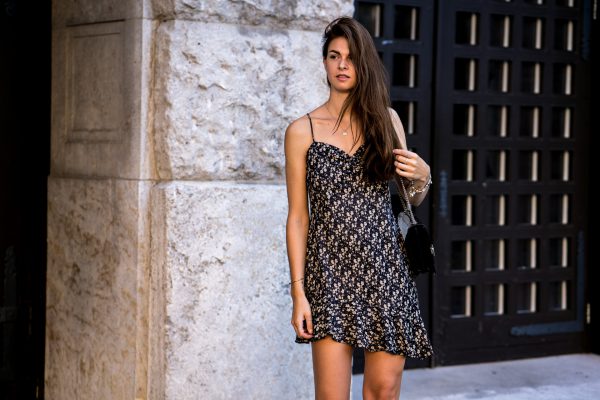 Now I got to wear it once, and I actually believe that I won't have another chance to wear it this year.
All the details make this dress a true eye-catcher: the floral print, the laces in the back and the asymmetric cut. I have to admit, that I first wasn't quite sure about this asymmetry. It luckily is only a little asymmetry, because I think if it was more extreme and the dress longer on one side, I wouldn't have bought it. It still could be a little bit shorter for my liking, but I like it like this as well. How do you like my new asymmetric dress with floral print?
How I combined my asymmetric dress
Since this asymmetric dress isn't that long, it is not that difficult to combine it. Only the choice of shoes should be well-wrought because your legs will quickly look super short or sturdy even though they aren't. I actually first wasn't sure what shoes to wear. My mule sandals would have worked perfectly, but I have been wearing them too often the last days and weeks, so I opted for a different pair of shoes: these glitter shoes from a couple of years ago. I think I bought them four years ago and still wear them from time to time. Not that often, but I still wear them. And the day I put together this outfit, I was happy I still have them in my wardrobe. 🙂 Some people might say, they are not fashionable nor in trend, but is this really what matters? Isn't it more important to wear something you feel comfortable in or that works with the rest of the outfit no matter if it is a trend piece or not?!