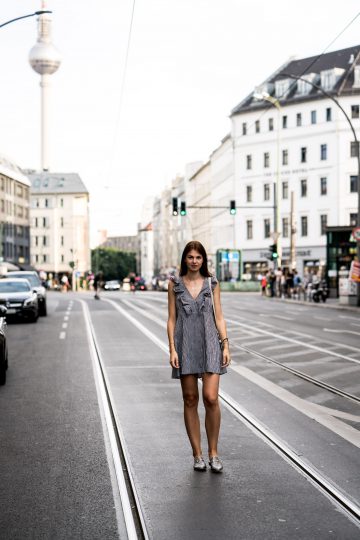 I told you, summer isn't over yet, and I will use every opportunity to wear my summer clothes before it gets too cold in Berlin. I still have so many dresses and cute summer tops in my wardrobe I haven't worn so far and I still want to show you here on the blog, summer better stays a little bit longer so I can take pictures of all of them – this year and not next year 😉 Let's start with sharing outfit pictures from about two weeks ago. I actually wasn't wearing this outfit all day, because I first thought it wouldn't get that warm. But I met up with Sophia in the afternoon, we wanted to take outfit pictures and had dinner together, so I drove home and got changed before I headed to the Airbnb apartment she stayed at in Berlin. And it was the best decision to drive home and get changed because I did not only get the chance to finally wear this cute dress from Reclaimed Vintage, the other outfit I was also wearing wasn't appropriate for the weather.
Still in fashion: Gingham Dress
Gingham was a big trend this year, not only in spring but also in summer! And it actually is a trend I like a lot, so I am happy that it still is in fashion. I am sure we will see even more garments in gingham in autumn and maybe even in winter. But for now, I want to talk about this lovely gingham dress I bought at Asos the other day (btw it was on sale!).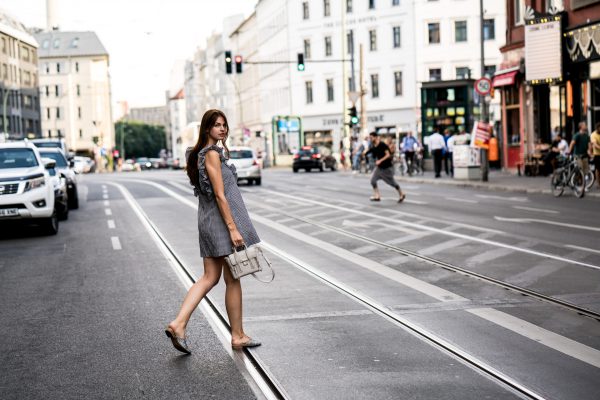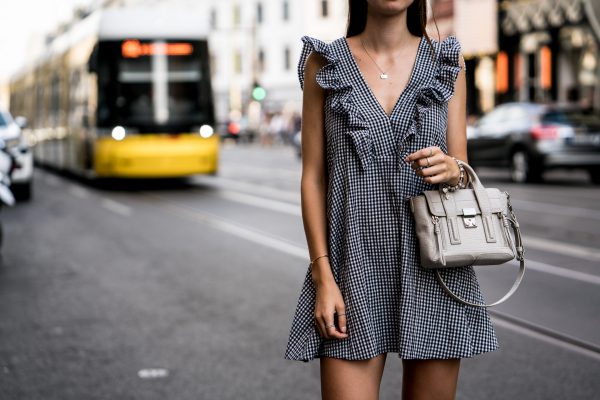 Gingham is such a classy print, something that looks both chic and casual at the same time – it all depends on the outfit combination you choose and, of course, on the cut and piece of the garment itself. This gingham dress is more casual than chic due to the cut. It has a low back neckline as well as these cute ruffle details, which both make the dress look more casual and fussy. I have to admit, that buying it in size L wasn't the best idea because it is a little bit too wide and the straps slipped all the time. But that's still no reason not to like this summer dress. 🙂 I often order dresses and tops at least one size up, because usually, they are more comfortable in a bigger size and sometimes it looks even better. This time it would have been better to stick to my size, but it was sold out haha. And I wanted this dress so bad, I couldn't resist and had to go for the bigger size. Do you sometimes buy clothes too big? And do you wear them anyways?
Last but not least let's talk about the outfit combination: I combined my new gingham dress with some pieces of jewellery, a pair of mule sandals and my 3.1 Phillip Lim bag only. The dress pretty much speaks for itself, and I didn't have to add much more accessories or other details – another reason why I like it that much.