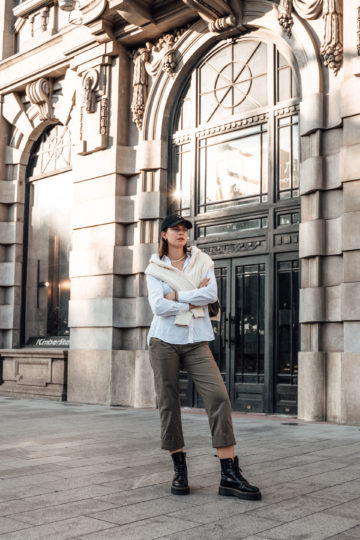 If you follow me on Instagram, you probably already know that GANT is celebrating their 70th anniversary this year. In this context, they started the campaign "7 Decades, 7 Icons," and each month, they are focussing on one of their seven icons. These seven icons are the Button-Down Shirt, the Club Blazer, the Chino, the Piqué, the Heavy Rugger, the GANT Varsity Jacket, and last but not least, the Cable Knit Sweater.
The last month I shared each of these icons with you on Instagram, and today, I want to finalize with the GANT Cable Knit. To do so, I put together an outfit with this icon and am telling you more about it as well as showing you all outfit details in the following.
How to wear Cable Knit
Did you know that the cable knit sweater has its roots in the Irish west coast? It was traditionally made from sheep's wool with a pattern that would let some air and moisture through. The cable knit was supposed to keep the islanders warm and protect them in inclement weather.
Every knitting pattern tells a story. The cable knit stands for a fishers rope, the diamond pattern for the fields, and the zig-zag pattern for the winding paths along the cliffs. The braiding pattern, last but not least, is a symbol for the fishers' baskets, it commemoratives of plentiful prey and brings good luck.
Today, the cable knit sweater is one of the wardrobes essential everybody needs. It also is part of every collection of GANT; it is one of their iconic pieces!
For me, this sweater is a must-have this autumn and winter season. I even brought it with me to Asia for colder nights or whenever I need to cozy up a little bit.
I do not only like the cable knit because it always keeps me warm, but I also love that it's very easy to combine. You can put together plenty of different outfits with a cable knit sweater, no matter if you want to wear something comfortable or a casual chic outfit. On our last day in Shanghai, I was wearing it in combination with green pants, black boots, and a white button-down shirt underneath. When we were out in the sun, I could take off the sweater and flick it over my shoulders.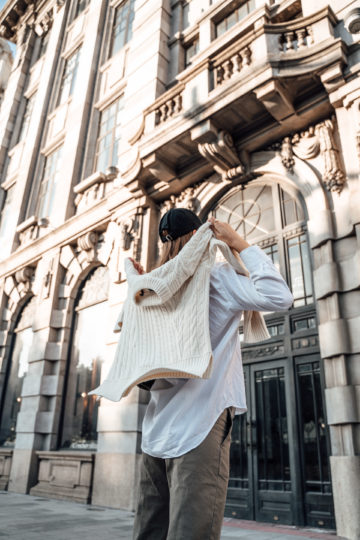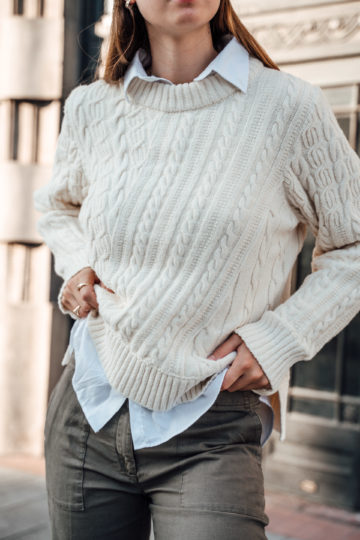 Since I was wearing a pair of black boots and a cap, this outfit is quite casual and perfect for everyday life. If you need a chicer outfit, you could easily transform this casual chic look into a chic one by not wearing the cap and exchanging the boots. You could go with a pair of heeled boots or high heels, for example. And this is only one way to wear a cable knit sweater.
Leave me a comment and let me know how you like cable knit and how you would combine it this autumn.
70 Years GANT
Last but not least, I would like to share something about the brand GANT. Most of you probably know GANT for the high-quality button-down shirts, that are still a big part of every collection. Back in 1949, they were the only ones to offer button-down shirts to the masses. Over time, this classic shirt was developed further. Did you know that GANT holds several patents? Innovation and development are still an important part of the brand as their motto, "Never stop learning" perfectly shows.