As I already mentioned yesterday, I skipped two of my weekly recaps due to our travel to Shanghai and Hongkong. Instead, I decided to write a travel diary for each of the cities. Yesterday I published my Shanghai travel diary, and today it's all about Hongkong. So in today's post, I am sharing more about what we were doing there and how I liked it.
What we we were doing in Hongkong
We stayed a little bit longer in Hongkong than in Shanghai for two reasons. First of all, we'd been in Hongkong before and knew that we like the city and secondly, our original flight to Bali got canceled and rescheduled to the next day. I didn't mind at all that the flight got canceled and was happy about this extra night in Hongkong. 🙂
We also were in Hongkong for an exhibition and work, but we got everything done in one day and had the other days for sightseeing, content creation, and just enjoying the city. Well, we worked every day, but we spent only one day at the exhibition – the first day. 🙂 The next day, we finally saw Big Buddha. I already wanted to go there the last time we were in Hongkong, but it was just too warm last year, and we didn't have enough time. It takes some time to go there; you need at least half a day if you want to see Big Buddha. I got to say that it was impressive but not as impressive as I'd thought it would be.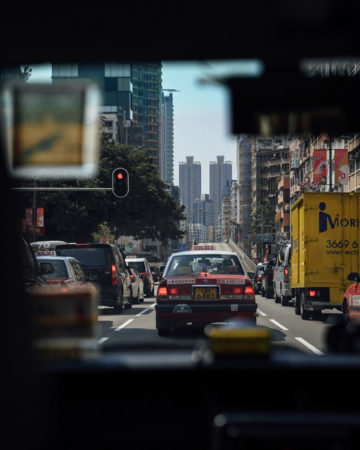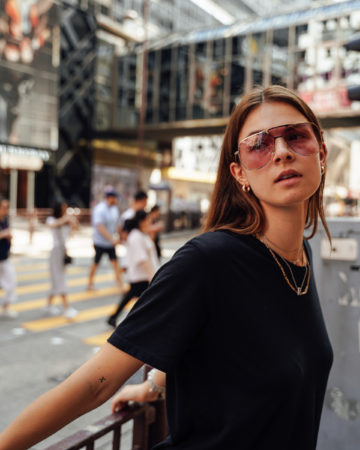 Nevertheless, I am happy we had the time to do this very touristy thing in Hongkong this time. We were also thinking about going to Victoria's Peak that day, but we didn't have enough time and were quite exhausted when we arrived in Central Hongkong. So instead, we walked around Central Hongkong and took some photos. The next day, we also had to create content. But we also drove to Central Hongkong, walked around TST, and ended up in the area around our hotel in Mongkok. We went to Ladie's Market, Temple Street Night Market, and had egg waffles. Our trip to Hongkong was the perfect mix of work, sightseeing, and just walking around.
Once again, I enjoyed being in Hongkong a lot. I do like this city a lot, and I definitely want to come back next year. There's still so much I want to see and do in Hongkong, so not coming back isn't an option 😉 Have you ever been to Hongkong? How did you like it?
My favourite areas in Hongkong
I haven't seen everything in Hongkong and can only talk about Central Hongkong, Wan Chai, TST, and Mongkok, as these are the areas we spent the most time in. My favorite areas are Central Hongkong and Wan Chai. Especially in Central HK, you can find a lot of nice (European) restaurants, nice malls and it's not as busy and crowded as it is in Mongkok. But staying in Mongkok also was a great experience. It's such a busy area with lots of local restaurants, small stores, and the Ladie's Market. It's never empty on the streets, and you can find street food on every corner. If you are into street food, go to Mongkok. 😉
I like all these areas I mentioned, and there's not one I like better than the other one. They all have charm. But if I would have to choose one area to stay in, I would go for Central or Wan Chai and go to the other areas from there.