Happy Friday, guys! Before I continue sharing content from my current travel, I still have some photos from Paris I want to share with you. You might remember that I got the chance to travel to Paris end of September and even though I hadn't planned to take photos for the blog at all, I am now sharing some with you. That's because we had a lot of free time and Hannah and took advantage of it to take some photos. We had so much creating content that I ended up having a lot of photos. Long story short, here's one of the outfits I was wearing in Paris, and if you want to know more about it, you should continue reading.
How to wear denim on denim
A few years ago, I was wearing a lot of denim on denim outfits. I don't know when or why I stopped doing it, but maybe it was just because I couldn't see it anymore. When we were in Paris and putting together our outfits for the days, I ended up styling a denim on denim outfit again. Of course, I had many other options, but I just really felt like wearing a pair of jeans in combination with a denim jacket and am very happy with the final outfit.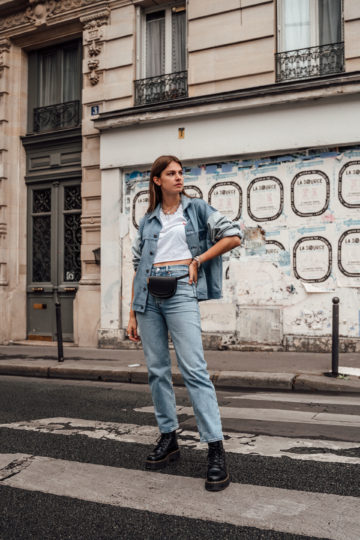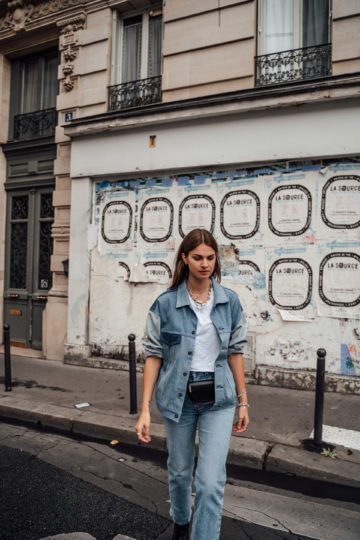 When you want to wear a denim on denim look, I would either go for matching pieces (pieces of the same denim shade) or very contrasty ones. I opted for the same denim shade – you know, I like to keep it simple and prefer being on the safe side when it comes to my outfits. But thanks to the jacket and its details, the outfit doesn't look boring at all. The main shade of the jacket is the same as the jeans, but it also has some darker and lighter parts, which I do like a lot. I didn't have to add many more details to this outfit as I wanted to focus on the denim on denim look entirely. So I only put on a pair of black boots and a slightly-cropped white t-shirt as well as a black belt bag, and that's it. That's the outfit I was wearing when Hannah and I were walking around the streets of Paris, taking photos and doing some vintage shopping.
How to make this denim on denim outfit autumn ready
This denim on denim outfit actually already is an autumn outfit, but it only works for warmer autumn days. If you also want to wear it on colder autumn days, you can put on a sweater underneath the denim jacket, or you wear it with a black coat. In combination with both a sweater and a black coat, you could even wear this outfit on a winter day. So keep this outfit in mind for whenever you don't know what to wear. Start with a pair of jeans and a denim jacket, add a few more items, and you are ready to go. It's one of these very versatile combinations you can always start with to create many different outfits for autumn and winter (as well as spring).
How would you combine a denim on denim look for autumn and winter? Leave me a comment and also don't hesitate to let me know how you like this outfit I was wearing in Paris end of September.