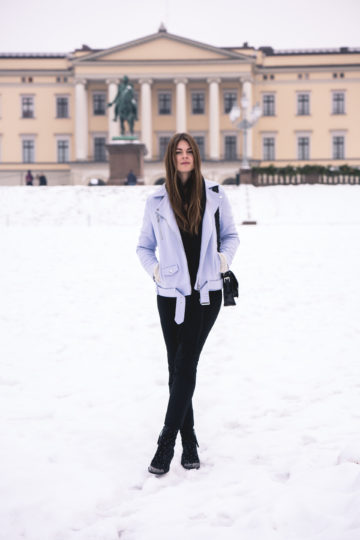 I am already back from my trip to Oslo, and I can't wait to share everything about it with you. Today I want to start with sharing one of the outfits I was wearing after two days of Oslo Runway. It is an outfit I was wearing on a day we went exploring cold and snowy yet very beautiful Oslo.
We were walking around Oslo for quite a while and came across some of the most famous sightseeing spots including the Royal Palace. Doesn't look the scenery like a real winter wonderland? Even though I am not a winter person, I really enjoyed the snow. It actually was the first time I saw snow this winter. And it may look as if it was freezing in Oslo, but it wasn't as cold as expected. The weather forecast said that we would have temperatures between 0°C and -10°C, but it didn't feel that cold. 5°C in Berlin actually feel colder than -5°C in Oslo.
Nevertheless, I had to dress myself up warmly to avoid freezing. And if you want to know, what exactly I was wearing that day, you should continue reading:
Wrapped up warmly in my Jake*s outfit in Winter Wonderland Oslo
My secret to staying warm on cold winter days? Layering! That's what I did the past weeks in Berlin because I didn't want to wear my winter clothes. But since I expected Oslo to be colder than Berlin, I had to bring winter clothes to avoid freezing. I teamed up with Jake*s and put together a very warm winter outfit I could bring to Oslo, that would look good and keep me warm at the same time.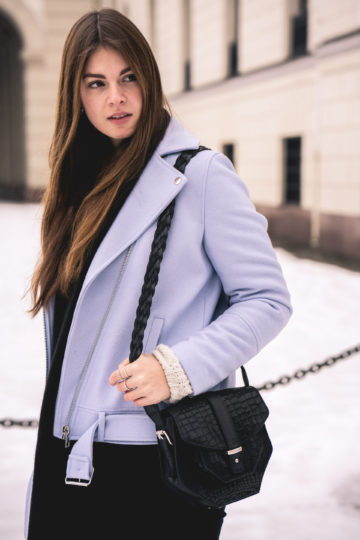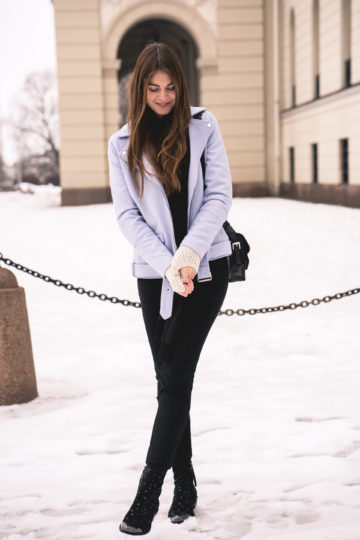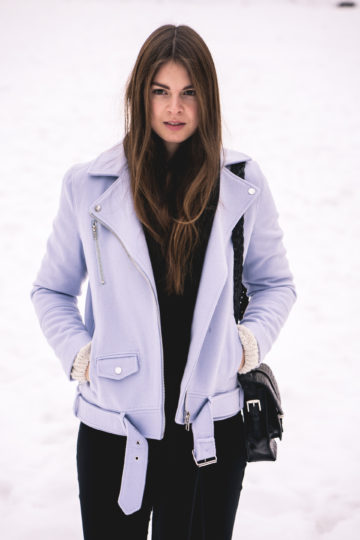 The key piece of this outfit definitely is the light blue jacket made of wool felt. It was love at first sight when I saw it online because I do not only like the cut a lot, but also the colour which is a nice change to all the black jackets and coats I have in my closet. I was sure that the wool felt would keep me warm, but to play it safe I opted for a very warm and chunky sweater to wear underneath. Unfortunately, you can't see it properly in the pictures, but I will upload a photo on my Instagram without the jacket soon, so make sure to have a look.
The jacket in combination with the sweater worked perfectly, and I was more than wrapped up warmly for a winter day in Oslo. I didn't even have to put more layers on, and that's exactly what winter clothes should be like.
Since I wanted to set full focus on the light blue jacket and make it pop out, even more, I put on a pair of black pants as well as black boots. The black pants are very comfortable and perfect for a day exploring a new city. I only had to put on a pair of tights underneath to stay warm.
One of the reasons I prefer wearing clothes pants in winter is that you can wear a pair of tights underneath and they still would be comfortable. All my skinny jeans don't work with tights, but at the same time, they don't keep me warm enough in winter. That's why clothes pants are the best choice for cold winter days!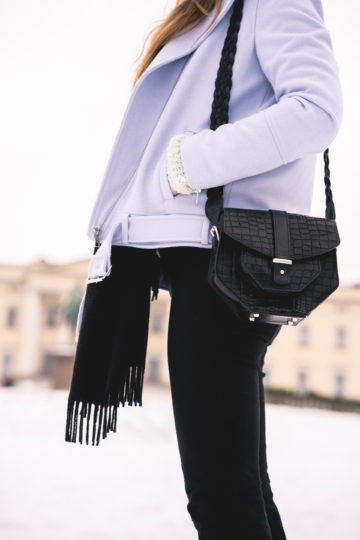 So how do you like my outfit? Don't you think, that it perfectly matches the winter wonderland atmosphere in Oslo? I just had to stop at the Royal Palace and take some outfit pictures there, because I think everything goes along very well: the scenery as well as the outfit. I would love to read your thoughts about it in the comments. xx