Happy Monday and happy new week guys! What about starting this week with a new outfit post? I'm all for it. Today is going to be a very busy day, so leaving you with a new outfit post is the best I can do for you today. My brother turns 21 today, so we are celebrating with the family later this day, and tomorrow morning I am flying to Amsterdam together with my siblings. I will be there until Thursday morning and won't have any time to get work done while I am in Amsterdam. That's why I have to get as much work as possible done today. I don't want to leave you without any posts while I am in Amsterdam, so one of the things I have to do today is writing two new blogposts. The one I want to share tomorrow (or on Wednesday) is almost done, that's good. But I haven't even started to work on the other post I want to share while I am in Amsterdam. I also have to do some administrative work – boring stuff – and prepare everything for the trip. Yep, it is going to be a very busy day for sure! What are you up to today?
Wearing a Black Lace Dress in Summer
But let's not only talk about all the things I have to get done today. Let's talk about the outfit I want to share. It is one of the outfits we took pictures of before my boyfriend headed to Miami and even though he is back, we didn't have time to be productive outfit-wise so far. Luckily I still have all the pictures I haven't shared yet so that it won't get boring here on the blog 🙂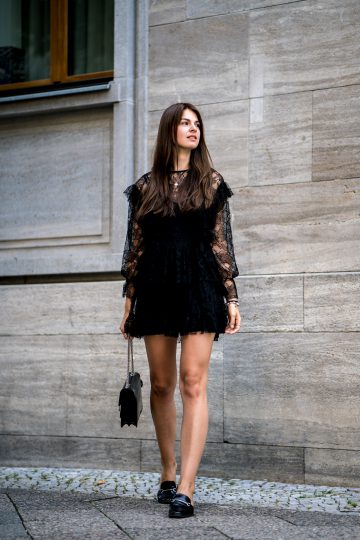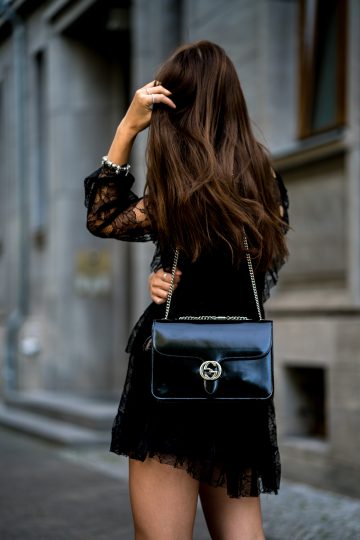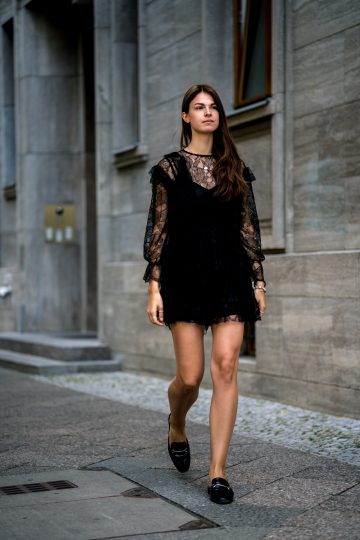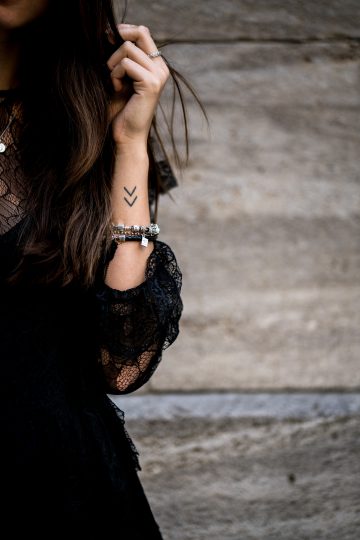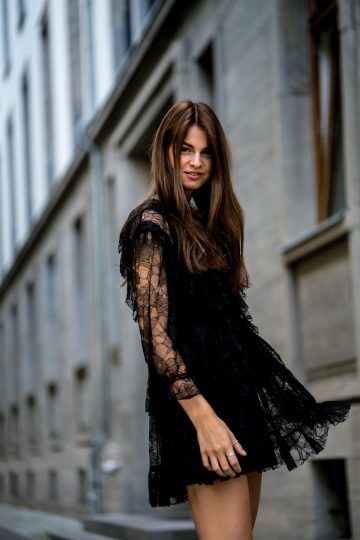 The outfit combination itself is very simple. But the dress is such an eye catcher; you actually don't have to combine it with other pieces of clothing or a lot of accessories. That's what I like best about this dress. I also love the cut as well as the lace. Everything about this dress is just perfect. It isn't something I would wear to the office or on a day to day basis. But I would wear it when going on a date or a ceremonial occasion with a chic dress code. I also would wear it when having dinner at a classy restaurant, celebrating the birthday of a family dinner or something like that. It is for sure something you wear on a chicer occasion.
That day I was wearing it to the office, but I was having dinner at a nice restaurant with my boyfriend after work. We had some kind of a date night, and I felt like wearing this beautiful dress 🙂 To keep it a little bit more simple and, of course, comfortable I combined it with my black mule sandals as well as my Gucci bag. Last but not least I added some pieces of jewellery and that's it. It is such a simple outfit combination, but the dress really makes it stand out! How do you like it? The dress and my outfit? I am looking forward to reading your comments. xx