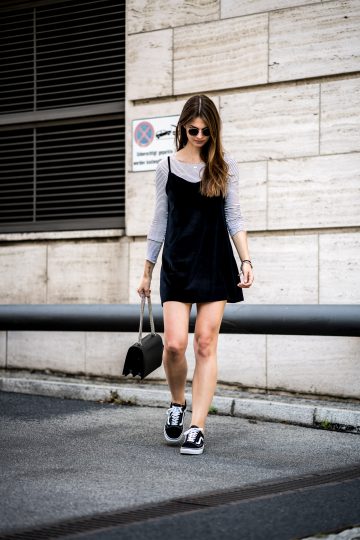 Happy Wednesday everyone! After a super exciting day in Dusseldorf yesterday, I am back in Berlin today, and that means I am back to work. Well, I am starting the day with a yoga session, but afterwards, I will drive to the office to get as much work as possible done before the public holiday tomorrow. I will probably work tomorrow as well, but I think we will stay at home and work from there. And whenever I work from home, I don't do as much as I would do at the office 😉 There are simply too many distracting things keeping me from working. But don't worry, working all day means that I will also prepare some blog posts for you. This week I will share one more outfit (+ the one I am sharing today) and a blog post about the Adidas x Wanderlust event last weekend. And while I am working on these two posts, you can have a closer look at an outfit I was wearing last week. It already feels like summer in Berlin, and I am so happy I don't have to wear jeans, sweaters and jackets anymore.
Striped Shirt x Black Dress
It was a sunny and warm day in Berlin, and the outfit I was wearing was actually almost too warm. It definitely was too warm for sitting outside in the sunshine, but it worked perfectly for a day spent at the office 😉 Yep, it was a beautiful day, but I had to get work done and could only enjoy the weather from the inside. When the weather is that nice, we usually don't stay as long at the office as we often do in winter and on rainy days. We left work almost at 6 pm prompt, had dinner somewhere outside, and I headed to an event afterwards. It was such a lovely day, and this simple outfit was a perfect choice.
I was wearing one of my favourite combinations: shirt and dress. There are two reasons why I like this combination that much: on the one hand it is the perfect way to wear your favourite summer dresses even when it isn't warm enough. And on the contrary, you can easily upgrade a simple summer dress and make it look more interesting by pulling it over a shirt.
The day I was wearing this outfit I wanted to keep it simple, but not boring! That's why I put on a striped longsleeve underneath this black dress. I added a pair of sneakers, my round Ray Ban sunglasses, some pieces of jewellery and my Agneel bag. This outfit is the perfect everyday outfit no matter whether you're having a stressful day at the office, are running errands or simply taking a stroll in the neighbourhood. And there are so many more options. What do you think about this outfit and when would you wear it?
P.S.: On Sunday I mentioned, that I am uploading Mini-Vlogs on my Instagram Story at least five times a week. I am filming with my camera all day, edit the video in the evening or morning and upload it the day after I shot everything. I will upload the Instagram story from yesterday around noon I think, so if you want to know what I was doing in Dusseldorf yesterday, make sure to follow me on Instagram and have a look at my Instagram story later today. And if you have already seen my new Instagram stories, I would love to hear what you think about these Mini-Vlogs. Should I share them on the blog as well?