Today is a public holiday in Germany, but this won't keep me from sharing a new outfit with you today. 🙂 It is the outfit I was wearing on Monday, a very long day at the office. The weather was quite nice, but it was a little bit colder than the days before, so I had to throw over a kimono. Nothing bad at all, because I really like this kimono. I like kimonos in general, especially when they're super long. The only problem is to find a kimono that's long enough for me. 😉 I like the length of this one, but it could be a little bit longer, to be honest… Anyways, let's not talk about this kind of "tall-girl-problem". Let's talk about the whole outfit:
Floral Kimono, Levi's Shorts and White Sneakers
I combined the floral kimono (bought in a small boutique in Byron Bay in 2015) with a pair of Levi's shorts, a white t-shirt and white sneakers that day. It is such a comfortable and casual outfit, nothing special, but perfect for a long day at the office. I have to admit, that I wasn't a hundred percent happy with the choice of shoes, but I didn't have a better pair at home, so I went for these white sneakers. I would have wanted to wear a pair of flats, something more summery and maybe something matching the kimono, but nothing really worked in combination with this outfit. Maybe a pair of white sneakers without red details would have worked better, but that's something I could try next time 😉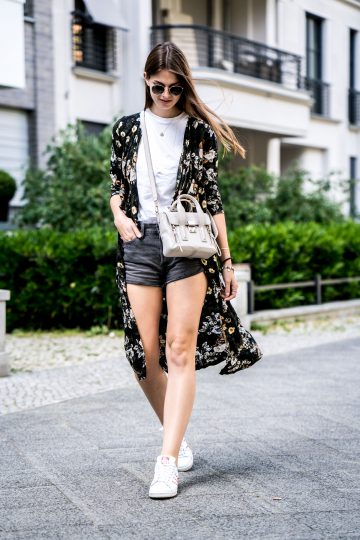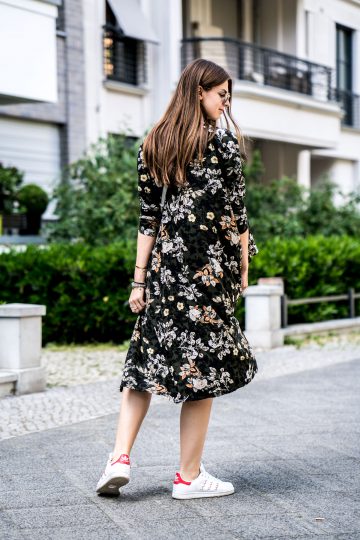 So that day I went with these white sneakers and even though I am not a hundred percent happy with the choice, I still like the outfit. It's one of the outfit combinations I always opt for when I don't know what to wear in summer: denim shorts, white t-shirt and white sneakers. You will probably see me wearing this combination pretty often in summer because it always works and it is just perfect for a busy day. And by throwing over a nice kimono or jacket, you can make it look more interesting by adding just one more piece of clothing.
Am I ever taking these round sunglasses off?
Not sure about that… I have been wearing these sunglasses almost every single sunny day since I received it in January. I wanted this shape for so long, but it was one of the things I never bought because I didn't really need it. I had a lot of sunglasses at home, so there simply was no need to buy a pair of sunglasses expect that I really wanted this one. What can I say, I still like it a lot, and that's the reason I am wearing it so often. It also works with so many outfit combinations, doesn't it? I also think, that if tops off a lot of looks, makes them look more interesting and simply summery. What do you think about the round Ray Ban sunglasses? Do you like them as well or are you already bored of seeing me wearing it in almost every single outfit post I am sharing on the blog?
I hope you guys will enjoy this public holiday, have a great day and to all the men: don't drink too much 😉