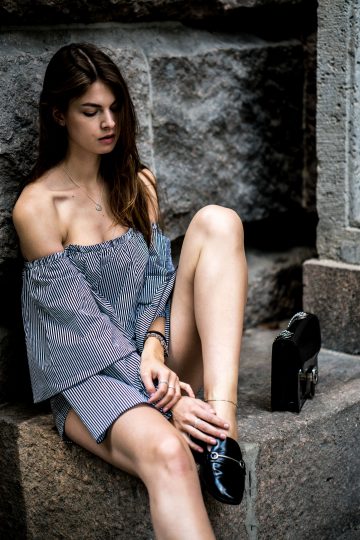 Oh, how much I love summer in Berlin! It was too cold for a too long time here in Berlin, but almost two weeks ago the temperatures finally raised and stayed around 20°C. We even had some very hot days with more than 25°C. And I am so happy that I finally can wear all the summer clothes I received and bought during the past months. I collected so many outfit ideas during the winter and (very cold) spring months that I first didn't know which one to wear first. And I actually even forgot some of the outfit ideas I had. But now that the weather is finally better – and hopefully staying like this – I can start getting creative again and plan many, many summer outfits and share them on the blog. Of course, I travelled to a couple of warmer places during the colder months in Germany, but sharing summer outfits when it is still cold in most parts of Europe isn't as sharing them during summer. Let's face it: it's great to see summery content, but you are not really able to make use of the summer outfits I am sharing as long as it is too cold in Europe.
Striped Off-Shoulder Playsuit
With that said it is time to share another summer outfit taken pictures of in Berlin. Right now it is warm enough in Germany, and I think in most parts of Europe as well, so you can actually make use of this outfit inspiration – of course, only if you like it. This striped off-shoulder playsuit is one of the summer pieces that were waiting inside my closet to be worn as soon as it is warm enough. Due to the long sleeves, I didn't have to wait for midsummery temperatures to wear it, degrees around 20°C and a lot of sunshine worked perfectly for this playsuit.
I was wearing it on a very calm Sunday. We got ourselves a cup of iced coffee and were walking around our neighbourhood to enjoy the sunshine. Therefore I opted for a very comfortable outfit combination. The playsuit speaks pretty much for itself due to all the details. I absolutely love playsuits, especially when they have a lof of details. This one scores with the off-shoulder detail as well as the stripes and the bell sleeves. I simply had to add a couple of jewellery pieces as well as my mule sandals and my Gucci bag and that's it.
It's such a chic yet simple outfit and I wouldn't only wear it on a calm Sunday like this. I would also wear it to a meeting or a lunch/ dinner date. I would wear it when meeting up with friends or just hanging around with my family. How would you combine this kind of playsuit?
Playsuits or Dresses?
If I had to choose I would probably go for playsuits. I enjoy wearing dresses as well, but playsuits are a little bit more comfortable and easier to handle 😉 You usually don't have to think about how to sit and worry that someone could see what you're wearing underneath. The only problem with playsuits: most of them are too short so that you can see a little bit of my butt and I don't feel comfortable when it is like that… tall girl problems I guess. What about you? Are you team playsuits or team dresses?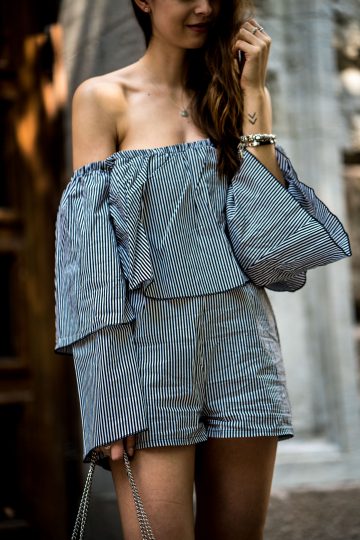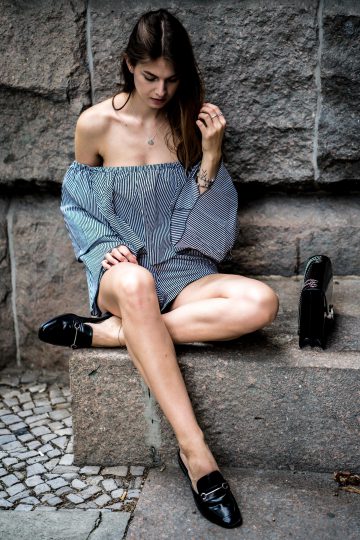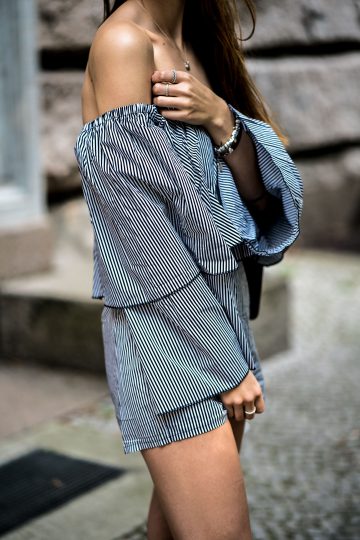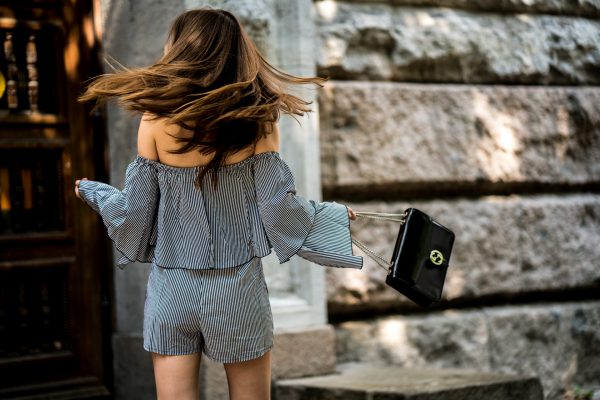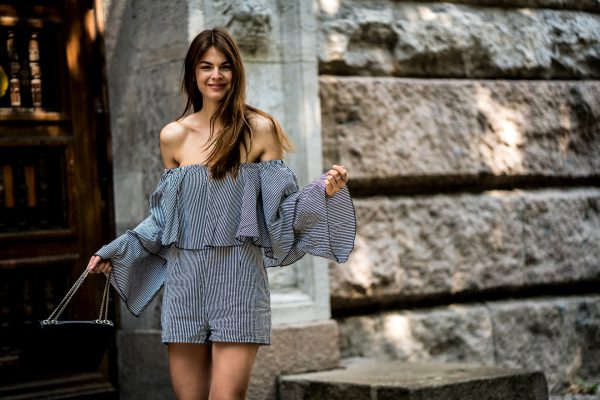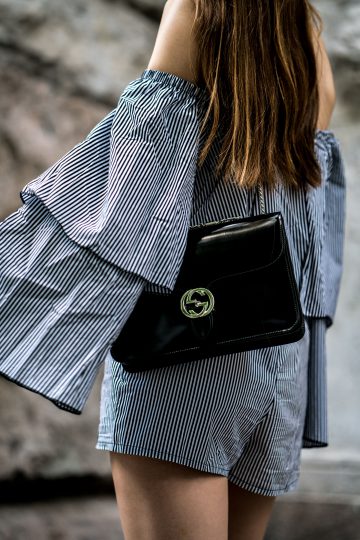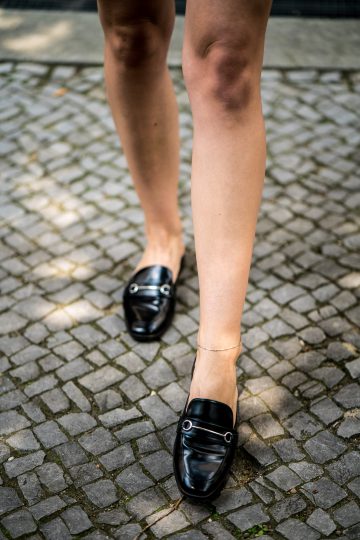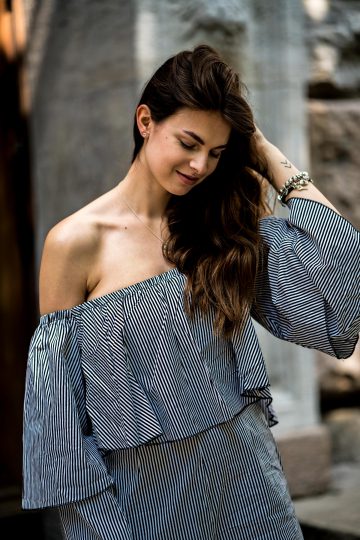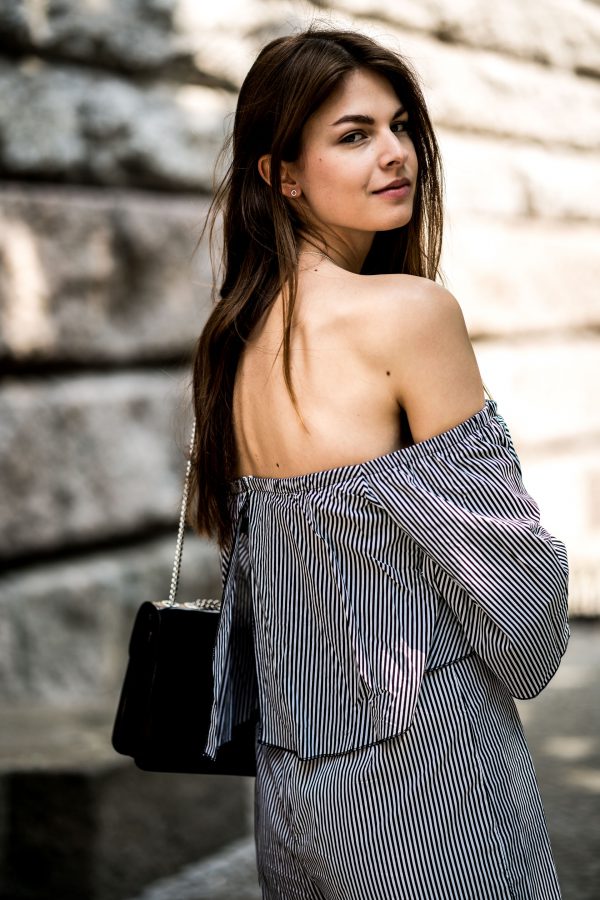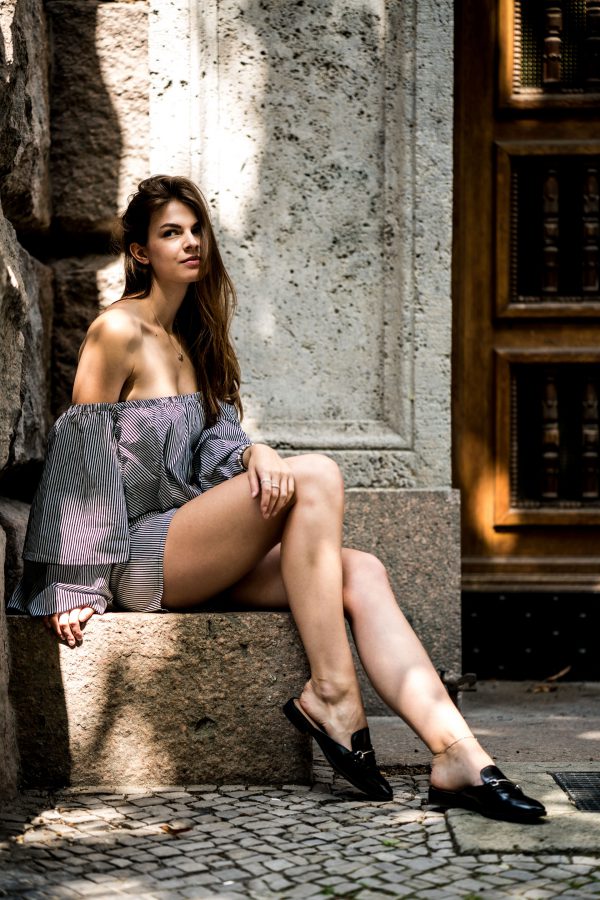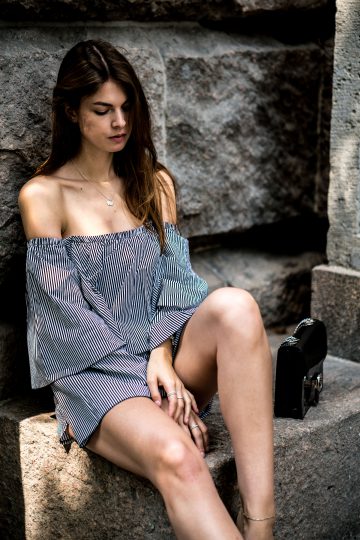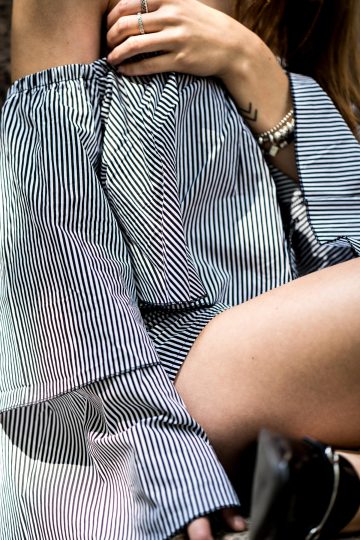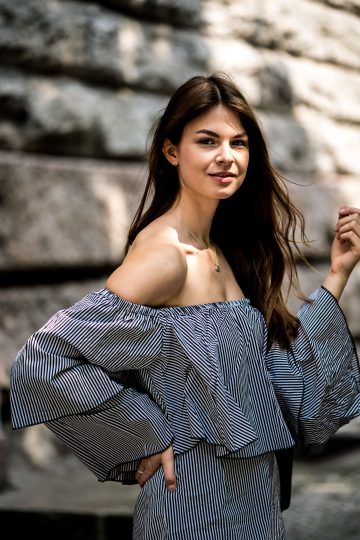 Sponsored Products: Playsuit from Missguided.