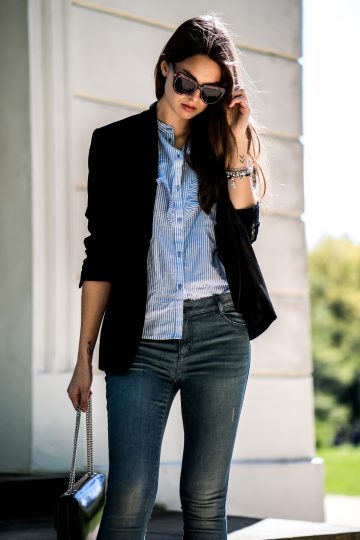 Happy Monday and happy new week folks. It's time to get back to work after a great weekend and to share some blog posts with you. The weather the past week wasn't the best, but fortunately, it was on the weekend, so we could take some new outfit pictures I can share this week. I will start with the outfit I was wearing when we were taking a stroll through one of my favourite places to spend time at during spring and summer: the Charlottenburg Palace and its garden. I spend a lot of time here, not only when I'm taking a stroll, but I also love to go for a run at this beautiful place. It's about three kilometres from my home, so I usually run these three kilometres and run 3 to 6 kilometres through the garden. It is not very big, so I have to get creative not to run the same paths again and again and to get bored x) But it is very beautiful, so it is much easier to run a longer distance than it is in my direct neighbourhood. But enough running talk, let's talk about the outfit instead.
Striped Ruffle Top
I think I don't have to mention again, how much I like ruffles. 😉 I got a few pieces with ruffles, but most of them are with long sleeves. I am happy I finally have a top with ruffles as well, and I can't wait to wear it more often in summer. I also like the fact that it is striped because as you might know, I really like stripes. You see, I like this ruffle top a lot. Unfortunately, it wasn't warm enough to wear the top only the day we were taking the pictures, so I had to pull over a jacket.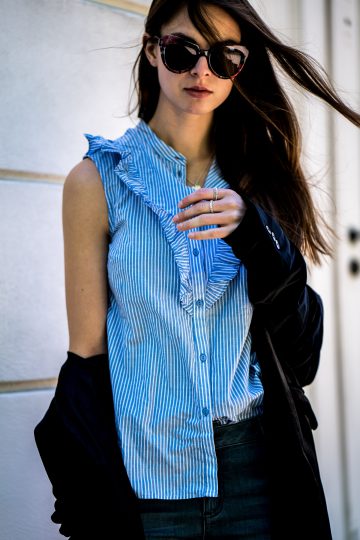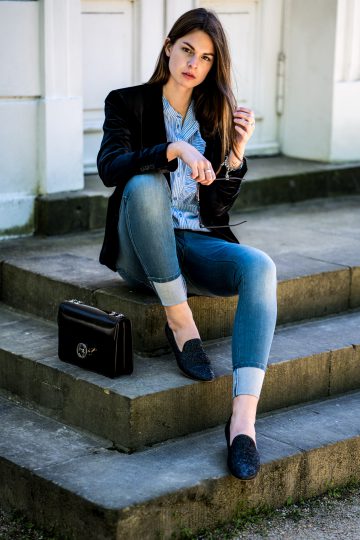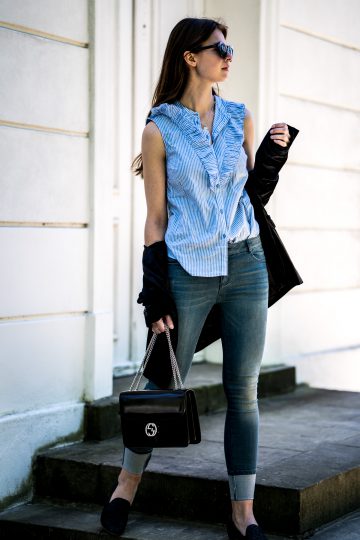 I went for my velvet blazer because I didn't want to wear one of my jackets – I was wearing jackets all week long, and I am so bored of them… I can't wait for warmer days and summer!
I kept the rest of the outfit very simple: blue jeans, black slippers, black bag and a pair of sunglasses. This outfit isn't something special, but it works perfectly for a relaxed day on the weekend. And it was the perfect choice for our stroll through the garden of the Charlottenburg Palace. When the wind wasn't blowing that strong, I also could take off the blazer and walk around wearing the top only.
Next time I would probably wear another pair of jeans… this one is pretty nice, but I'm not sure if I like it in combination with the rest of the look. I think I would keep it more simple next time and wear a pair of black jeans 😉 Or maybe I can already combine the shirt with a pair of denim shorts or a black skirt… We will see. For no, you can have a closer look at the pictures and let me know what you think – if you want! I would love to read your thoughts about the outfit and, of course, the ruffles trend. Do you like ruffles as much as I do?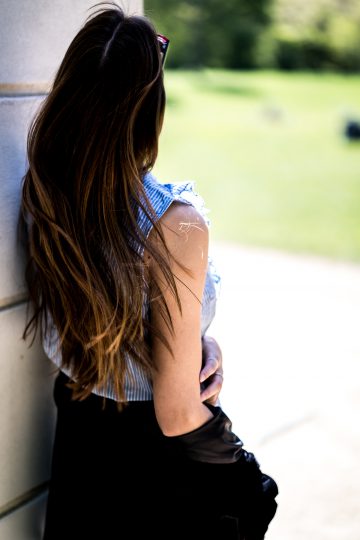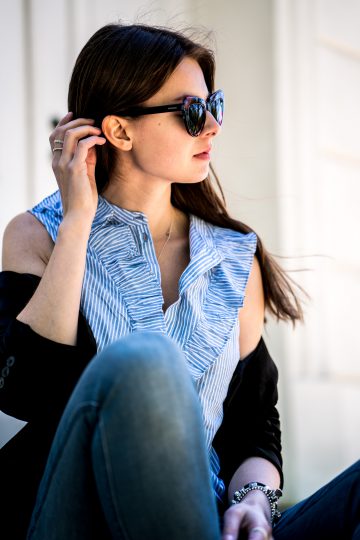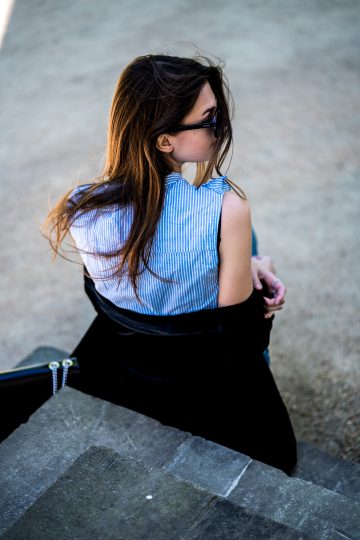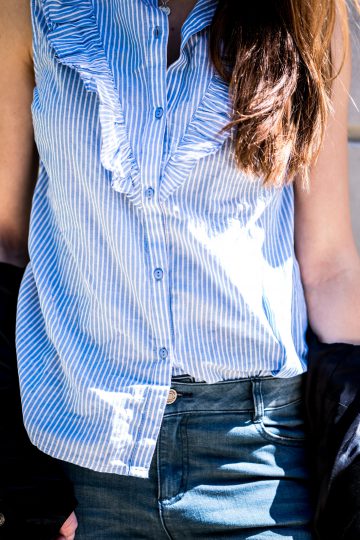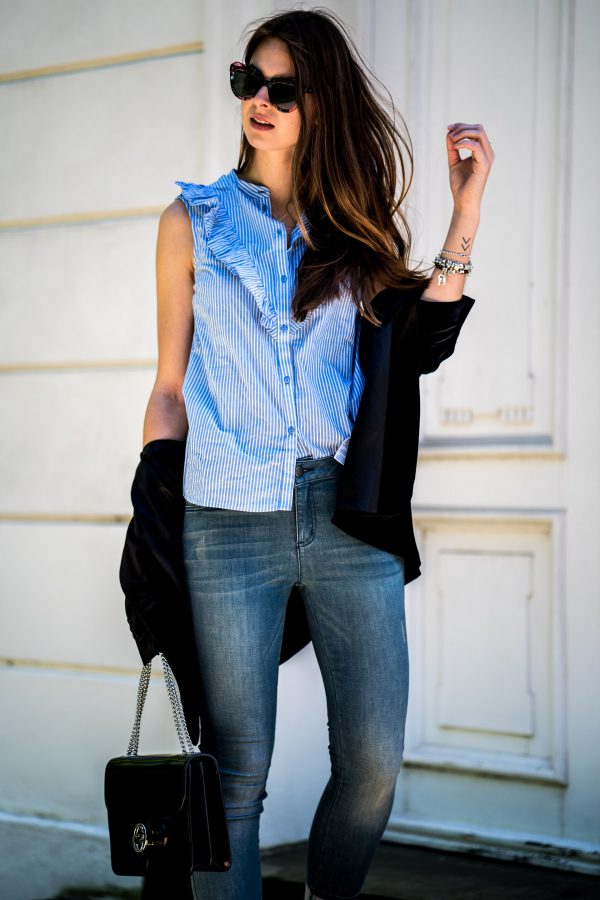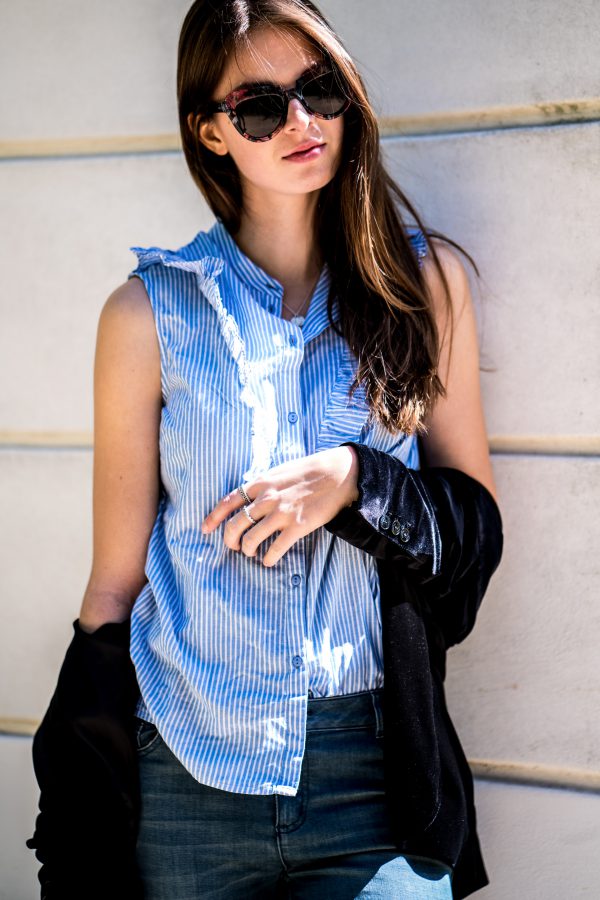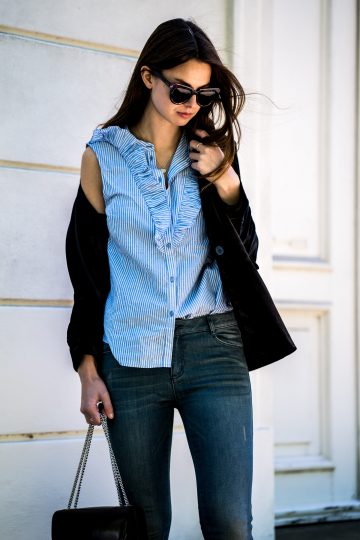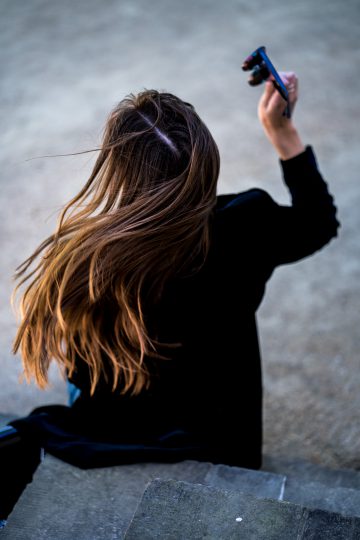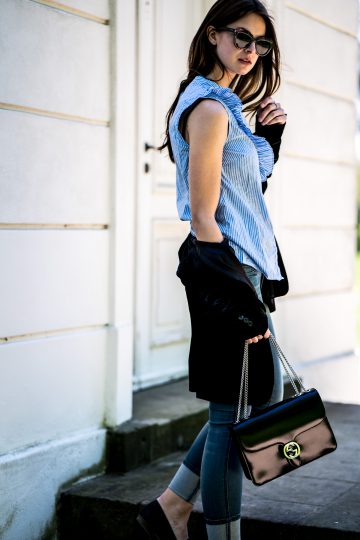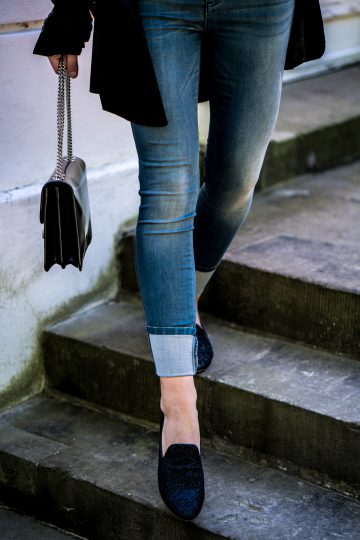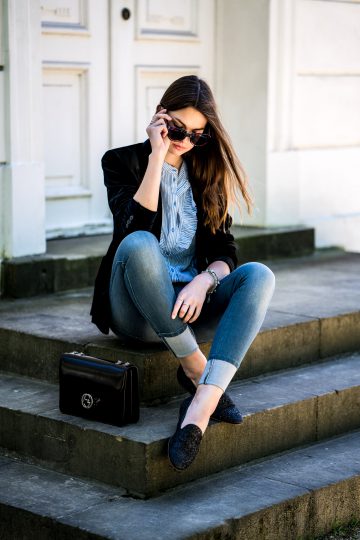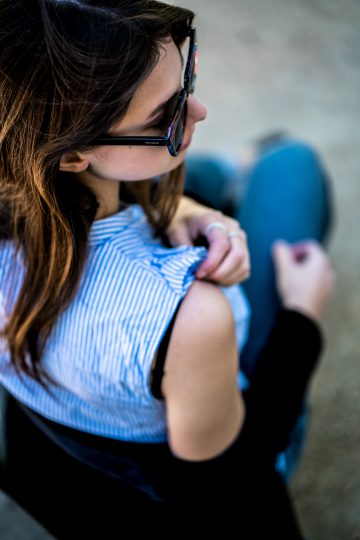 Thank you Vila for the Top and Jeans. *sponsored products