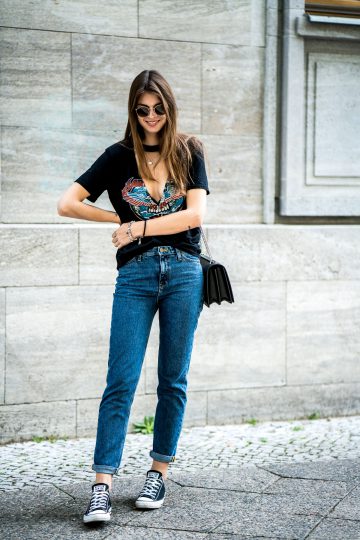 I actually don't want to talk about the weather again. But does it get better sometime soon? It's mid of May, and it still feels more like winter than like spring or summer… it's super rainy in Berlin, and I've been feeling a little bit under the weather lately. I'm just happy we had a super nice Sunday, it was sunny and warm, and I was able to spend a lot of time outside. Only the wind was a little bit annoying and cold… but as long as the wind wasn't blowing and the sun was out, it was no problem at all to walk around in a t-shirt or light sweater. I was wearing this outfit before the Wings for Life World Run on Sunday. The run started at 1 pm, so we had a couple of hours to run errands, have breakfast and go for walkies with Jimmy before. Since it is an outfit I was wearing on a Sunday, it is – once again – super comfortable and casual. But one of the clothes I was wearing isn't what I usually wear. Read more about it here:
Low V-Neck Choker T-Shirt
It's no secret that I like the V-Neck Choker T-Shirt Trend a lot. I love wearing oversized and comfortable t-shirts, but they can look a little bit dull. The V-Neck, as well as the choker detail, add that certain something, that certain something that makes the outfit look less dull. The V-Neck Choker T-Shirt you can see me wearing here is the third one I got and I think it is my favourite one even though it isn't what I would usually wear. Not because I usually don't wear v-necks or oversized t-shirts. It's because of the low v-neck. I usually don't wear shirts with such a low neckline, and I have to admit, that I didn't expect it to be that low when I ordered the shirt… and even though I wasn't sure whether to keep it or not, I somehow liked it and had to keep it.
And now you can see me wearing it. I combined my new t-shirt with a pair of Mom jeans from Lee as well as my favourite black Converse shoes, round Ray Ban sunglasses and my Agneel bag. It is a very comfortable outfit, perfect for a day such as the past Sunday. It is actually the perfect everyday outfit, isn't it? I just wouldn't wear it on a date or at a chic restaurant and probably not on a day filled with lots of meetings. But on all other days, I definitely would go for this kind of combination.
How to wear Mom Jeans
Mom Jeans are one of the most comfortable pairs of jeans you can wear, and that's the reason why I like them that much. BUT it's not easy to combine them… On Sunday I went for a very casual combination, but I have to admit: it is not the best combination! When you combine a pair of mom jeans with sneakers and a t-shirt such as this one, your legs might look shorter than they actually are. It's always better to combine mom jeans with shoes that elongate your legs such as high heels, boots or slippers. To dress a mom jeans up, you can also combine them with a blouse, a white shirt or a pretty cami. There are plenty of options, but always keep in mind, that you shouldn't go for an outfit combination that makes your legs look shorter than they are. I will share more outfits with mom jeans soon, to show you some of the best outfit combinations 🙂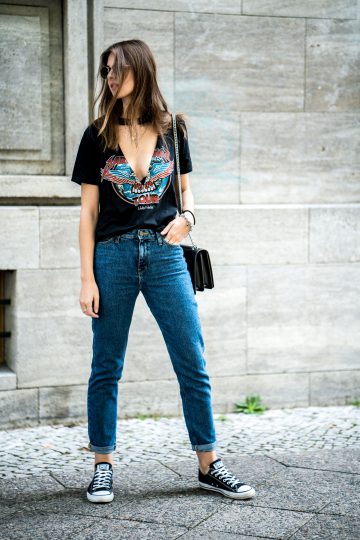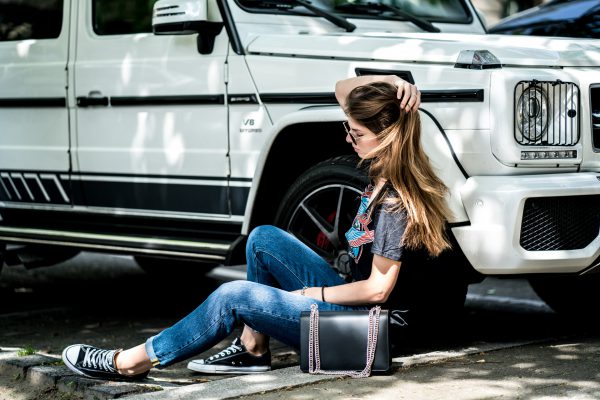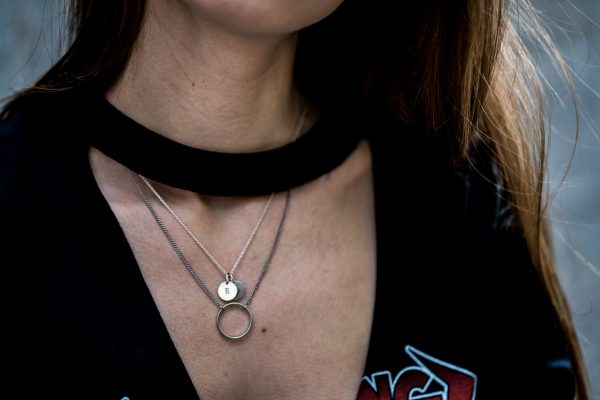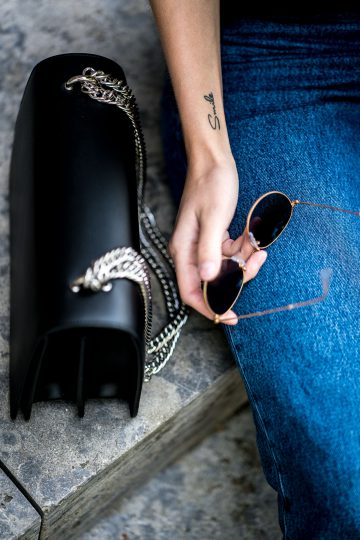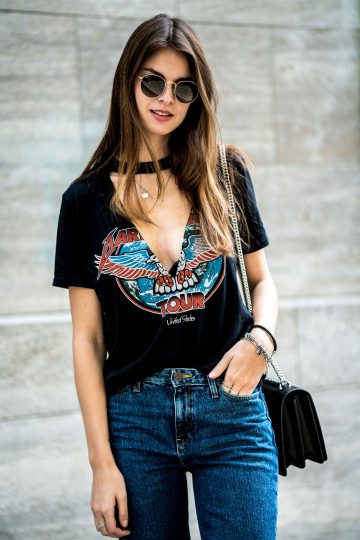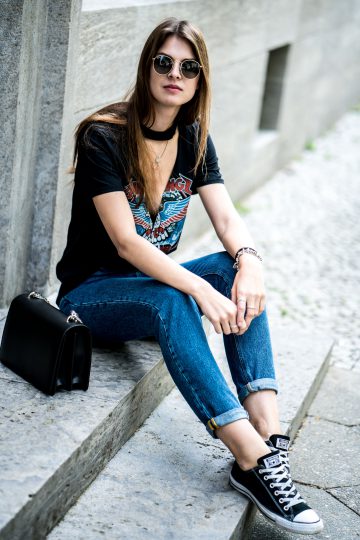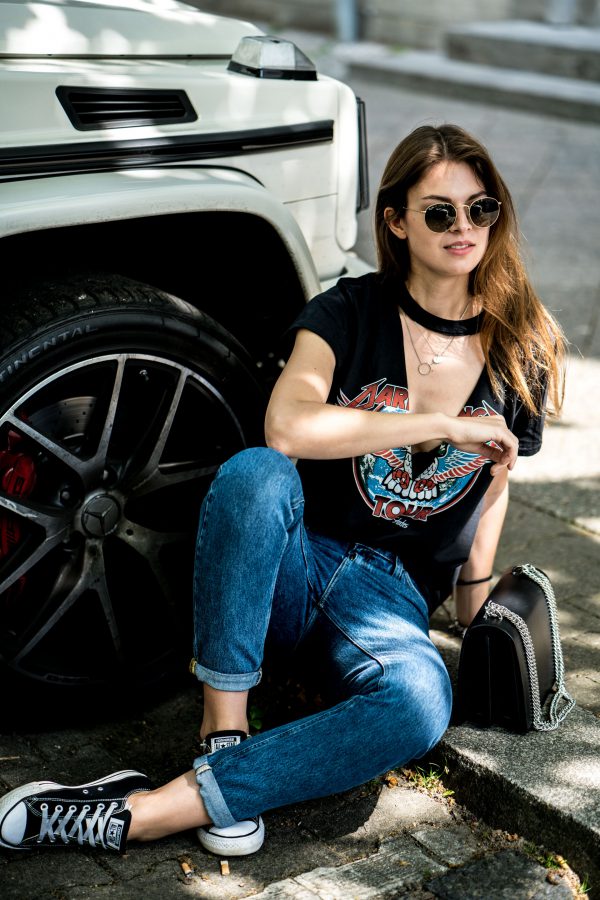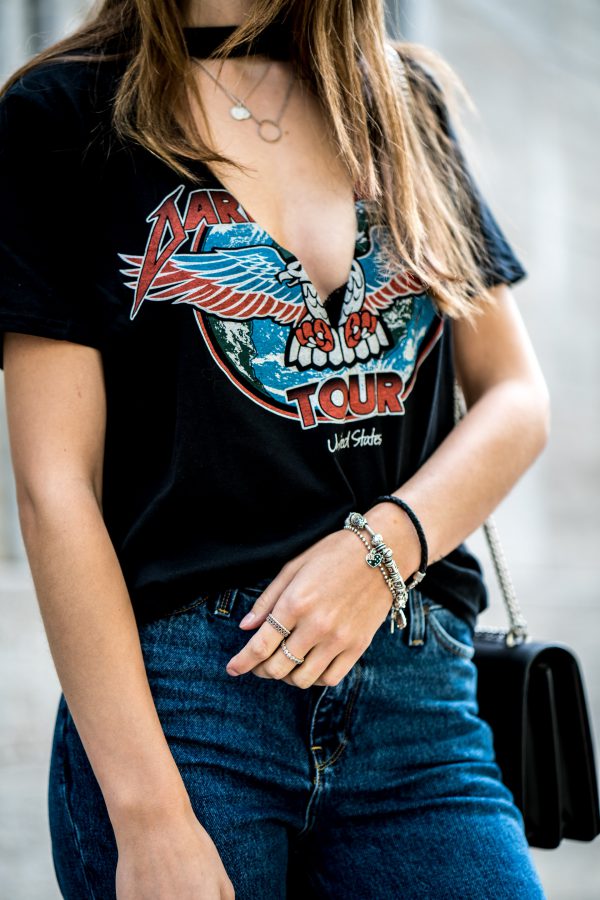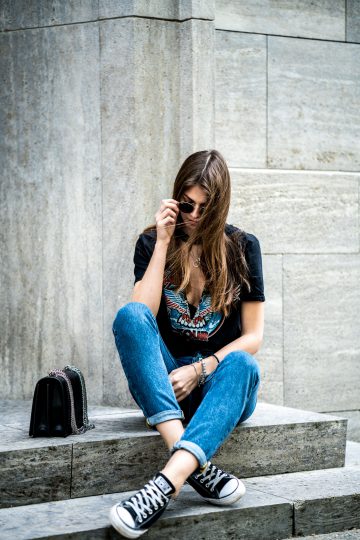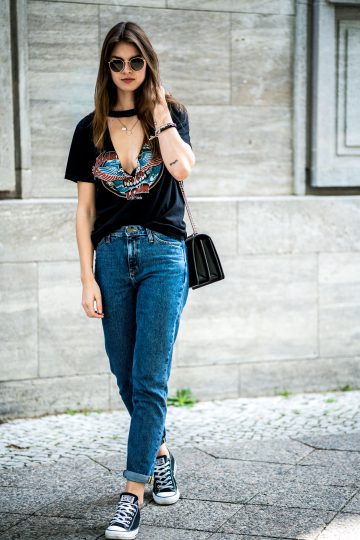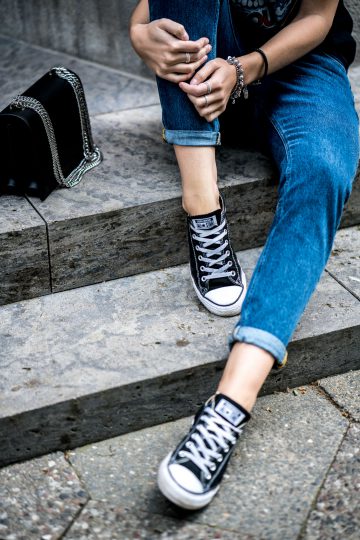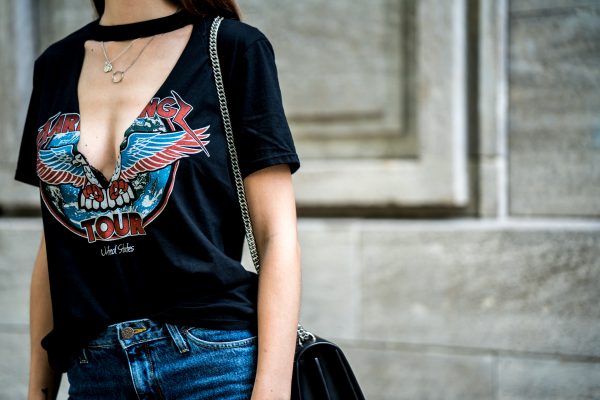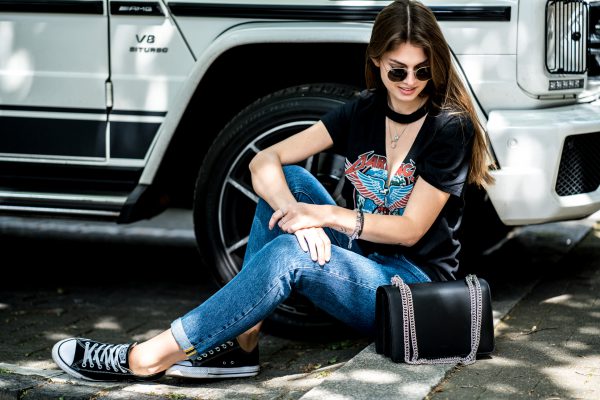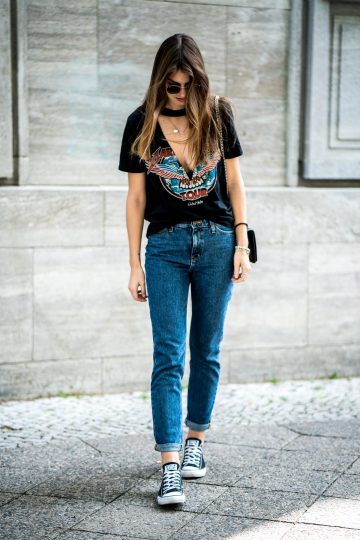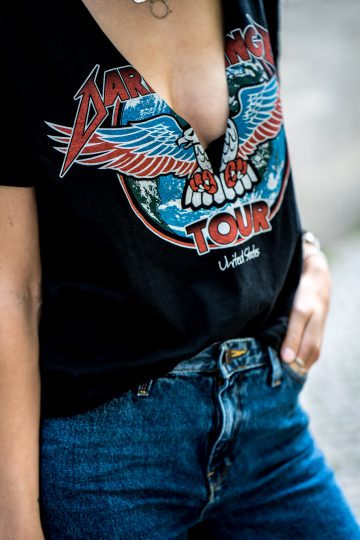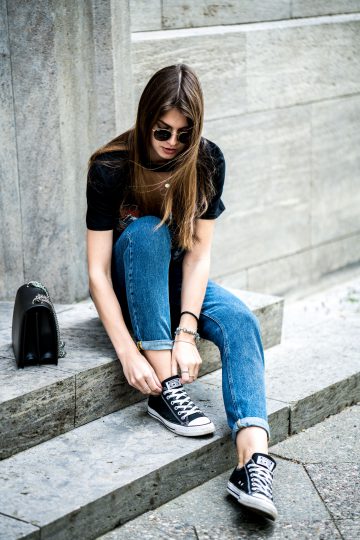 T-Shirt sponsored by Missguided, Jeans sponsored by Lee Jeans.