Happy Friday everyone! The Fashion Week in Berlin is officially over, and I am starting the day with a doctor's appointment and will also meet up with a friend later today. In between, I will work a little bit, but overall it will be a very calm day. And believe, after three full and hectic days of Fashion Week in Berlin, this quiet day is much needed!
But enough about my day, because that's not what I want to talk about today. As I promised yesterday, today I will share another outfit here on the blog. It is one of the outfits I was wearing before Fashion Week and guys, it was a very cold day! Once again, I have no idea what I thought when I put together this outfit haha. Well, the obvious reason is, that I didn't expect it to be that cold. It actually wasn't that cold, but the wind was freezing, and that's the only reason why it wasn't smart to wear a ripped jeans that day. But more about it in the following:
How to wear a plaid coat this winter
After wearing my new teddy coat almost every day for two weeks, it was time for a change and to finally get this plaid coat out of my wardrobe again. The last time I wore, it was in Lisbon, and since then it was hanging in my wardrobe – for a way too long time.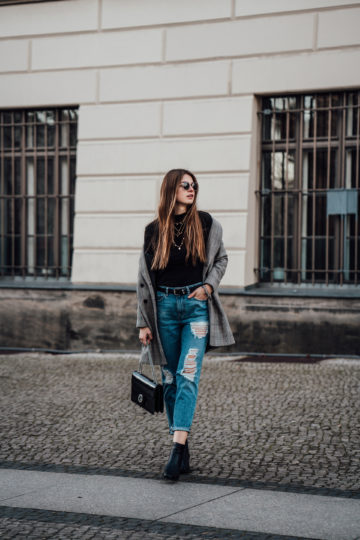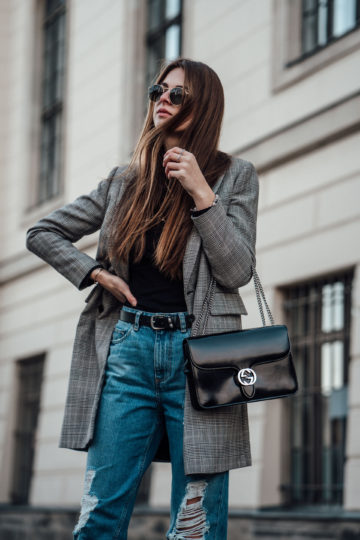 To be honest, the coat isn't the warmest coat I own. It is perfect for autumn and spring, but not the best choice for a cold winter day. But as you know, layering always does the trick. So, in this case, I was wearing two longsleeves as well as a t-shirt. I also had a scarf with me, but I wasn't wearing it for the pictures. All together worked perfectly, so I wasn't freezing on my upper body. The only stupid decision was to wear a ripped pair of jeans. The wind was blowing through the holes, and that was what made me freeze that day.
With that said, I should now get to how to wear a plaid coat in winter. Once again you could go for an all-black outfit in combination with this plaid coat. But as you can see, I opted for a casual chic way of wearing it and combined it with a black turtleneck as well as a pair of boyfriend jeans. To make this outfit even more suitable for winter, you should choose a pair of non-ripped jeans! You can either wear a pair of boyfriend jeans or skinny jeans, that's up to you. If you want to wear a pair of ripped jeans, you should put on a pair of tights underneath. That would keep away the cold at least a little bit.
There are many more ways to wear a plaid coat in winter. I will for sure style some of them during the next weeks and share the outfit pictures here on the blog. In general, it is safe to say, that a plaid coat works with almost every colour, especially when it is grey as the one I was wearing that day. Once it is getting warmer and not as rainy and snowy aka muddy as it often is in winter, I would also combine it with an all-white look. I am sure, that would look very nice on a sunny day in spring. If you want to combine your plaid coat with a white piece of clothing in winter, I would suggest a white sweater, but no white pants.