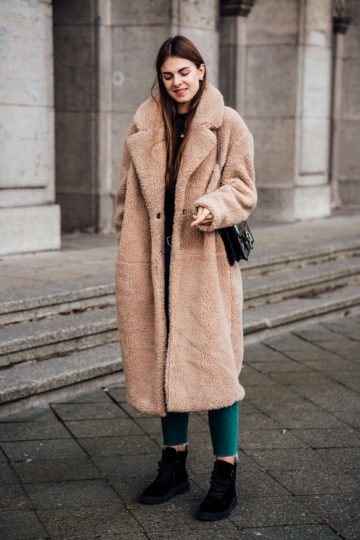 Fashion Week is in full play, and I am already on my way to the first show of the day. Due to Fashion Week, it was quite calm here on the blog at the beginning of the week. But I didn't want to leave you here without any outfit posts this week, so I took some time to prepare two of them! And as you can see, I am sharing the first outfit post today (the other one is coming tomorrow). The outfit I am sharing with you today is one of my latest favourites.
Teddy coats will keep you warm this winter
The reason why this outfit is one of my latest favourites is the teddy coat I recently bought at H&M. You probably have seen it many times on Instagram and other blogs, because it is one of the trend pieces of the season. I usually don't like the trend pieces everybody is wearing, but I couldn't resist when I saw this teddy coat. Of course, I was super late, because the coat was already sold out. I just waited too long, because I wasn't sure whether I should buy this trend piece or not.
I checked H&M a couple of times and obviously was super lucky. 😉 And guess what? Even my boyfriend likes the coat. Something I would never have guessed.
I've been wearing it a lot lately, but this is the only outfit we took pictures of. Most of the time I combined my new teddy coat with an all black outfit, but that day I wanted to try something different. I also wanted to show you, that you can not only combine the teddy coat with black clothes, but also with denim.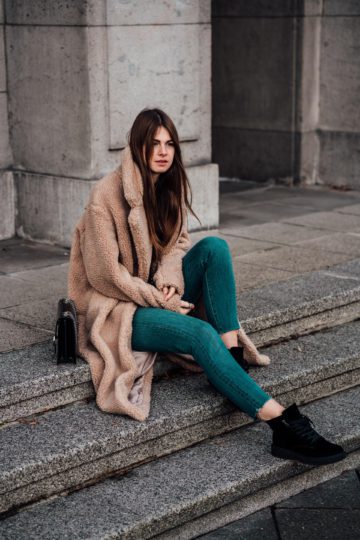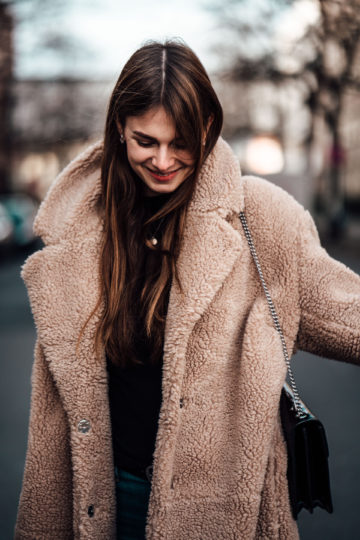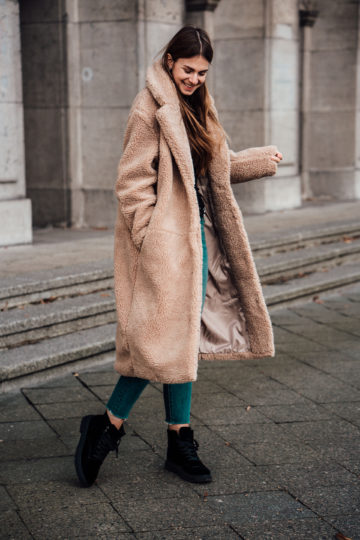 So the outfit I opted for is composed of my favourite mom jeans from Levi's, a black turtleneck as well as black boots from Calvin Klein. To finalise the outfit, I also added my beloved Gucci bag and some pieces of jewellery. I really like the mix of chic and casual pieces, what about you?
Due to the blue jeans, it definitely is more casual than chic, but you can quickly transform it into a chic outfit by exchanging the blue jeans by a black one. Maybe you also should wear a different pair of shoes such as a pair of black heeled boots instead of the flat ones I was wearing that day. Those black Calvin Klein boots are some of my favourites, but they are actually not the most chic pair I have in my closet.
I also would say, that the teddy coat with dark grey or other brown tones. Another colour that would work perfectly with it is white, but that's a colour we barely wear in winter, do we? Instead of the jeans and sweater combination, you could also go for a beautiful dress or a skirt. That's the great thing about long coats; they usually work with everything! How would you combine it?
P.S.: If you are thinking about getting yourself a teddy coat as well, I would suggest buying a bigger size to make it look even more cosy. I got this coat in size L, and I couldn't be happier about it.