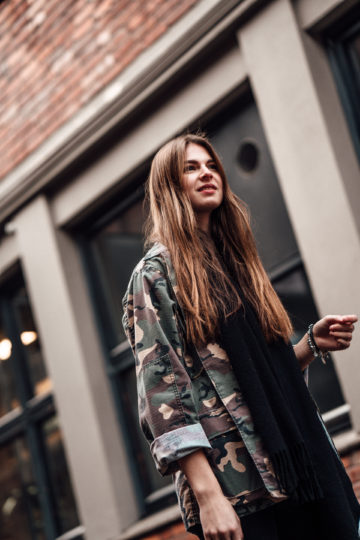 And it's time to start sharing all the outfits I was wearing for Oslo Runway almost two weeks ago. I am so sorry, it took me that long, but as you know, I had other outfits I wanted to share first. Luckily winter is still going in Berlin and all over Europe, so those looks might still inspire you for some of your next outfits.
I won't share the outfits in chronological order because this is in no way relevant or something. I was wearing five different outfits on these two days of Oslo Runway for a total of 10 shows and presentations. The reason for that many outfit changes is that I got dressed for two of the shows I got to see and I didn't want to wear these outfits all day. I also had to change in the afternoon, because it usually got quite chilly once the sun was gone.
Let's begin with the outfit I was wearing for the Line of Oslo show, all dressed in their latest collection:
How to wear a camouflage jacket
When I chose my outfit for the show, one piece immediately caught my eye: the "Make Love Not War" camouflage jacket. I knew that's the one I want to wear for their show. A word and a blow, as you can see I WAS wearing it to their show 😉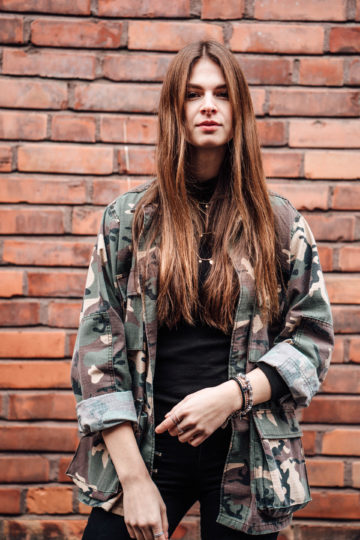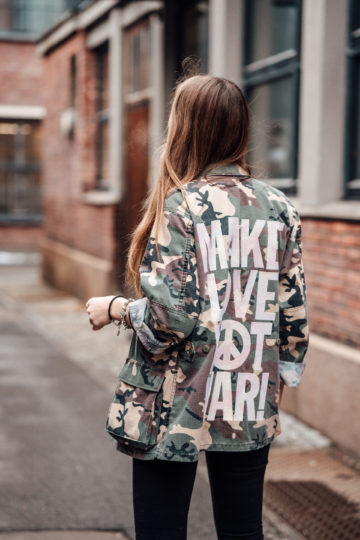 The camouflage jacket is for sure the key piece of this outfit. And I had many ideas how to style it, but as you can see, I ended up combining it with an all-black outfit. I mentioned before that I always go for an all-black outfit when I am not sure about what to wear. I had many ideas for this jacket in mind, but most of them didn't work for Oslo. I expected it to be very cold (freezing would be a better word) and I didn't want to get sick. They have these cute dresses for spring, and I would have loved to combine the camouflage jacket with one of them, but well, that would not have been the best idea. 😉 No, I will keep that idea in mind and wear this outfit combination as soon as it gets warmer in Berlin.
So back to the all-black outfit I ended up with. I got a pair of black jeans from Line of Oslo as well, combined it with my black turtleneck, black boots and my black Acne scarf. Once again I added several necklaces and the pieced of jewellery I am wearing every day. It is a quite simple outfit, but that way the camouflage jacket really pops out, doesn't? It is the key piece of my outfit, so why shouldn't I focus on it.
To sum it up: you can always combine a camouflage jacket with an all black outfit. You can also go for all-white or any other colour you can find in this jacket. Green might be a little bit too much, but brown tones should work as well. And you don't have to combine it with a pair of jeans; I think it will look lovely with a summer dress or skirt. I will try some of the ideas I have in mind as soon as it get's warmer outside and share some of them on the blog. Let me know, if you have something in mind you would like to see here. xx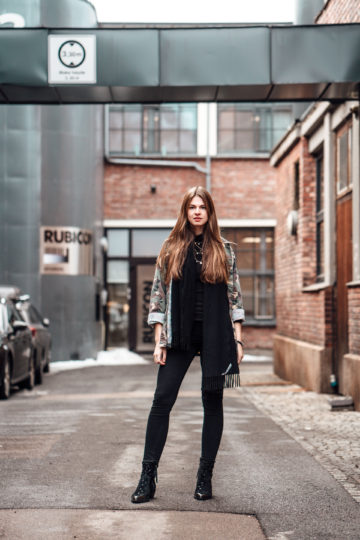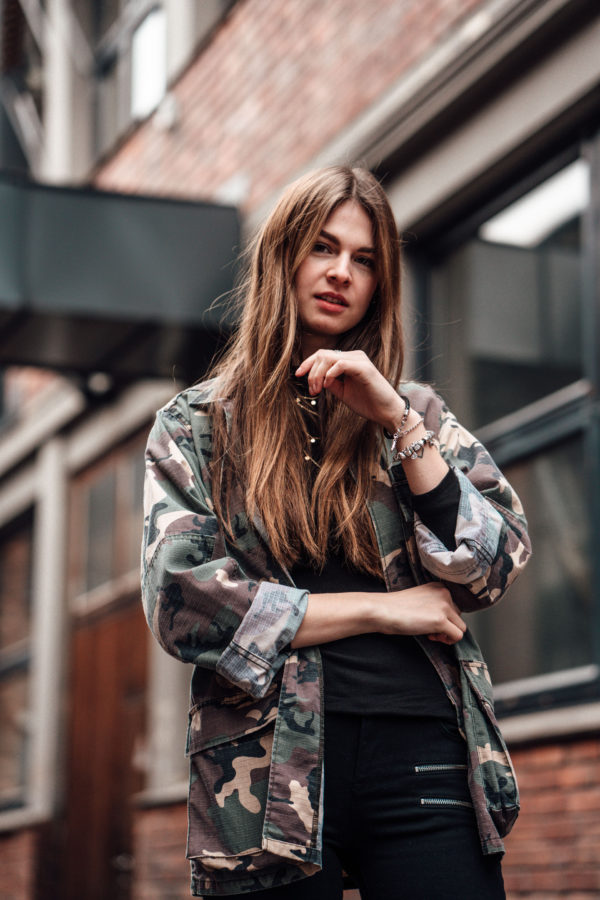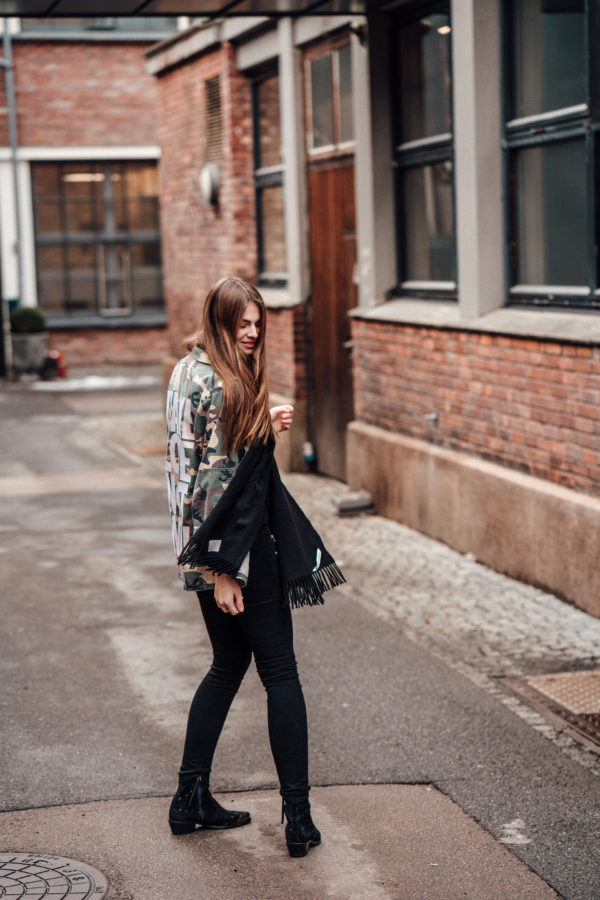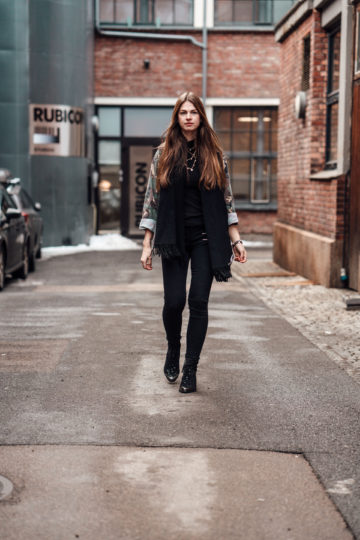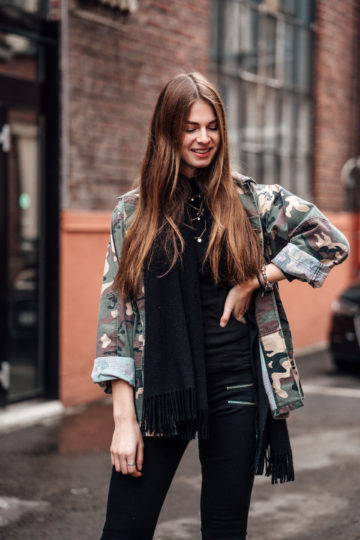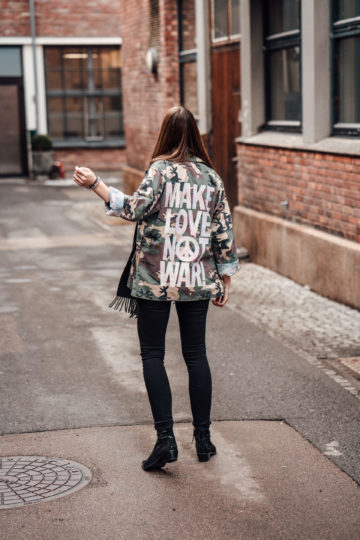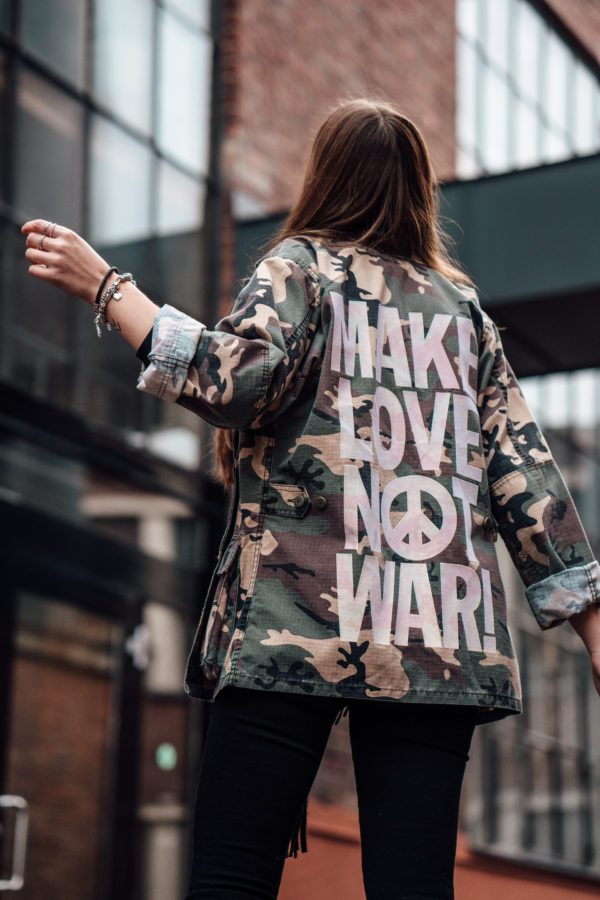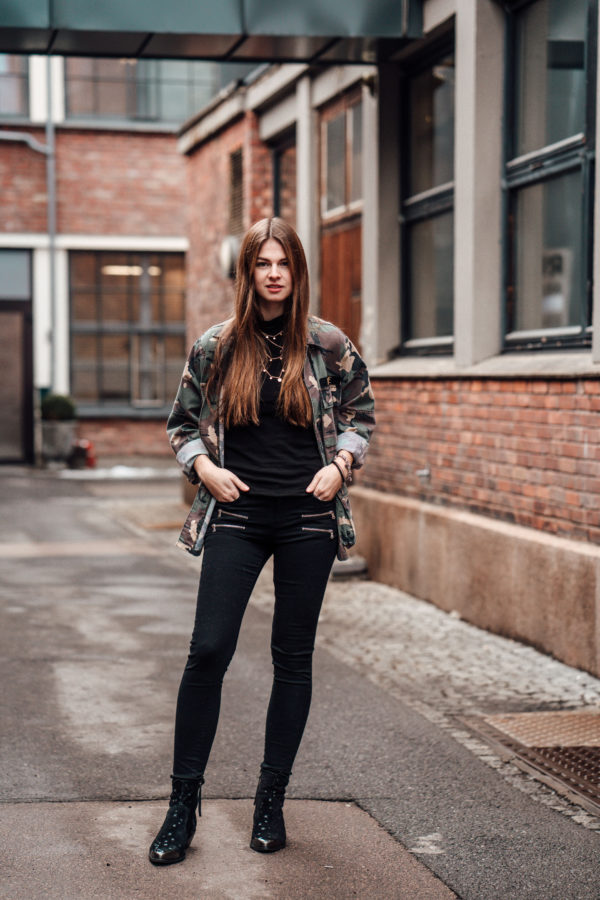 *PR Samples contained || Line of Oslo jacket || VILA turtleneck || Line of Oslo jeans || Asos boots || Acne scarf