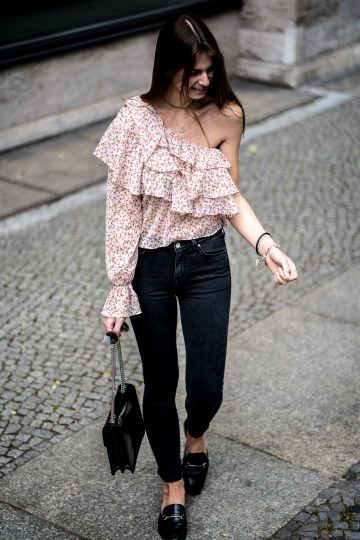 Happy Friday everyone! I hope you've had a great week and that you're ready for an amazing weekend, the countdown is on! Today I want to share one more outfit, the last one I'm sharing with you this week. And guess what? It is one of my favourite outfits from the past weeks. I love the spring vibes of this outfit, and even though it was a little bit cold due to the wind that day, I really enjoyed wearing this shirt I got at Zara the other day. Zara has so many nice styles at the moment, I could order something new every day – but I shouldn't x) I can't visit the website without ordering something, and my credit card is everything but happy about it. The problem is that I see all those pretty spring and summer styles I can't wear right now. And I actually forget all the ones I already have in my closet just because I can't wear them right now. Damn it; the weather makes me sick. But anyways, last Sunday it was warm enough (as long as the wind wasn't blowing) to wear one of the cute spring styles that were waiting in my closet to be worn, so I took advantage of it.
One Shoulder Shirt with ruffles
Two trends combined in only one piece of clothing: one shoulder and ruffles. It's no secret that I am a big fan of ruffles, and I wish I had more clothes like this one in my wardrobe. Ruffles are the perfect detail, they are girly, playful and add an interesting touch to every single outfit you combine it with. The other trend you can see here is the one shoulder trend.
Last year everybody was wearing off the shoulder (and probably you will see this trend this year as well), but another trend popped up and this one is a mix of a normal shirt and the off shoulder shirt: the one shoulder shirt. I actually don't know, if that's the right and common term, but I call it one shoulder shirt and I'm sure you know what I am talking about.
I have to admit, that I am not a hundred percent sure about this trend. It was love at first sight when I saw this shirt, and I liked the way it looked on the model. But clothes never look the same when you're wearing it yourself, do they? 😉 I tried it on at home, and I still liked the shirt a lot, but this one shoulder thing still didn't win me over. I asked my boyfriend what he thinks, and he really liked it, so I went for the shirt.
It was the right decision, and I am happy I decided to keep it. I know that I will wear it very often when it is warmer, and I can see me wearing it with a nice skirt or denim shorts in summer as well. Oh, I can't wait to try all the outfit combinations I have in mind. But for now, I had to go with this simple combination: black mule sandals, black jeans and black bag. It is casual yet chic, perfect for a date night or a day full of meetings – just to name two examples. There are so many more occasions I would wear this outfit too. What about you? When would you wear this kind of outfit? And what do you think about it?