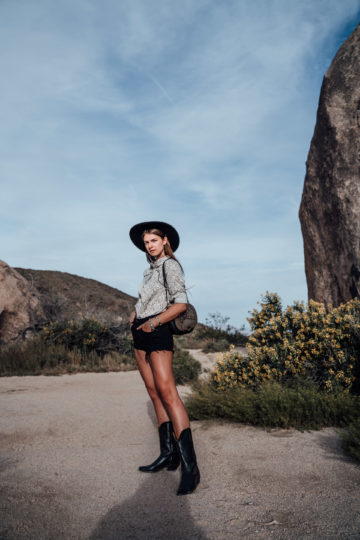 We didn't take a lot of outfit photos for the blog when we were in California mid of April as we focused on Instagram and creating content for the partners we teamed up with for this trip. But whenever we had the time, I tried to take a couple more photos, so I could also share something on the blog with you. At Coachella, it didn't really work and that's why I shared an overview of all my outfits with you earlier this week. After Coachella, we had a little bit more time and on our way back to Los Angeles we detoured through Joshua Tree National Park. I had been there before, but couldn't remember a lot, so I was really excited. We took a lot of photos there, I got changed a couple of times and we even took outfit photos of one of these outfits for the blog. And these are the photos I want to share with you today.
Roadtrip outfit: Black Shorts, Cowboy Boots and Western Style Shirt
When I packed my suitcase for the ten days in California, I tried to already think about outfits I might want to wear. I packed this shirt knowing that I would want to wear it somewhere on our way from Palm Springs to Los Angeles, but I didn't really plan an outfit for it. So I actually put together this western style outfit by chance, it wasn't planned at all! Maybe I subconsciously thought about all the other western styles pieces I had with me and that's why I styled the western style shirt with a pair of cowboy boots and a black western style hat. The shorts are the kind of clothing I wear with almost everything and whenever I don't know what else to wear.
Western Style is a big trend this season, so you will probably see cowboy boots, western style hats and lots of clothes with western style details everywhere. Cowboy boots have been a trend for over a year already and they are still not out of fashion! It's one of the trends I like a lot and these black cowboy boots are definitely my favourites.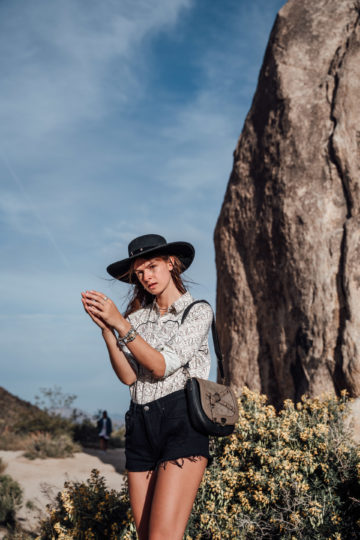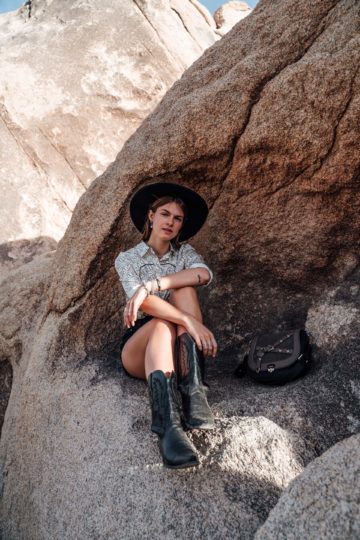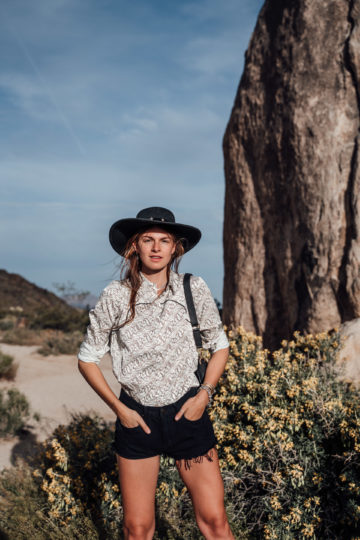 I bring them almost everywhere I go and style them with almost everything. They already look a bit used, but I think that's even cooler as if they look brand new. The hat is one of the sale buys I did just in time for our California trip, but it even arrived before Costa Rica, that's why I already had it with me there. I was wearing it a lot as I think a hat is one of the accessories you can add to every outfit and it will look way more appealing right away.
What makes the shirt a western style shirt is the black embellishment, the print and cut aren't necessarily western style. But in combination with the boots and hat, it perfectly tops off this western style outfit.
How to wear Western Style
When you want to wear the western style trend, there is actually not a lot you can do wrong. Of course, you are always on the save side, when you keep it simple. Start with one western style piece of clothing and combine it with more casual clothes. If you feel more confident with wearing this style, you can start combining more western style pieces. Also, adding western style accessories to your outfits are the easiest and safest way to wear it.
I have to try more outfits myself, but for now, these are the tips I can give you in regards to wearing the current western style trend. Let me know what you think about this trend and how you would wear it. xx
*Ad, brands named – Gestuz Shirt || boohoo Shorts || Black Palms the Label Boots || Zoe Lu bag