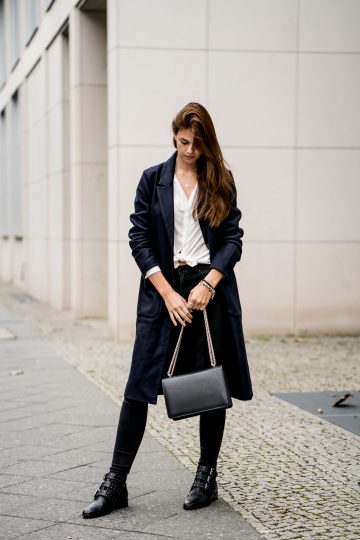 Happy Tuesday guys! I am sorry I didn't publish a new outfit yesterday, but I didn't have the time to write the post. My days have been are very busy lately, and I am having a hard time getting everything on my to-do list done. So I better get right into the main topic of today's post: a new autumn outfit. We took these outfit pictures a couple of days ago; it's been more than a week for sure. As you can see, it was a gloomy day, and I was a little bit tired. I really have my problems waking up on these dark and rainy autumn days, and I am tired all day long… that's one of the things I really don't like about autumn. I am more tired, and due to that, I am less productive and motivated. You might think, that it is easier to sit at the office and get things done when the weather is shitty, but it actually is so much easier when the weather is nice. Don't ask me why…
But let's get back to the outfit I am sharing with you today. It is an autumn outfit all through; there is nothing summery about it at all. That makes me quite sad because I still don't want summer to be over. Fortunately, we're flying to Bali in three weeks, so I get to enjoy the sunny and warm weather a little bit longer this year 🙂 Oh and I can't wait to pack some of my summer clothes and leave autumn and winter clothes in my wardrobe at home for a little while.
It seems as if I am not getting to the point today… I am running off the topic again and again haha. I am sorry about that guys. No more digressions here is everything you need to know about this autumn outfit:
Blue coat with a red line on the back
It's no news, that is always is all about the details. Every single outfit lives by its details and so does this one. It actually is a quite simple outfit; I combined a pair of black jeans, a white shirt, black boots and a coat – all autumn essentials you guys should have in your closet. There is nothing special about this outfit, and I have to admit, it seems quite boring at first sight. But there is one piece of clothing with a detail that gives the whole outfit a different and more appealing look: the coat. The coat itself is such a nice piece, but the red line on the back makes it even more beautiful. Oh, I can tell you, it was love at first sight when I saw it in the lookbook. How do you like it?
There is actually not much more I could tell you about this outfit. It is quite simple and casual, something I would wear when spending most time of the day at the office or when running errands in the city. It is for sure nothing fancy, so it works best on a day to day basis when nothing special is planned for the day 🙂 And guess what? I can't wait to combine this coat again and next time I will for sure put together a chic outfit or maybe something fancier. One thing is for sure, next time I am wearing it, I will wear it in an entirely different way.