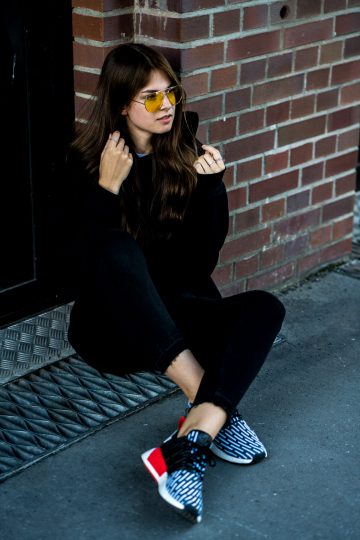 Another day, another outfit! You know, how important it is to me to keep you posted here on the blog and to share at least three new outfits every week 🙂 So even though I am having a very busy time, writing new blog posts is on top of my to-do list right now. Due to all the upcoming travels, I have to prepare a lot of posts. I will be away for a month in total, and I want to have at least the first two weeks prepared to make sure there won't be a lack of posts here on the blog. That also means that I won't share any life updates the first two weeks, but I hope you don't mind. You can still follow me on Instagram to get up-to-date information. And if everything works well, I will start sharing the first posts from our Bali trip while we are still there.
But I am still in Berlin, still sitting at the office, so let's not talk about future stuff. I will tell you more about it soon enough. 😉 Today I don't want to digress, so let's focus on the outfit I am sharing with you today.
All black and NMD R2 sneakers
These outfit pictures were taken a couple of weeks ago when it was still summer in Berlin. It was one of those colder summer days, and I took full advantage of this day and wore my new Adidas NMD's for the first time. I first wasn't quite sure how to combine them, but I ended up wearing an all-black outfit – as always when I don't know what to wear.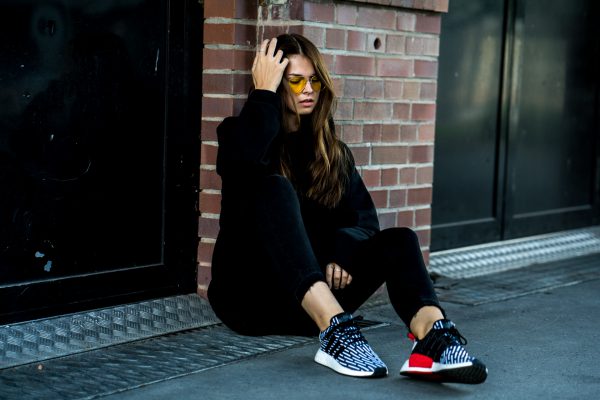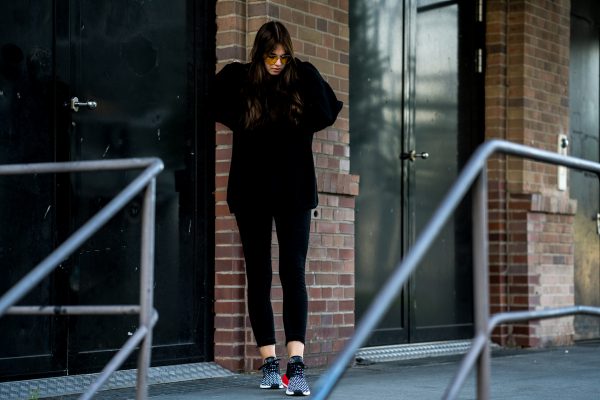 I wanted to put together a casual yet cool outfit, and I think it worked out quite well, didn't it? I was dressed in a pair of black jeans, a black hoodie and yellow sunglasses for a touch of color. Even though I wanted to focus on my new sneakers, I felt like adding another colorful piece of clothing but wanted to keep it simple at the same time, that's why I opted for the yellow sunglasses.
To answer the question how to wear NMD's: you can wear them with everything, it all depends on the style and color you got. I got a pair of NMD R2 sneakers in black and white with some red details. Due to the print, I first didn't know how to combine it, but I thought about it for a little while, and many outfit ideas popped up in my mind. You can either wear them with black or blue jeans, a dress or skirt, shorts or cloth pants. These sneakers indeed work with everything. I would always go for a color you can find on the sneakers as well, so in this case for white, black or red. But, of course, you can also wear other colors and create bold and super fancy outfits, something that really stands out!
Autumn season is hoodie season
Hoodies are still in fashion, and I can't wait to wear them more often this autumn and winter. I have been wearing them quite often these past days, but it was super rainy and gloomy, so we hadn't taken any outfit pictures when I was wearing a hoodie so far. I will definitely do this as soon as the weather gets better and I can't wait to try all the different combinations I have in mind. One of the looks I can't wait to wear is the combination of a hoodie and a blazer. You might know, how much I like contrasts, so this outfit seems to be perfect for me 🙂 Who else likes hoodies and can't wait to see some hoodie outfit inspirations on the blog?