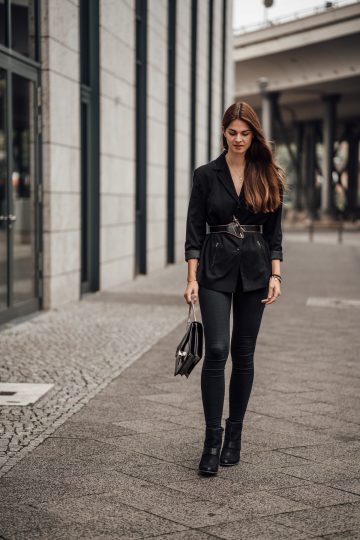 I have been thinking about autumn trends a lot lately, even though I don't place importance on them… Yes, I do get influenced by trends. And yes, I actually do like some of them. But I would never wear something just because it is in fashion – but you already know this 🙂 So once again, I won't talk about current autumn trends, I will talk about what I enjoy wearing at the moment instead.
One thing I am absolutely obsessed with right now are belted blazer! I do like blazers in general, but I saw this way of wearing a blazer months ago. I actually was wearing it during Berlin Fashion week this summer (or was it winter?!), but we didn't take any outfit pictures. And since it was too warm to wear blazers, especially wearing them belted, I almost forgot about it. But when I was thinking about the outfit I wanted to wear for the event in Hamburg about two weeks ago, the belted blazer popped up in my mind, and I didn't have to think twice.
How to wear a belted blazer this autumn
Belted blazers aren't anything new, so you either can buy a blazer including a belt already, or you simply put it together yourself by wearing a classic blazer with whatever belt you like. I did the latter the other day. Both pieces, the blazer, and the belt are vintage, and I got them years ago from my mom. You have seen me wearing this blazer very often because it is the only classic black blazer I have in my wardrobe. But I think you haven't seen me wearing the belt before even though I like it a lot!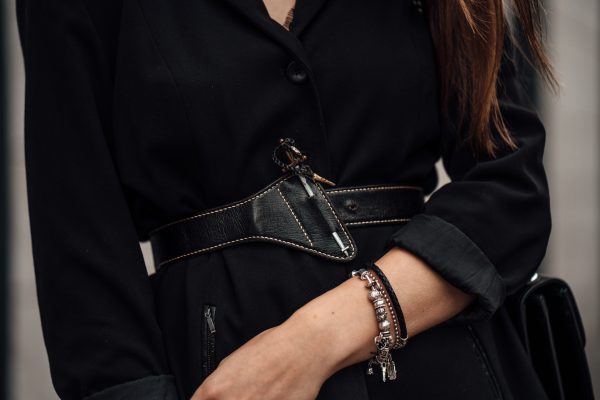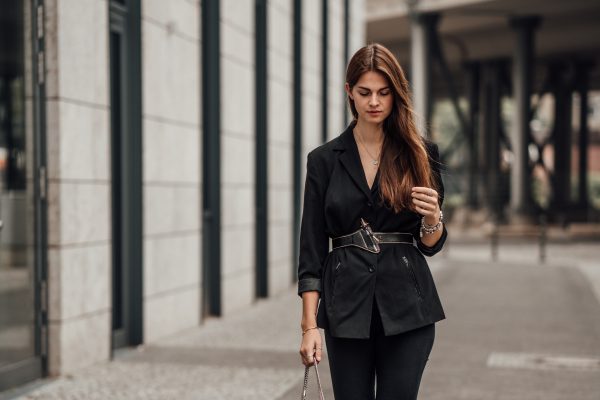 So when you don't have a belted blazer, you don't have to buy one. Take a regular blazer and a belt, button up the blazer and tie the belt around. Of course, you have to adjust the belt from time to time, because the blazer doesn't have any loops to keep the belt where it's supposed to stay. But that's not much of a problem when the belt is tight enough. 🙂 If it isn't it would slip down anyways.
You can never go wrong with all-black outfits
That day I opted for an all-black outfit, because I wasn't quite sure what to wear. And you know, you can never go wrong with all black outfits. Therefore I combined my belted blazer with a pair of black jeans, black boots, and a black bag. I was also wearing a top with lace details underneath the blazer, but I think you can't see it properly in the pictures. It's only a small detail, but if you don't like it, you could also wear a basic top or a turtleneck underneath the blazer.
Other than that I was also wearing the pieces of jewelry I am wearing every day – as you know. It's a simple yet super chic outfit, that was the perfect choice for the event in Hamburg. I would wear it the same way again, to another event or to a meeting as well as any other occasion you have to wear something chic. And you can replace the black blazer by another blazer, no matter if it's another color or another cut. You can also choose whatever belt you like best and get creative with putting together belter blazer outfits. 😉 Have a try and find the look that works best for you.
How do you like belted blazers? And what do you think about the outfit I put together here? I am looking forward to reading your comments. xx