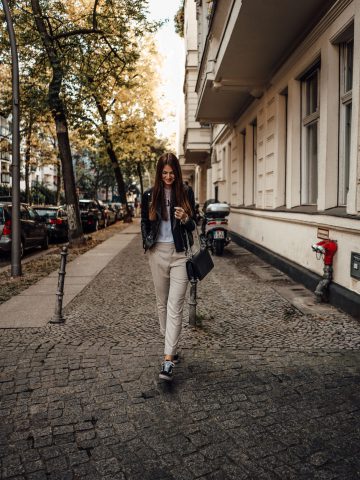 I hope you guys are enjoying your Sunday to the fullest! I am taking it easy today, will probably work a little bit and maybe I will even go for a run. But first I want to share everything about the past week with you – as every Sunday! After quite eventful days the week before the last one, this one was dominated by work again. I didn't attend any events and spent most of the time in front of my laptop from Monday til Thursday. But let's take one day at a time and start with the past weekend.
On Saturday was the Ragusa event in Berlin I talked about on Friday – have you seen the post and recipe I shared? 🙂 We slept in, had breakfast in a café in our neighborhood before and then it was time to drive to the event location because it was about an hour away from my home. This drive made me realize how big Berlin is, once again haha. I was not only looking forward to the event because I wanted to try their chocolate, but also because I got to see Sophia (lovelygirlyrosy) again 🙂 We went to the event together and took some outfit pictures afterward. When I was back home it already was quite late, so we just went grocery shopping and spent the rest of the day at home watching series.
On Sunday I started to feel sick, so instead of going for a run I stayed home, worked a little bit and relaxed most time of the day. It was a calm and relaxing Sunday as it should be 😉
I was ready to kick off a new week on Monday, but after some hours at the office, I felt worse than I did before and headed home to sleep. I felt better on Tuesday and tried to catch up on work that day. Since it was an official holiday in Berlin, we stayed home and worked from there. I am usually more productive at the office, but that day I could work on some tasks I can't do at the office, which was great. One day the home office was enough, so we spent Wednesday and Thursday at the office. I wish I could say, that I did anything else but working, but I didn't! Well, I didn't on Wednesday, but I did on Thursday. My Thursday started with the Marina Hoermanseder x Rauch brunch and I almost forgot this event – fortunate I got a reminder because it would have been such a pity if I would have missed this event. It was great to see her atelier and office, try out some of the Rauch juices and create our mixtures. 🙂 On Thursday afternoon I met up with Luisa, and we went to the gym to work out (we took it easy!), went to the sauna and for a swim. It was so much fun and relaxing at the same time; I could get used to it 🙂
Friday I had some hours at the office before we had to get into the car and drive to Hamburg for a GANT event. GANT launched a TV show called "Couple Thinkers," that will premiere on the 9th of October. I will soon tell you more about the show, that's why I won't share more details today – I hope you don't mind.