Leather is one of those materials that are timeless and never really go out of fashion. In the coming winter season, you will see this material more often again because it is one of the fashion trends in the fall and winter of 2021/22. For this reason and because leather is timeless and can be worn regardless of a trend, I would like to dedicate this post to the winter 2021 trend today.
I have a few beautiful leather pieces in my closet that I love to wear whenever I have no idea what to wear. In this post, I will share more about why you can never go wrong with leather pieces and how you can integrate the material in all your outfits. In addition, you will learn more about which leather garments are now particularly trendy and how to combine them.
The leather blazer as a fashion trend for the winter season
The leather blazer is an absolute classic and a piece that belongs in your closet regardless of a trend. It is an excellent alternative to the classic black blazer and enhances any of your outfits.
As one of the winter 2021 trends, the leather blazer is a chicer and more grown-up alternative to the classic biker-style leather jacket. You can perfectly wear it both in everyday life and at work, and thanks to the leather, it looks less stuffy than other blazers.
The possible combinations of leather blazers for women are endless. For example, in everyday life, you can combine it with leather pants or jeans. For a day in the office, the leather blazer can be combined with suit trousers. But not only pants but also dresses and skirts made of various materials fit great to the leather blazer. There are no limits to styling a blazer, and once again, it's all about what you feel most comfortable in.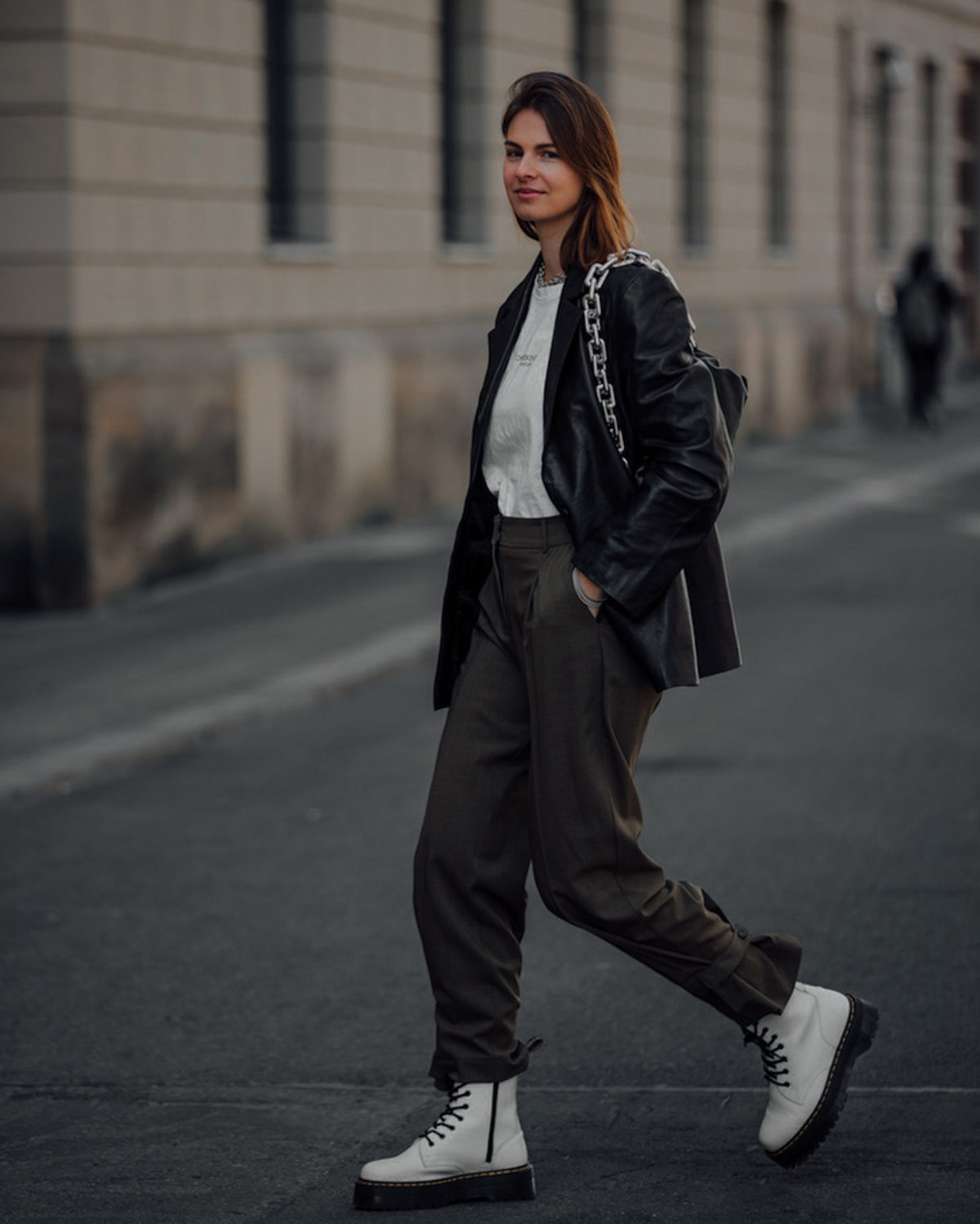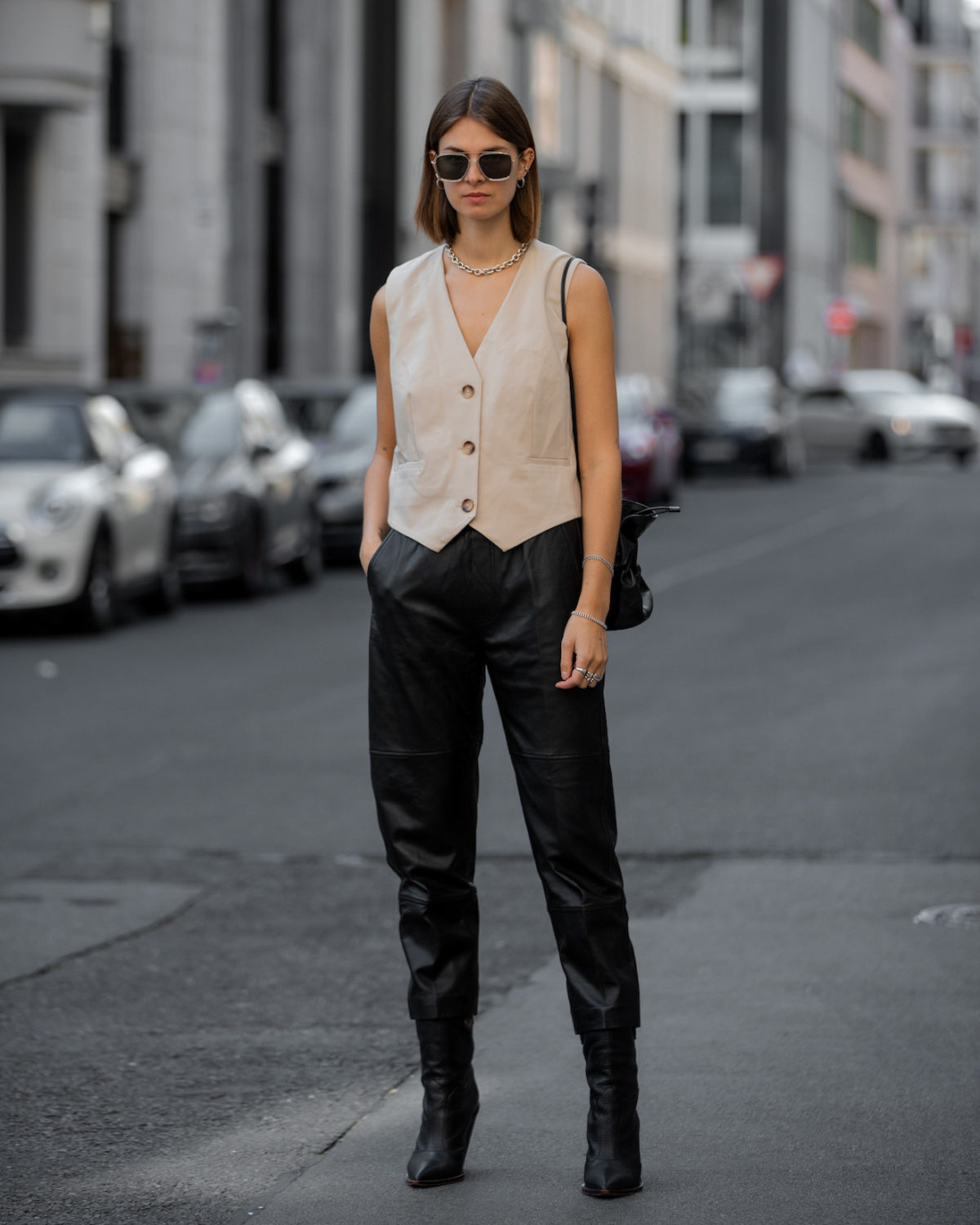 Black leather pants: how to combine one of the winter 2021 trends
Part of the leather fashion trends in fall and winter 2021/22 are, of course, leather pants. The classic women's leather pants are always cut a little loose, and I would always suggest getting them in one size larger than usual. Especially with real leather pants, this is advantageous because that brings the necessary comfort. Of course, there are also super nice and cool models made of imitation leather, which are in no way inferior to genuine leather, plus they are always less stiff.
Due to the rather loose cut, leather pants are perfectly suitable for casual outfits. In the current season, you can choose from numerous colors, the leather pants are currently available not only as black leather pants or in beige, but also as a more colorful variant in green or red, for example. If you are just getting into the leather pants trend, you should stick to black or beige. These two colors are the easiest to incorporate into all your outfits.
Now that winter is almost here, I love to combine leather pants with thick knit sweaters or cardigans. If I want it to be a little chicer, I would style the leather pants with a classic white shirt or a silk blouse.
Leather leggings outfit for fall and winter
The loose cut of the leather pants is not your thing? No problem, because the winter 2021 trends also include leather leggings, which emphasize your figure a little more and look more feminine.
Here, too, you can go for the classic in black, but beige leather leggings are especially popular this season. On rather gloomy autumn and winter days, leather leggings in beige can greatly contrast the moody weather.
There are hardly any limits for your leather leggings outfit – just like with the styling of garments made of leather in general. The leather leggings are chicer than the leather pants and can be styled from chic to casual. For example, how about an oversized shirt with leather leggings? Or a thick knitted sweater? Also, the combination with a blazer – whether classic in black or something flashier in a bright color – or a tight-fitting top is possible. What would your leather leggings outfit look like?
Colorful leather as winter 2021 trend
As already briefly touched upon, you can currently find the trend pieces made of leather not only in plain colors in stores and online; they are available in all possible colors. Especially in winter, this can be a nice change to dark clothes and make every day, no matter how dreary, more friendly.
If you want to go 100 percent with the trend, you should go for bright colors like green, orange or yellow. These colors are not only in fashion but also absolute eye-catchers. You have to be a little daring, especially if you wear leather pants in one of these colors, but you can also be sure that the look will be the highlight in every room.
What do you think of leather as one of the fashion trends for fall and winter 2021/22? Is it one of the trends you can't pass by, or do you prefer to skip it this season? I'm looking forward to your comments. x