As I already mentioned on Tuesday, this week I am sharing two new outfit posts from Berlin Fashion Week as well as one interior post. I already shared one of the outfits which was all about how I combined a pair of cycling shorts with an oversized shirt. As I was wearing the outfit I am sharing with you today the same day as the outfit I shared on Tuesday, you can find some similarities in it. I decided to wear cycling shorts all day as well as the belt bag, I just styled it a bit different. So today's post is not only about another outfit I was wearing for Fashion Week in Berlin, but it is also about another way to wear cycling shorts. Perfectly fitting the fact that cycling shorts are still in fashion this summer.
Chic outfit with cycling shorts
The last outfit with cycling shorts I shared here on the blog was a quite casual look and today I want to share a chicer way to wear them. I had one more event and a show that evening during Berlin Fashion Week and didn't feel like wearing the same outfit all day – especially because it was a quite casual one. Also, I wasn't a hundred per cent sure whether it would get a bit colder in the evening and wanted to wear something warmer, just in case. Well, it didn't really get colder and this outfit was a bit too warm for the temperatures, but still, I really enjoyed wearing it and was happy I got changed.
Now that you have all the background information, it's time to talk about the outfit combination. You can wear cycling shorts in many different ways and it's always most important that you feel comfortable in your outfit. Yesterday I already mentioned, that I like it best to combine cycling shorts with oversized and a bit longer clothes. Oversized shirts, as well as long t-shirts, are two options, boyfriend blazer are another one.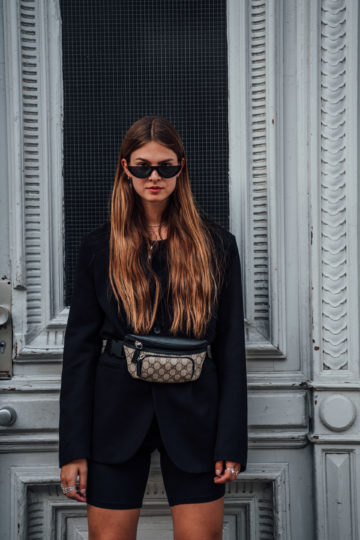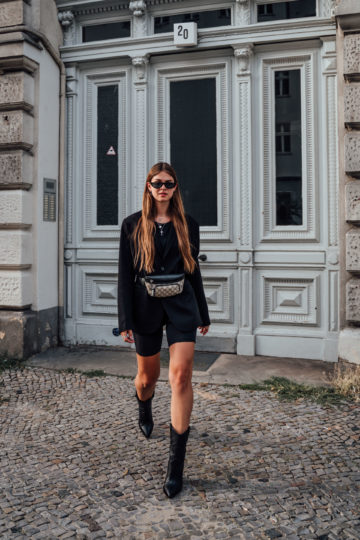 It is no news that I have a thing for boyfriend blazer and if you've seen all the fashion week outfits from this season I've shared so far, you might have recognized that I was wearing this particular boyfriend blazer quite often. I bought it in the morning of the first day of BFW and it's actually a men's style.
You can either wear the blazer open with a crop top or an oversized shirt underneath or you can wear it the way I was wearing it: buttoned up with a belt bag. Of course, you don't have to wear the belt bag around your waist and you don't have to wear this outfit combination with a belt bag. I just felt like wearing it like this to add an eye-catching detail to my all-black outfit and to accent my waist a little bit.
When you want to combine your cycling shorts with a boyfriend blazer and you are opting for a chic outfit, I would recommend adding a pair of heeled boots to the outfit just as I did. Sneakers would also work, but then I would wear the blazer unbuttoned and with a white crop top underneath.
Let me know how you like this outfit and how you would combine cycling shorts. I am looking forward to reading your comments. xx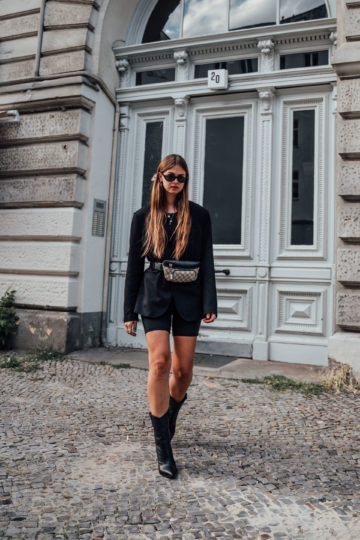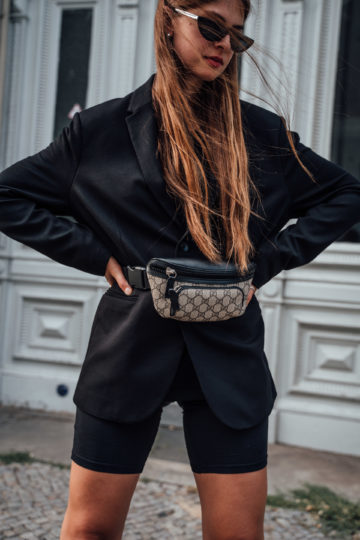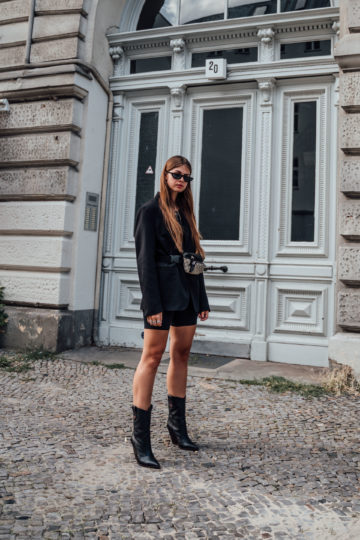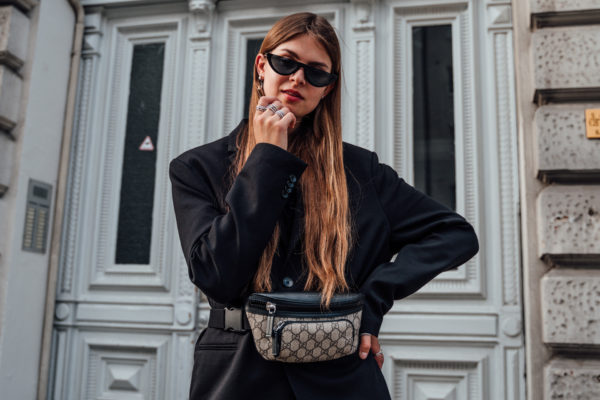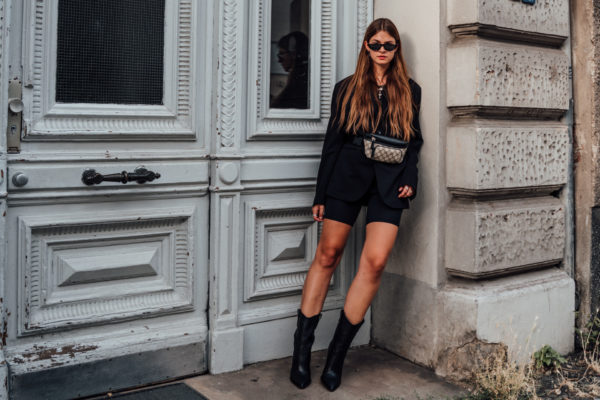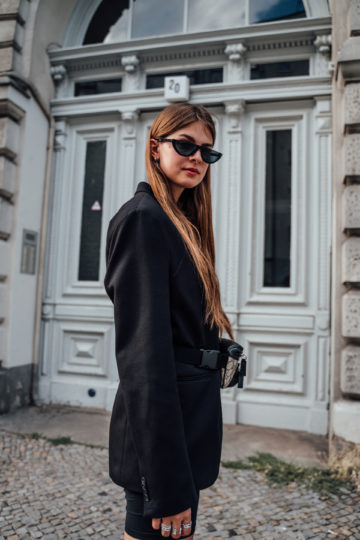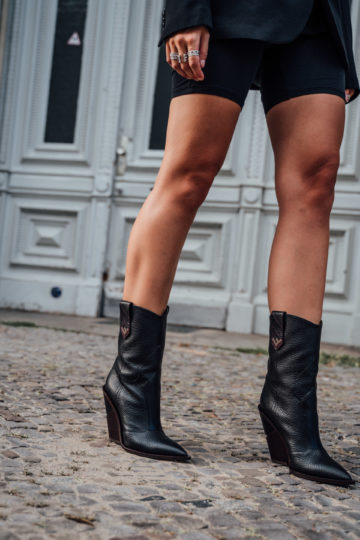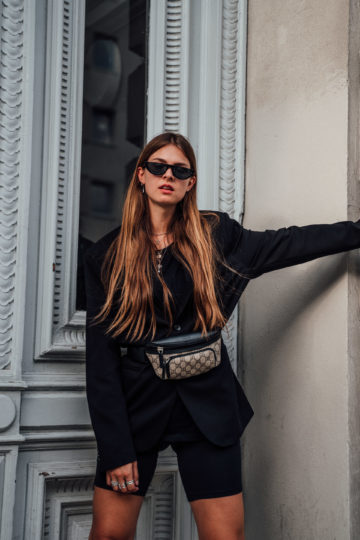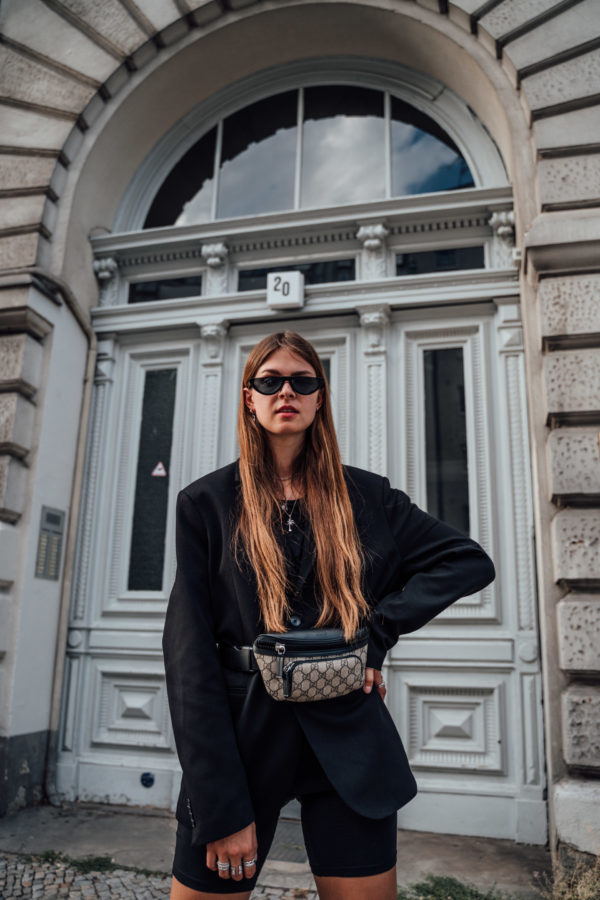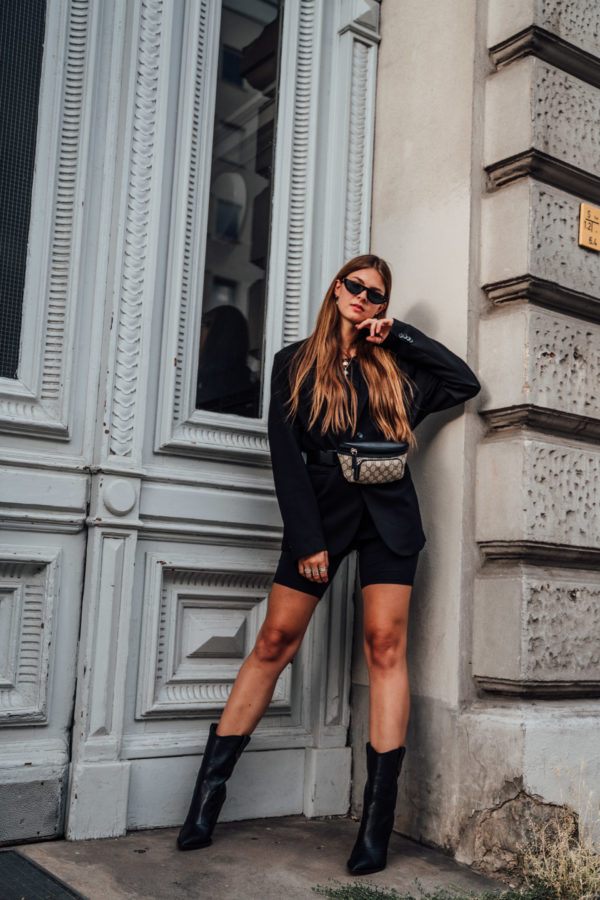 *Ad, brands named – Zara blazer || Asos cycling shorts || Gucci belt bag || Fendi boots || Pilgrim sunglasses