Blog Posts and Youtube Videos of the Week
Good news guys, again I was very productive in regards to blog posts and shared three new ones with you this past week. Two were outfit posts and one was an interior post. The two outfit posts were still about Berlin Fashion Week. But both looks are perfectly suitable for the current weather conditions in Germany and probably most parts of Europe and the US. The two outfits have a lot of similarities. I styled a pair of cycling shorts in two different ways. The first outfit post was all about cycling shorts combined with an oversized shirt and the second one was all about cycling shorts combined with a boyfriend blazer. I do like both outfits a lot and am happy about the current cycling shorts trend as they are so comfortable. Check out the posts to see what I am talking about and let me know which one of the two cycling shorts outfits is your favourite. Also, don't forget to check out the last post I shared last week which was all about our new MYCS sofa. It's only available in German, but I am sharing a lot of photos of our new sofa. 🙂
On YouTube, I finally started sharing our Costa Rica vlogs – yay. It took me soo long to edit everything but now it's all done and the first two vlogs are already online. I will share the third Costa Rica vlog today, so make sure to stop by and have a look.
Looks of the Week
Shame on me – again -, I didn't take a lot of outfit photos last week. And here comes the excuse: it just was so hot in Berlin and I was wearing shorts and a sports bra almost every day. Additionally, I didn't spend a lot of time outside the office. Sorry guys, but at least new outfit posts are coming every week here on the blog, so make sure to check them out if you are in need of some outfit inspirations.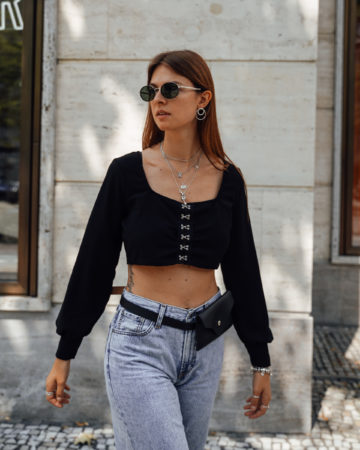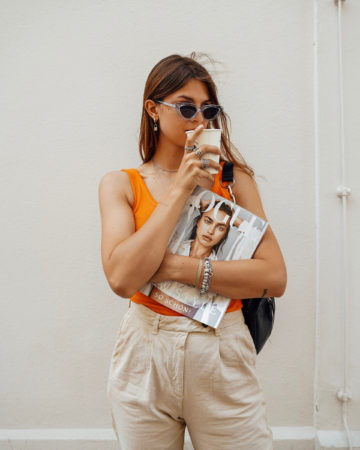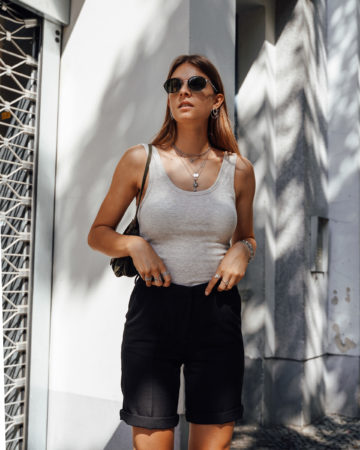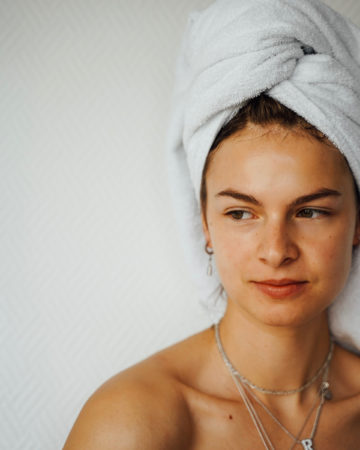 What happened the past week
It was a week filled with work, preparations, plannings and events and it went by super fast. Truth is, I have to check my phone while I am writing this to check my IG Stories from the past week because I tent to forget sooo many of the things I do. Good thing, that I captured a lot of it for you to share it on Instagram haha.
So the past weekend was quite calm. We took some outfit photos and worked a little bit, spent a lot of time relaxing at home, had cinnamon buns in the sun and while my boyfriend played tennis with my best friend, I went for a 4.5km run and ended it with walking up a "hill" called Teuelsberg in Berlin. It was such a good idea to walk up even though I already was quite exhausted from the run, but the views are just breathtaking and it's been such a while since I last went up there. Now I definitely want to do it more often.
Monday and Tuesday were two long days at the office. I spent these two days with planning the upcoming weeks, organising a few things and also getting some things done that had been on my to-do list for too long. I couldn't really focus on work these past days, but I learned to not stress about it and whenever I feel like nothing works at all, I just leave my work desk, grab a book and go outside for a little while to read and stop thinking about work. Other than that I had a few events the past week. On Wednesday, Thursday and on Friday I left the office a bit earlier and went to events. On Wednesday Hourglass cosmetics had invited to a dinner. We got so see some of the products, learn a bit more about how they work and how to use them and finished the afternoon with a delicious vegan dinner. On Thursday was a Diesel Pop-Up Store event. I really like the location and spent about an hour just talking and enjoying some ice cream and the summer. 🙂 The last event was on Friday. It also was a pop-up store event, but this time it was all about Essie and Jolie. I really had a lovely evening on Friday and it was the perfect end of the week.