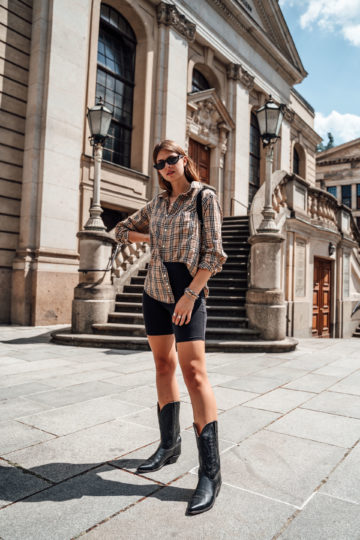 Summer is back in Berlin, and we are finally coming to the more summery outfits I was wearing during the Berlin Fashion Week beginning of July. Actually, the weather during BFW was perfect as it wasn't too warm neither too cold and just right for being on the go all day having several shows, events and appointments. Only on the first day it still was quite hot in Berlin. Luckily the first half of the day was very calm with only a few events, and I didn't have to dress up. The second half of the day, I had another event followed by a fashion show, and I had to change for these two. I will share the outfit I was wearing in the afternoon and evening later this week, but first I will tell you everything about the outfit I was wearing the first half of the day.
It is an outfit I would not only wear during Berlin Fashion Week but also on a calm day at the office. It's super comfortable yet chic and fashionable enough for blogger events and even meetings with PR agencies. Of course, if you work in another branch, you might not be able to wear an outfit like this to a meeting, but you probably can wear it on a weekend when your schedule has nothing to do with work.
How to combine cycling shorts
I am actually a bit surprised that cycling shorts are still in fashion. I have to admit that I was very sceptical regarding this trend, and it took me a while to get used to it and try it myself. I didn't think this trend would last long, but it actually still is a thing in fashion. After getting used to it last year and wearing it a few times already, I am glad it still is a trend. Cycling shorts are very comfortable and the perfect piece to wear when you don't know what to wear. There are only a few things you have to keep in mind when putting together an outfit with a pair of cycling shorts.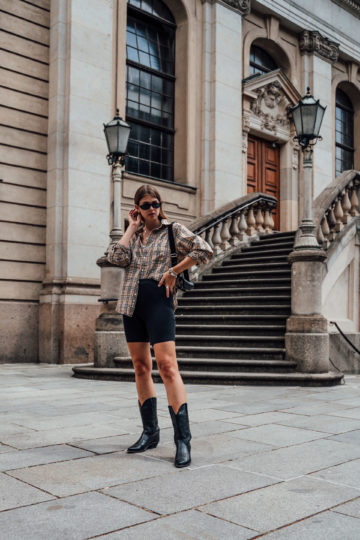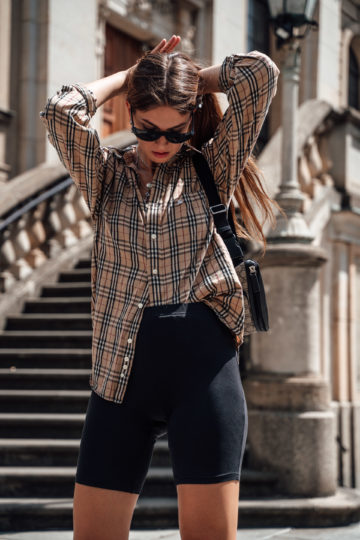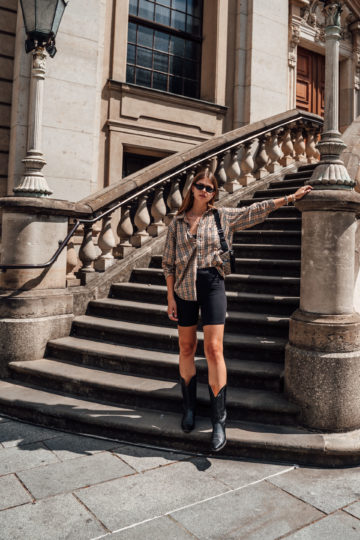 First of all, you need to find a pair that's not see-through. You might need to try on a few until you finally find the perfect pair of cycling shorts, but when you find it, you better get it twice – just in case. Other than that you need to find the perfect length for you. You will find very short cycling shorts to quite long ones in stores and online, and you need to try them to see what length works most flattering for you. I find it a bit hard to find the perfect length because most of the cycling shorts I've tried are too long for me and they make my knees, as well as my calves, look bigger than they are. The length you can see me wearing here is the one I like best and feel most comfortable in.
When it comes to combining your cycling shorts, I would always recommend wearing something oversized that covers your backside – especially when you are not a hundred per cent sure if they are non-transparent. If they are non-transparent and you feel a hundred per cent confident with your body, of course, why not wearing a crop or a regular length top. That's up to you 🙂 But I would rather go for something oversized and a bit longer than something too short. I also do like the contrast of the tight-fitting shorts and the oversized top.
That's why I combined the cycling shorts for the first day of Berlin Fashion Week with an oversized Burberry Shirt, black Cowboy Boots and my Gucci belt bag as well as a pair of black sunglasses. It is a very casual yet fashionable look and was the perfect choice for the day. How do you like it?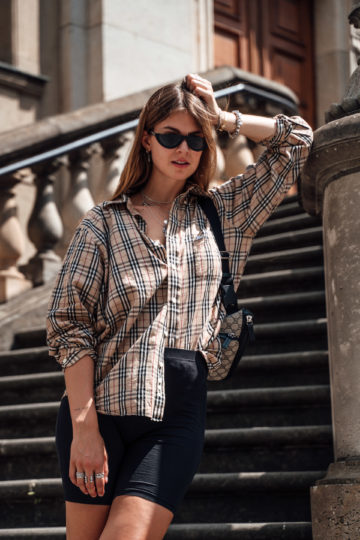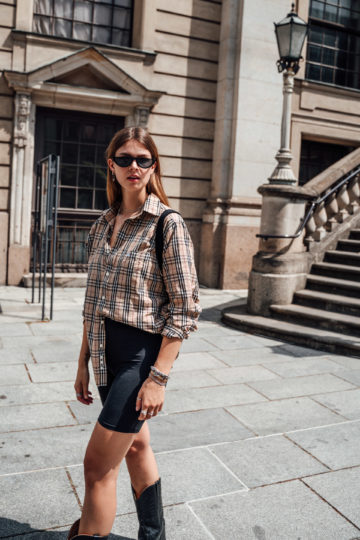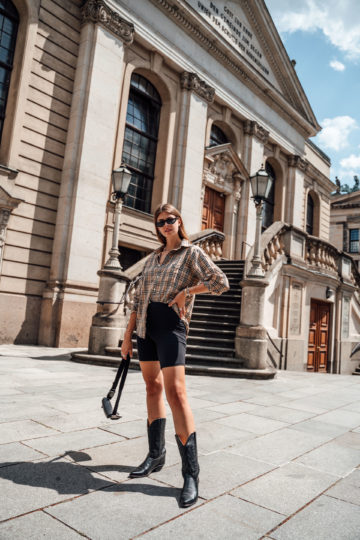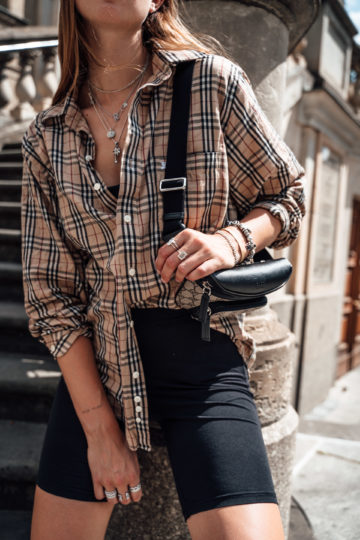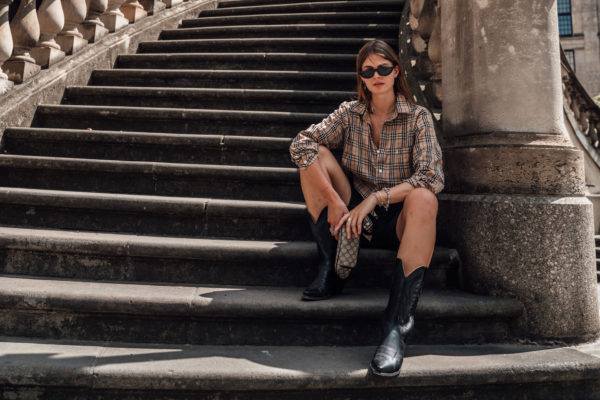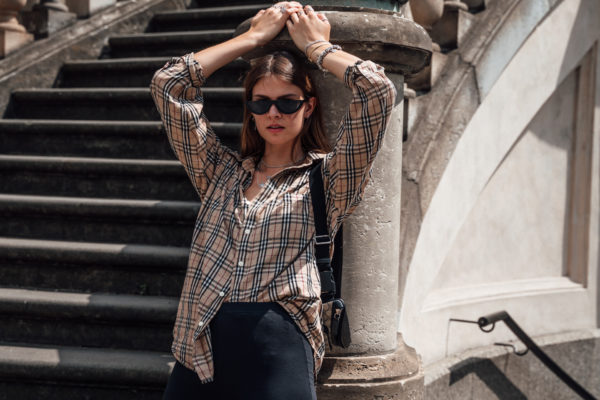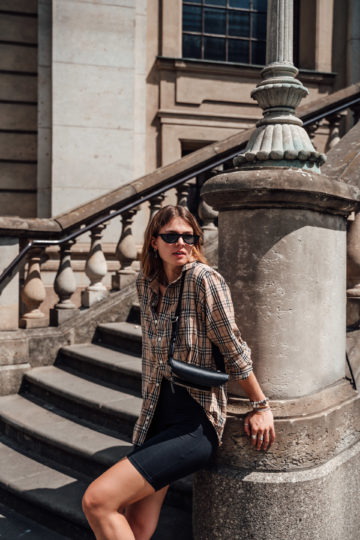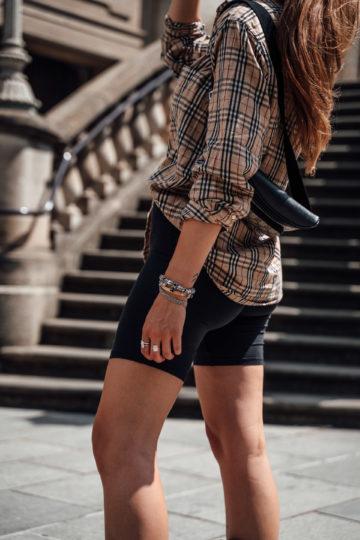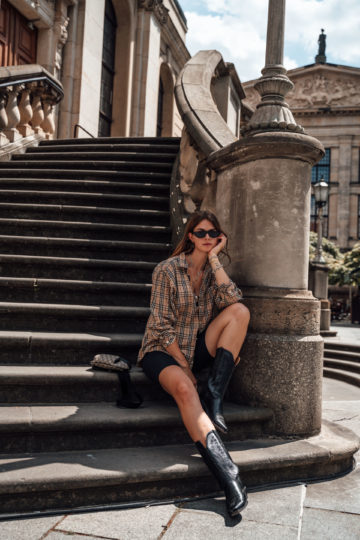 *Ad, brands named – Burberry Shirt || Asos Cycling Shorts || Black Palms the Label Cowboy Boots || Gucci Belt Bag || Pilgrim Sunglasses