We usually take outfit pictures whenever the weather is good, and we have the time to do it. Due to this I usually have about two outfits I can use for the upcoming days. But since the weather around the Christmas holidays was very bad, we couldn't take new outfit pictures, and I run out of prepared pictures as well 😉 So right now we have to go outside and take new outfit pictures no matter what. The weather still isn't very pleasant; it's rainy and dark outside almost all day. Luckily we're leaving the cold, rainy and dark city next week and I can't wait to spam you with pictures taken in Sri Lanka.
Anyways, yesterday we figured that the rainy weather in Berlin could be quite nice as well – even when we have to take new pictures. There's this pretty spot in our neighbourhood, a plaza with a sea of lights; that looks even more beautiful when it's dark and rainy outside. I'm super happy with the pictures, and I hope you'll like them too.
Casual Office Outfit
When we took these outfit pictures, we were on our way to get something for a very late lunch. I didn't spend the day at the office, but I was working from home all day. I usually wear sweatpants and oversized sweaters when I'm working from home, but yesterday I felt like dressing up, and I knew that we had to take new outfit pictures that day. That's why I was wearing this casual office outfit.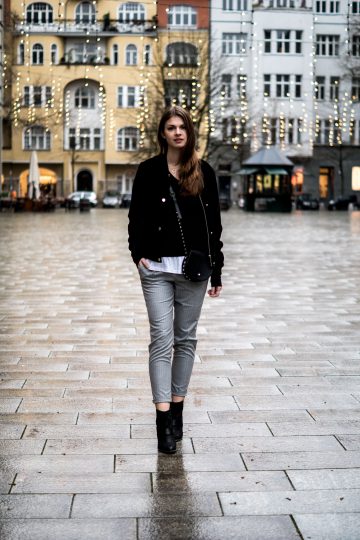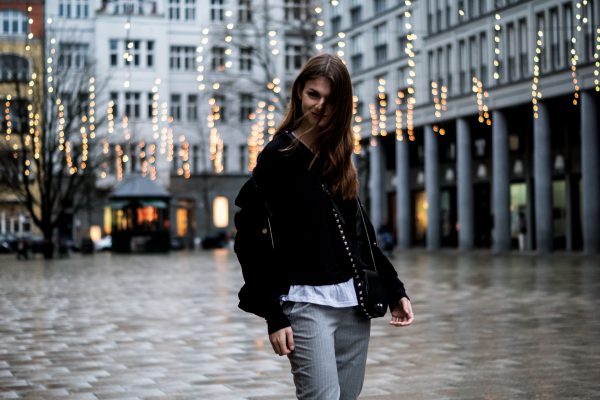 I was wearing another new pair of pants I got at the RESERVED Sample Sale and combined it with a black sweater, black boots, a white top and my black velvet bomber jacket. Last but not least I added my Rebecca Minkoff Skylar Mini, a silver necklace as well as my new Pandora rings I got as a Christmas gift from my parents. I wanted these rings for a loooong time, and I like them a lot. I've been wearing them every day since I got them and I won't stop. 🙂
I hope you'll like the outfit pictures as well as the outfit I was wearing yesterday. Don't forget to leave me a comment and let me know what you think. Enjoy your Thursday. xx